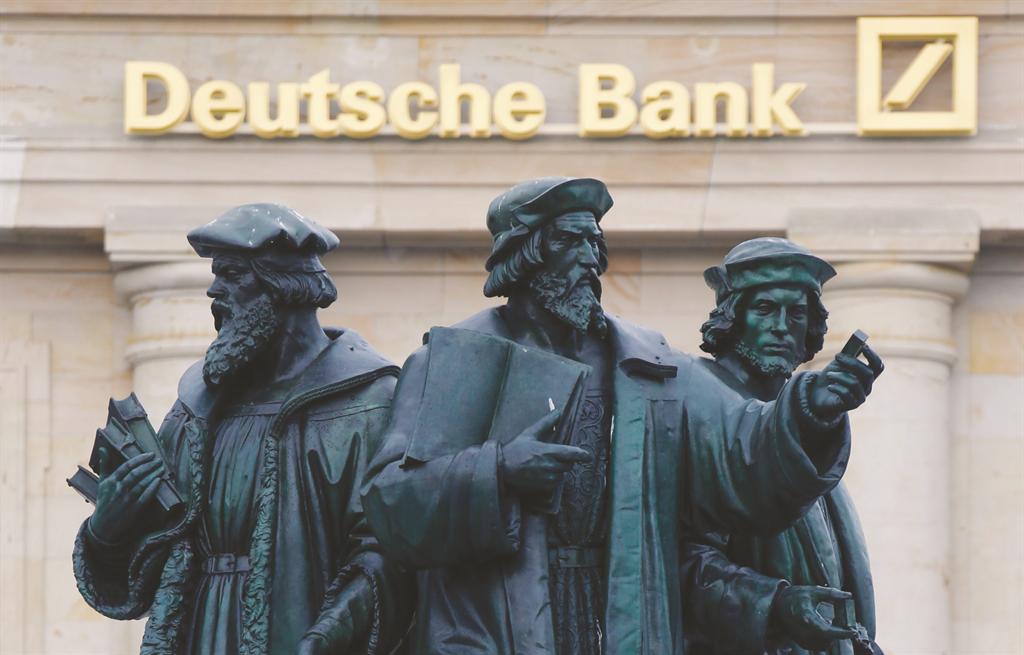 Deutsche Ban bosses beg for small change as bank collapses (
Image source
)
When most recently reporting on the latest European banking crisis, yesterday we observed a surprising development involving Deutsche Bank, namely the bank's decision to quietly liquidate some of its shipping loans. As Reuters reported, "Deutsche Bank is looking to sell at least $1 billion of shipping loans to lighten its exposure to the sector whose lenders face closer scrutiny from the European Central Bank.
"They are looking to lighten their portfolio and this includes toxic debt. It makes commercial sense to try and sell off some of their book," one finance source said. Deutsche Bank, which has around $5 billion to $6 billion worth of total exposure to the shipping sector, declined to comment."
This confirms what had long been speculated, if not confirmed, namely that German banks have been some of the biggest lenders to the shipping sector, a sector which has since found itself in significant trouble as a result of the ongoing slowdown in global trade.
And now, it appears that some shipping loans gone very bad could be the catalyst for Europe's banking crisis to finally breach the most impenetrable border of all, that of Germany.
Because it is in Germany where we find what may be the next domino to fall as part of Europe's latest banking crisis incarnation: Bremen Landesbank.
Several weeks ago, the FT reported that the German Landesbank NordLB was considering taking full control of its smaller peer Bremer Landesbank (BLB), which is struggling under the weight of a portfolio of bad shipping loans. BLB, in which NordLB already owns 54.8%, warned last week that it would have to take a €400m writedown on its shipping portfolio, and that as a result it was facing a "mid-triple-digit million loss" this year.
As the FT added, the admission prompted concerns about the health of the Bremen-based bank, which had €29bn in assets at the end of 2015, and BLB's owners have since been holding talks on how to bolster the stricken lender's capital position.
Read all at Zero Hedge
RELATED POSTS:
Europe Is Coming Unglued
Money and finance
Finane, trafe, commerse calatogue
After losing on Brexit, Soros best against Deutsche Bank
Global debt: feeding the monster
Europes debt problems structural
Eurogeddon: The Euro zone debt crisis
Creating Wealth
IMF deja - vu
The banks and magic money
Money printing has failed to save the global economy
Eurozone To Fail? George Soros Bets €100m AGAINST Deutsche Bank
BREXIT vs. GREXIT – The Truth About The European Union And How It Treats Members

Well We Have Been Warning You: European SUPERSTATE plan unveiled: EU nations 'to be merged into one' post-Brexit
Europe's Banks In Crisis As Brexit Vote Triggers The Crisis That Has Been Waiting To Happen
Italy's Banks Are Crashing Like Tesla Cars, EU Bureaucrats Try To Blame Brexit
'France is totally bankrupt': French jobs minister Michel Sapin issues shocking news the country's economy
Hints Of Portuguese, Italian Bank Bailouts Suggest Europe Is In Trouble Again
Eurozone To Fail? George Soros Bets €100m AGAINST Deutsche Bank
Dutch Socialists Calls For Government To Review EU Treaties
BREXIT vs. GREXIT – The Truth About The European Union And How It Treats Members
EU Will 'Gradually Unravel' With or Without the UK - MEPs
EU Politicians Slam New Tax Deal That Lets Big Business Avoid Probes
Will TTIP Make Europe A Colony Of The USA?
EU IN TURMOIL: Hungary threatens REBELLION against Brussels over forced migration
EU to Keep Part of TTIP Trade Deal Papers Under Wraps
Elsewhere: [
The Original Boggart Blog
] ...
Daily Stirrer
...[
Little Nicky Machiavelli
]... [
Ian's Authorsden Pages
]... [
Scribd
]...[
Wikinut
] ... [
Boggart Abroad
] ... [
Grenteeth Bites
] ...
Ian Thorpe at Flickr
] ... [
Tumblr
] ... [
Ian at Minds
] ... [
Authorsden blog
] ... [
Daily Stirrer News Aggregator
]