Since the COVID vaccine roll out began early this year, all the Greenteeth Digital Publishing blogs and news sites including this blog, The Daily Stirrer, Original Boggart Blog and Basil Hallward at Minds have been publishing warnings about the safety of the vaccines that have come from highly respected virologists and immunologists including Wolfgang Wodarg, Sucharit Bhakdi, Elizabeth Bastian, Mike Yeadon, Peter McCulloch, Janci Chunn Lindsay, Robert Malone and Ulrike Kämmerer, many of whom are signatories of an open letter sent under the heading "Doctors for COVID Ethics," to the Eurpean Medicines Agency. Before listening to members of the Vaccine Messiah cult who are always quick to dismiss such well credentialled and highly respected people as cranks and quacks because they dare to go off - message (the message being that only experimental, improperly tested caccines can sabe us from a virus that causes illness in very few people and kills only the veery old or very sick (or people who bare both very olkd and very sick,) we should remember that before vaccines were given provisional approval "for emergency use only" the manufacturers were covering their arses by telling us their products would not immunise people against the virus but might, omly might, in some cases limit the severity of symptoms.
Being called a bunch of far - right conspiracy theorists was the mildest of the abuse hurled at us. but now it seems likely that on a long timeline the conspiracy theorists have been right (as usual) all along. It's not that we, and the people like us are particularly smart but that The Powers That Be and the simpletons who unquestioningly believe the government / mainstream media propaganda are particularly stupid. This makes their machinations extraordinarily transparent.
Results from the biggest study yet to assess the efficacy of the four experimental COVID vaccines only approved for emergency use but being deployed in mass vaccination projects around the world has just been published by the University of Oxford and UK Office for National Statistics, and unsurprisingly it found that the efficacy rates for the Pfizer and Moderna are significantly lower than the 90%+ rates first advertised from the initial controlled trials. (It is worth noting here that we have reported the figures for vaccine take up, claiming up to 98% penetration rate, are likely overstated too.)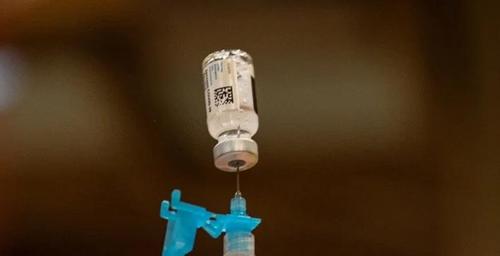 According to the effinciency study, a preprint of which was published on Thursday, while the Pfizer, Moderna and AstraZeneca jabs still offer "good" protection against new infections, their efficacy has been reduced compared with Alpha. While having two doses of either vaccine still provides "at least the same level of protection as having had COVID-19", those who were vaccinated after already being infected demonstrated even higher levels of protection than those who either weren't infected and only received the jabs, or were infected, but didn't receive the jabs.
"We're seeing here the real-world data of how two vaccines are performing, rather than clinical trial data, and the data sets all show how the delta variant has blunted the effectiveness of both the Pfizer and AstraZeneca jabs," said Simon Clarke, an associate professor in cellular microbiology at the University of Reading.
Despite this mealy mouthed attempt to big up vaccines which clearly are not working well,, even after receiving two doses of a jab, those infected with delta showed much higher peak levels of the virus than those infected with alpha, or some other variant.
The study also highlighted differences between between vaccines: for example, the Moderna jab had "similar or greater effectiveness" against the delta variant as a single dose of the other vaccines. And while the Pfizer and Moderna jabs showed greater initial efficacy against infection than the AstraZeneca jab, this protection premium erodes after only 4-5 months.
The data also showed that the Delta variant increases transmissibility more than other COVID varients, even among the vaccinated, which backs up a recent assessment made by the American CDC. In the interests of separating propaganda from hard scientific facts it should be noted that no SARS-COV2 virus, either in its original form or in any variant, has yet been isolted from the host cell and purified: also the antibodies used to diagnose "cases" of COVID are identical to those the body produces in an immune response to the many common cold or influenza variants of coronavirus.

These results fuel doubt s about the possibility of ever achieving herd immunity via vaccination, said Sarah Walker, a professor of medical statistics and epidemiology at Oxford, who helped lead the study. That's not exactly a surprise.What does surprise us however, not to mention the way it has destroyed the credibility of the medical professions, is the way that natural immunity has been ignored and even denied by so many alleged "experts" who have followed the official line that immunity can only be achieved through vaccines. The surprise here lies in the fact that although the vaccine raged for 12 months before vaccines began to be rolled out, at that point 95% of us had not been touched by the virus. Also surprising is the way that medical professions, health authorities and academics have beeen eager to promote dodgy vaccines while trying to censor information about several long established drugs that have proved more effective (and cheaper) in protecting against, and curing COVID-19.

One important piece of the puzzle that's still missing is the data relating to hospitalizations and severe cases of COVID, according to Penny Ward, a visiting professor in pharmaceutical medicine at King's College London, who wasn't involved with the study, and spoke to Bloomberg about its results. It's possible the findings could support "cross-vaccination" with different types of jabs, which could offer more comprehensive protection, she saied.
The results of the study were reported by Bloomberg: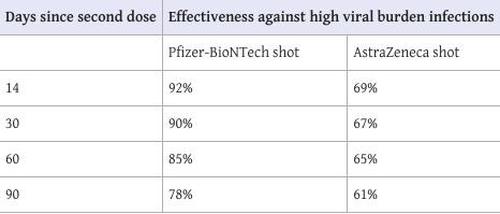 RELATED:


US CDC Admits Vaccines are failing, the vaxxed can be super-spreaders, demands return to mask mandates for everyone, including the vaxxed
July 29: In a bombshell admission today the United States Center for Disease Ccontrol's director Dr. Rochelle Walensky, the official narrative on the effinciency of vaccines in preventingcovid-19 was destroyed. Back in March Walenksy put on record the promise that vaccinated people could not spread the virus and infect others,yet earlier this week she admitted that vaccines are failing, and vaccinated people may actually be carrying higher viral loads than unvaccinated people, thus contributing more to the spread of COVID-19 than those of us who wisely declined the killer vaccines.
Blood doctor releases findings showing Moderna's mRNA Covid vaccines change red blood cells
You don't have to be a mechanic to learn and understand how dirty oil can ruin a motor, and you don't have to be a doctor or scientist to understand how mRNA Covid vaccines are changing red blood cells to make them stick together. This explains the blood clot phenomena happing around the world after Covid inoculation. This explains the inflamed heart epidemic happening around the globe after Covid vaccination. This explains the explosion of cases of neuromuscular degenerative conditions ...
Doctors and Scientists Warn Of Covid Vaccine Dangers Government And Big Pharma Corporations Are covering Up
July 17: Doctor says mRNA vaccines "will kill most people" through heart failure, 62% of vaccinated people already show microscopic blood clots from Natural News, 14 July 2021 ALERT: Doctor says mRNA vaccines "will kill most people" through heart failure, 62% of vaccinated people already show microscopic blood clots
UK COVID Vaccine Fail: 40% of Those Hospitalized for COVID-19 Were Fully Vaccinated
21 July: The Government's Chief Scientific Adviser Sir Patrick Vallance gave a press conference yesterday to warn the nation that 60% of those admitted to hospitals for COVID-19 had received both doses of a COVID-19 vaccine. Vallance later issued a tweet explaining that he had previously misspoken, with the actual number around 40%. I have read and heard from other sources the first figure is more accurate but no matter, ...
17,503 DEAD, 1.7 million injured (50% SERIOUS) reported in European Union's database of adverse drug reactions for COVID-19 shots
19 July: A Health Impact News subscriber from Europe reminded us that this database maintained at EudraVigilance is only for countries in Europe who are part of the European Union (EU), which comprises 27 countries. The total number of countries in Europe is much higher, almost twice as many, numbering around 50. (There are some differences of opinion as to which countries are technically part of Europe.) ...
FDA Warns Johnson & Johnson COVID-19 Vaccine Can Cause Your Immune System To Attack Your Nervous System
Guillain-Barre has been detected (read fact-sheet below) in about 100 people who had recently received Johnson & Johnson's Covid-19 jabs, and the FDA said on Monday that 95 of those cases required hospitalization. One vaccine recipient died from the disorder, the agency said, without providing details. Many of the patients were men aged 50 and older, and symptoms developed in most of the cases within six weeks after they were vaccinated ...
UK Research Group: Coronavirus Vaccine 'Unsafe for Humans' Due to Adverse Events
Scientists and doctors looked at data from the British government's Yellow Card vaccine event reporting system. They found that the "overwhelming" number of adverse reactions from COVID-19 vaccines definitely raised alarm bells. The Yellow Card system is the British equivalent of the Vaccine Adverse Event Reporting System (VAERS) in the U.S. The system is run by the Medicines and Healthcare Products Regulatory Agency (MHRA).
Protect our children from this vaccine assault
DEAR parent, carer or person concerned about the wellbeing of the children and young people in our lives: I am extremely concerned at the prospect of our young people and children being given the Covid vaccine. While the Joint Committee of Vaccination and Immunisation (JCVI) did say that the vaccine has many potential side effects and children are at extremely low risk from the virus itself…
12 July: Eric Clapton warns fans about covid vaccine dangers (again)
Rock legend Eric Clapton, lead guitarist with The Yardbirds, Cream, Blind Faith and Derek and the Dominoes, who also recorded and performed with many other artists and bands has speaking out once more about the horrors he is now having to endure thanks to his Wuhan coronavirus (Covid-19) "vaccination." …
Death By Vaccine – The Greatest Scandal Of 21st Century
27 June: In his book Deadly Medicines and Organized Crime, Dr. Peter Gotzsche arguably recognized as one of the world's foremost experts in evaluating evidence-based medicine (EBM) writes, "The reason why we take so many drugs is that drug companies do not sell drugs. They sell lies about drugs….
Evidence-based medicine consultancy issues "yellow card" warning about dangers of covid vaccines
A "community interest company" that says it conducts research on behalf of the general public with no conflicts of interest has issued a "yellow card" warning against Wuhan coronavirus (Covid-19) "vaccines," which "may require further investigation" to "identify issues which might not have been previously known about" concerning their safety.

Covid Vaccine Project? Invasion of The Body Snatchers meets The Milgram Experiments
Boris Johnson is on a collision course with elected representatives of his own party today, as the Prime Minister prepares to abandon every promise he made to end lockdown on June 21st, and announce a four week delat delay to the pan to lift pandemic restrictions. The much-heralded 'freedom day' scheduled for June 21 is now due to be pushed back until July 19, with health minister Edward Argar telling the BBC this would allow authorities time to "close the gap" in the number of adults who have had their second jab
The Truth Behind COVID-19 Vaccines (4)–Why High Incidence of Myocarditis in Young Vaccinated People
Vaccines causing myocarditis in young vaccinated people are finally getting the attention of health authorities and the media. However, keep in mind many more people die from all kinds of unpredictable side effects or suffer lifelong disabilities besides myocarditis, and no one knows about the impact of vaccines on fertility and other unpredictable consequences.
There have been numerous adverse reactions reported following mass vaccination worldwide. Myocarditis is currently attracting more and more attention due to its high incidence rate among young people who are vaccinated.
SHOCKING JUMP in Vaccine Deaths Reported This Week at CDC-Linked VAERS Tracking Website
There are more US deaths related to vaccines in 2021 in less than 5 months than there were the entire past decade.
The number of deaths linked to vaccines this year has absolutely skyrocketed. According to the CDC's own data, in 2021 n the first 3 months, the VAERS website recorded over 1,750 deaths due to vaccines in the US. That number is now at 5,997.
10,570 DEAD 405,259 Injuries: European Database of Adverse Drug Reactions for COVID-19 "Vaccines"14 May 2021 - The European database of suspected drug reaction reports is EudraVigilance, which also tracks reports of injuries and deaths following the experimental COVID-19 "vaccines."Here is what EudraVigilance states about their database:
This website was launched by the European Medicines Agency in 2012 to provide public access to reports of suspected side effects (also known as suspected adverse drug reactions). These reports are submitted electronically to EudraVigilance by national medicines regulatory authorities and by pharmaceutical companies that hold marketing authorisations (licences) for the medicines.

Vaccine Adverse Reactions – Not Reported By Mainstream Media
The UK Government's COVID-19 vaccination programme is now in full swing and the general public is being bombarded with the official line that to stop the COVID-19 pandemic and regain their freedom, people must be vaccinated. In fact they are told they must be vaccinated twice. …
Vaccine: More cases of rare blood clots, but regulator says benefits still outweigh risk
Reported cases of rare blood clots occuring in people soon after they received a shot of the AZ COVID-19 vaccine has risen to 168. The UK's medicines regulator said the overall case fatality rate was 19%, with 32 deaths up to April 14. Note the dishonesty in the style of reporting again. Nowhere does the official press release make clear that the figures apply only to adverse reactions of blood clots, both non fatal and fatal. People are still suffering and dying from allergic reactions, heart attacks, organ failure and respiratory failure soon after being vaccinated.
Study Reveals mRNA COVID Vaccines Link To Prion Disease & Brain Degeneration
from Great Game India A shocking study has revealed the terrifying dangers of mRNA COVID-19 vaccines inducing prion-based disease causing your brain to degenerate progressively. The mRNA vaccine induced prions may cause neurodegenerative diseases because long-term memories are maintained by prion-like proteins. The study concluded that mRNA based vaccine may also cause ALS, front temporal …
Evidence of Problems With Covid Vaccine Grow And Te Real Agenda Becomes Clearer.
Mainstream media have been distracting us with stories of successful mass vaccination campaigns, but as ever things are not quite what they seem to be and though the claimed 999% take up of the vaccines is not verifiable, the deafening silence regarding the huge numbers of serious adverse reactions to all type of vaccine and the significant numbers of unexplained deaths which have occured soon after people reveived the jab suggest there will be worse news to come in the future ...
Backflipping Boris Says Vaccine Passports for Will Be 'Feature of Our Life in the Future' March 11, 2021 Contrary to what other ministers in his government have been saying recently, Prime Minister Boris Johnson admitted earlier this week it is highly probable that vaccine passports for international travel will be a feature of Britons' lives in the future. Speaking at a Downing Street press event on Monday evening, the Prime Minister Johnson acknowledged … Continue reading
Twitter Thought Police Will Ban Anyone Who Repeatedly Tells Truth About COVID Vaccine In future anyone who "repeatedly posts misleading information" about SARS-COV2 (Covid-19) vaccines on Twitter will be put on a watch list and given five chances to chaine their opinion or self – censor their comments and opinions before being permanently banned from the social media platform, the company recently announced. A True to form however, … Continue reading
Are Mainstream Media being Constrained From Reporting Adverse News On Vaccine Issues?
Controversy rages on around vaccines with the delusional denizens of the Church of Scienceology Cult still insistin vaccines are absolutely safe because incidences of serious harm being done to receipients of vaccines are 'statistically insignificant', Big Pharma Corporations pushing the idea that vaccines can protect us against everything but taxes and medical incompetence and politicians yelling 'vote for me and I'll abolish illness, old age and poverty ...
CDC whistleblower confesses to MMR vaccine research fraud in historic public statement
CDC whistleblower William Thompson has now gone public with a statement posted on the website of the law firm representing him, Morgan Verkamp LLC. (See his statement reprinted below.)The statement opens with a blatant admission of scientific fraud at the CDC:
"My name is William Thompson. I am a Senior Scientist with the Centers for Disease Control and Prevention, where I have worked since 1998. I regret that my coauthors and I omitted statistically significant information in ..."
New malaria vaccine doesn't work most of the time, but manufacturer says it's good enough to sellOnce again we turn our attention to vaccines and the criminality of the drug companies that manufacture and sell them:
There's a good chance that the vast majority of people who receive it won't derive any benefits whatsoever. But that isn't stopping British drug giant GlaxoSmithKline (GSK) from seeking regulatory approval for a new vaccine for malaria, known as RTS,S, that a recent study determined is only about 30 percent effective at preventing severe cases of the disease, which has no recognized cure.
Real People Are Dying because Drug Companies Publish Fake Statistics
Our National Health Service is run by big Pharma for Big Pharma. The drug companies have the politicians, civil servants, medical professions and media in their pockets. We have reported on how Big Pharma money has corrupted healthcare before and the criminality of the corporate enterpises whose aim is to make us all patients for life. Now we throw more light on the way these crooks and liars work
Science for Sale, Autism, VCaccines And Government Intervention
The propaganda aimed at convincing us medical science can provide a vaccine to immunise us against death is not about the greatest good of the greatest number, it is about corporate profit and political power. But not all scientists can bee bought. Here is one vaccine specialist who won his personal battle, the wider war goes on.
The Vaccine Paradox - When The Only Way To Sell Vaccines Is To Make A Crime Of Being Unvaccinated
The propaganda aimed at convincing us vaccine are safe and totally effective is not about the greatest good of the greatest number, it is about corporate profit and political power. This is why, as vaccine horror stories proliferate and the lies and fraud of vaccine makers are exposed, there has to be talk of making a criminal offence of being unvaccinated. I expect one of my future posts to be titled,'Vaccines, the tool of fascism'
Measles Witch Hunt - Propaganda War Against Parents Who Refuse Vaccine
A witch hunt against parents who decline to have their children vaccinated. Who would think such fascist tactics could be used by democratically elected governments in the twenty first century. Well elected (after a fashion) oiur governments may be, but they are not democratic. It is the bankers and corporate entities who hold the real power. And the pharmaceutical companies who make vaccines are among the most anti social of them.
Measles Outbreak Traced to Fully Vaccinated Patient for First Time
Government and Corporate propaganda suggests there is no reason why anyone should have doubts about vaccines, they are 100% effective and can never cause harm. Propaganda is however the tools authoritarianism uses when the truth is unpalatable. Read below of how real world evidence exposes more big Pharma ciminality and dishonesty about vaccines
Vaccine Tuth: Corporate Profits Are More Important Than Public Health. Yet more information exposing the truth about the vaccine and mass medication industry, because that is what medicine has become, an industry, a cash cow for corporate fascists. And vaccines are one of the biggest profit drivers ...
Opposition To Manadory Vaccinations Coming From Both Left And Right
If vaccines are so great that no doctor or scientist speaks against them why is there so much opposition from both the right and left of the libertarian political persuaion and so much enthusiasm from the authoritarian "progressives whith their love of big government and corporate fascism.
Winter Deaths: Annual Fear And Panic campaign begins
Winter deaths? Why does the government launch this big fearand panic campaign every year, if not to push flu vaccines for their Big Pharma buddies. Do you think it is coincidence that the annual 'flu' death toll is the same as the annual Winter Death figure. Yeah, every death from some non specific viral infection during the flu seaon is a flu death. It's just another fraud, very few people actually die of true Influenza
UK Government Agency Faked Vaccine Safety Data To Sell HPV Virus Against Non Existent cervical Cancer Threat
Cervical Cancer takes centre stage in this latest installment of Vaccine wars. Government, medical professionals and Big Pharma are pushing for manadatory vaccination of pubescent girls but the disease takes decades to develop and the vaccine immunity wears off after five years. It is another scam to steal taxpayers' money? Find out below ...
Vaccine fascists Losing The Fight To Force Vaccines On Parents
We have been warning you about vaccines for years. Now at last people in the health industry are finding enough conscience to stand up and say that vaccine safety problrms have been covered up and it is time to put childrens' health before corporate profit ...