A presentation at the World Government Summit (WGS) last week in Dubai, unveiled the conference organizers agenda for a Brave New World. Titled "Government in 2071 initiative" the plan was described as a roadmap for governments to interact with "citizens and stakeholders" in effecting dramatic changes in the way the world is governed and societies are organised. Drivers of these radical changes in the way we live will be Artificial Intelligence, robotics and climate change.
Convened from Feb. 13-15 under the slogan "Shaping Future Governments," the WGS brought together around 25,000 political and business leaders, scientists, academics, mainstream media opinion makers and prostitutes to discuss how the future of the world may be shaped to the benefit of the wealthy elites and the detriment of ordinary citizens, in a format similar to that of the other recent jolly for the obscenely rich, the World Economic Forum (WEF) annual meeting at Davos Switzerland.
Arch globalist Klaus Schwab, addressing an audience of fellow psychopaths called for elites to come together globally in order to "master" advanced technologies such as Artificial Intelligence, robotics and The Internet of Things, warning that if the elites don't act swiftly the world could "escape our power".
It is the kind if insane rant his father's close friend Adolf Hitler was famous for but Schwab's audience love to hear such hyperbolic drivel. What surprises me more is that they seem to believe it.
Schwab pointed to "fourth industrial revolution technologies," and stated "Who masters those technologies – in some way – will be the master of the world."
'Our life in 10 years from now will be completely different, very much affected, & who masters [#4IR] technologies, in some way, will be the masters of the world': Klaus Schwab, World Government Summit 2023 #WorldGovSummit #WGS @WorldGovSummit pic.twitter.com/NhLahuT56D

— Tim Hinchliffe (@TimHinchliffe) February 13, 2023
"Ten years from now we will be completely different," Schwab said, adding "My deep concern is that [with] #4IR technologies, if we don't work together on a global scale, if we do not formulate, shape together the necessary policies, they will escape our power to master those technologies."
⭕️ Schwab's tone has changed of recent. A deep panic is setting in that the world isn't going to adhere to his WEF strategic map, that he won't be able remake the world into a globalist utopia… pic.twitter.com/tD9caOWVjn

— Patrick Henningsen (@21WIRE) February 14, 2023
Schwab is obsessed with AI and other advanced technologies and has previously predicted that "What the Fourth Industrial Revolution will lead to is a fusion of our physical, our digital, and our biological identities."
Klaus Schwab: Great Reset Will "Lead to a Fusion of Our Physical, Digital and Biological Identity"
Taking a very different line to world domination freak schwab, Tesla founder and Multi - Billionaire Elon Musk struck a warning note while giving brief brief remarks at the WGS, telling attendees to avoid excessive cooperation because it could pose an existential threat.
"I know this is called the 'World Government Summit,' but I think we should be a little bit concerned about actually becoming too much of a single world government," Musk said.
"If I may say, we want to avoid creating a civilizational risk by having — frankly, this might sound a little odd — too much cooperation between governments," the Tesla CEO added.
Citeing the fall of Rome, which took place in the 5th century, as an example of civilizational collapse, Musk explained, "While Rome was falling, Islam was rising, so you had a caliphate doing well while Rome was doing terribly. And that ended up being a source of preservation of knowledge and many scientific advancements."
"So I think we need to be a little conscious of being too much of a single civilization because if we are too much of a single civilization, then the whole thing may collapse," he continued.
.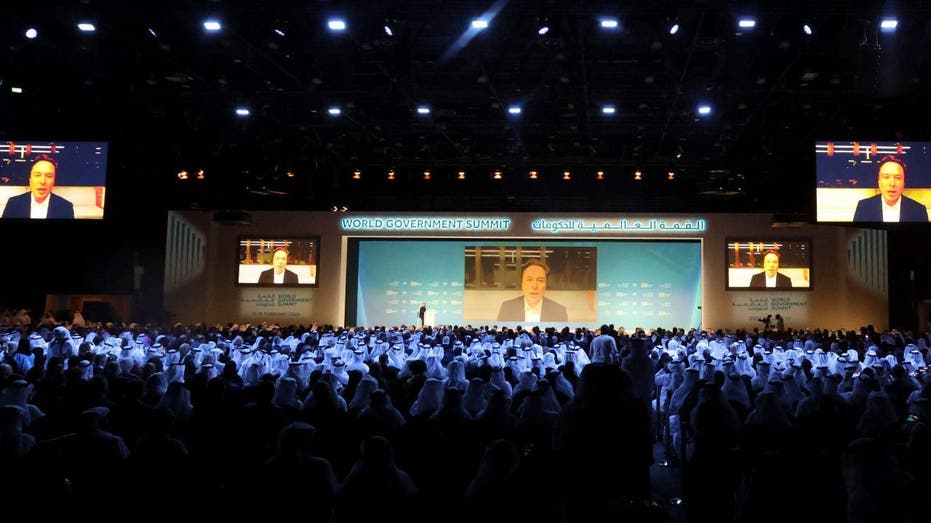 Picture
FOX BUSINESS

Musk later quipped on Twitter that the World Government Summit "seemed like the right venue" to spread the message.
While Schwab and the infinitely more likeable nutcase Elon Musk offered competing visions of the future at the event, between them dominating media coverage, the WGS has issued its own set of dystopian predictions for the future in its "Government in 2071: Guidebook."
The guidebook predicts that catastrophic climate change, mass migration, mass layoffs due to automation, ensuing social unrest, and the merging of humans and technology will define the next 50 years.
It presents this vision as the "best-case scenario" for 2071. Those of you likely to still be breathing in 50 years time should be afraid, be very afraid.
RELATED:

[ New World Order ] ... [ Globalism ] ... [ Artificial Intelligence ] ... [ Humanitas ]
Is Switzerland About To Become First Country To Outlaw A Cashless Society?
As in neighboring Germany and Austria, cash is still king in Switzerland albeit a much diminished one. But the Swiss will soon have the chance to vote on whether to preserve notes and coins indefinitely.
World Eeconomic Forum Fuhrer Klaus Schwab Says Governments Must Harness A.I. And They Will Be 'Masters of the World', MWAH HA HA HARRR
Addressing the World Government Summit in Dubai,World Economic Forum Chairman and Scooby Doo Villain lookalike Klaus Schwab said that emerging technologies such as Artificial Intelligence which will usher in a 'Fourth Industrial Revolution' can become "masters of the world,"
Germany is Now A "Total Dictatorship" Says Dutch Journalist
A Dutch journalist has claimed that Germany is now a "total dictatorship". This may seem like a case of the pot calling the kettle black given the Dutch government's plan to evict up to 3000 farmer from their land and return those acreages 'to nature' in a bid to lead the way among EU member states, to enforce total compliance with the latest loonytoons EU climate policy which requires EU members to reduce that dangerous pollutant nitrogen, which accounts for 78% of the air we breathe ...
Dutch farmers block roads with tractors in protest of government plan to seize thousands of farms over "climate change"
With the cost of energy and food prices already sky high and set to go higher, the , billionaire psychopaths have declared war on the food that sustains us. The European Union having failed to completely remove the gas essential to all lifeforms, Carbon Dioxide from the atmosphere, is now setting itself up to remove another esstential gas, nitrogen - which accounts for 70% of the air we breathe.
AI experts are increasingly afraid of what they're creating
In 2018 at the World Economic Forum in Davos, Google CEO Sundar Pichai had something to say: "AI is probably the most important thing humanity has ever worked on. I think of it as something more profound than electricity or fire." Pichai's comment was met with a healthy dose of skepticism. But nearly five years later, it's looking more and more prescient. College professors are tearing their hair out because AI text generators can now write essays as well as your typical undergraduate ...
Majority of the British people feel that migration is too high'
As the Conservative government come under fire for their failure to deliver on promises to control immigration and stay the flow of illegal immigrants from France in small, inflatable boats, the topic is once again at the forefront of political debate.
 Among the people raising the topic on media platforms this week is Professor Matthew Goodwin. A Politics academic at The University of Kent, Prof Goodwin declared today that a majority of people in Britain think imigration levels are too high.
The Great Genocide: Dutch Govt Plans to Shut Down Up To 3,000 Farms To Comply With Euronazi Union Green Law
As we reported earlier in the year, in order to comply with new, economically suicidal European Union environmental laws the Dutch government's plans to force the closure of thousands of dairy and livestock farms in order to comply with the latest and most insane to date batch of EU environment laws which aim to limit notrogen as well as Carbon Dioxide emissions. The European Union green agenda directive has been branded as the "Great Reset turned up to eleven".
Lockdowns, The Great Reset and the Unfolding Disaster That Is Globalism

In late 2019 and early 2020 and during the COVID era of lockdowns, mask mandates, etc., trillions of dollars were handed over, (via COVID-relief packages,) to elite interests while lockdowns and restrictions were imposed on ordinary people and small businesses.The winners were the global corporations like Amazon, Big Pharma and the tech giants. The losers were small enterprises, communities and the bulk of the population, deprived of their right to work and the entire panoply of civil rights their ancestors struggled for.
EU Vows To Retaliate if Nord Stream Gas Pipeline Blasts Were Sabotage - But against whom, the USA?
Yesterday's shocking news that the Nord Stream 1 & 2 gas poipelines between Russia and Germany immediately triggered speculation about who is responsible, but as the facts emerge the knee jerk blaming of Russia has failed to convince because the attack bears all the halllmarks of a false flag event engineered by the usual suspects ...
The Great Genocide: Dutch Govt Plans to Shut Down Up To 3,000 Farms To Comply With Euronazi Union Green Law
As we reported earlier in the year, in order to comply with new, economically suicidal European Union environmental laws the Dutch government's plans to force the closure of thousands of dairy and livestock farms in order to comply with the latest and most insane to date batch of EU environment laws which aim to limit notrogen as well as Carbon Dioxide emissions. The European Union green agenda directive has been branded as the "Great Reset turned up to eleven".
Legal Complaint Filed Against Food Retailer's "Orwellian" Facial Recognition Surveillance SystemA report last week that a major UK retailer, The Co - Operative Society (Co - OP) was planning to install in - store surveillance systems with facial recognition capabilities, supposedly to reduce shoplifting by repeat offenders, caused quite a stir in the media and the privacy protection community. Privacy rights campaign group Big Brother have denounced the scheme which would capture and store biometric scans of "thousands of shoppers" is "unlawful" and "Orwellian in the extreme."
Reprieve For Free Speech - UK Online Safety Bill Sent Back To Committee
It s gratifying for supporters of free speech that the UK Government's Online Safety Bill, which had been described as a charter for censors, has been ripped apart and will have to be redrafted entirely apart from the title.
When the House of Commons the Speaker, savages a Bill it must be bad, so from the moment Lindsey Hoyle told MPs that the bill was 'all over the shop' (a good old northern phrase from a northern politician,), and that at least half its clauses "would be getting the treatment," in particular that measure which aimed to force Social Media platforms to remove content which was "legal but harmful," ...
Julian Assange Loses Appeal: British High Court Accepts U.S. Request to Extradite Him for Trial
Press freedom groups have warned Assange's prosecution is a grave threat. The Biden DOJ ignored them, and today won a major victory toward permanently silencing the pioneering transparency activist. In a London courtroom on Friday morning, Julian Assange suffered a devastating blow to his quest for freedom. A two-judge appellate panel of the United Kingdom's High Court ruled that the U.S.'s request to extradite Assange to the U.S. to stand trial on espionage charges is legally valid.

As the COVID narrative crumbles under the weight of evidence that the vaccines do not work, masks are useless and lockdowns kill more than they save a new scaremongering narrative - or a revamped old one - is emerging as the threat of war with russia is the latest fear and panic vehicle to scare the people into compliance with tyranny. Continue reading >>>
IBM Lays Billion Dollar Bet On Artificial Intelligence System Called Watson: They'll Lose
This publication has always been sceptical of the claims made by computer scientists that'the thinking computer is just around the corner'. The fact is pointy heads have been saying arificual intelligence would be with us in two or three years for the past forty years. And the old computer professional who owns the site says we are no nearer than when he wrote his fisrt program.
Nothing Good Has Come Of The Internet

When a technophobe denounces the internet as anti - social, anti jobs, a force for dumbing down or a waste of time it can easily be dismissed but when the CEO of a major technology company like Sony saays nothing good has ever come of the internet we should perhaps listen.
.
The Robotification Of Human Society Is being Implemented
Are you ready to surrender your humanity to science, accept having computer chips implanted in your skull that will link your brain to the internet (via a Google server) and let your life be controlled by machines? That's what The Controllers are planning for you ...
Global collapse
The global corporatocracy
Sweden The Latest Domino To Fall ToAnti – Globalism Pushback?
The globalisation of serfdom
Global trade crash
Is Europe Waking Up To The Threat Of Globalism Posed by Secret Trade Treaties
Living within the conspiracy