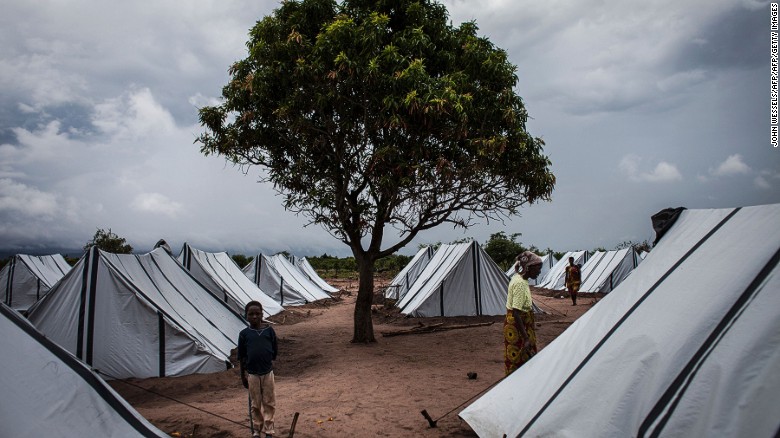 A refugee camp in Africa - Source CNN (screenshot)
A report from a new study conducted by University College London's may cause a stir in the climate scaremongering industry. The report challenges the academic establishment's standard narrative of mass displacement in Africa being principally responsible for the creation of refugees in Africa and casts doubt on a number of other assumptions about global problems.
Wheras the climate science lobby can only point to a chain of pailed predictions relating to the disappearance of polar ice caps, the end of winter smows in the northern nations and the extinction of polar bears, in 2018 polar bears are actually increasing in number, satellite data (as opposed to the mathematical models climate scientists rely on for information,) show ice coverage increasing slightly, and both Europe and north America have experienced record snowfalls in recent years.
The report published on Tuesday contained the findings of a research project that links mass population displacement in East Africa over the past half century to social and political factors rather than to climate change, which goes against the "scientific consensus" we have been told repeatedly over the past twenty years is irrefutable.
Published by Palgrave Communications, the report examines the causes of populations displaced within states and those forced to leave their countries of origin and found that rapid population growth and falling or stagnating economic growth in African states within the last decade overwhelmingly accounted for the dramatic increase in the number of refugees crossing the continent, including those seeking sanctuary in Europe.
The authors of the report found links between local or regional conflicts and an upsurge in displaced people arriving in Europe in eight out of ten armed conflicts in East Africa. Another trend linked refugee numbers to unconstrained the population growth which began three a decades ago. It also concluded that economic slowdowns were indicative of 70 percent of population displacements a decade later.
Trump Announces US To Quit The Paris Climate Accord

Fulfilling another campaign pledge, US President Donald Trump yesterday announced the U.S. would withdraw from the Paris climate pact and that he will work to renegotiate the international agreement in a way that treats American workers better. "So we are getting out, but we will start to negotiate and we will see if we can …
German Scientist Confims Climate Change Ia A Politically Motivated Scam

Even as the inbred idiot Prince Charles was babbling to a hand picked audience about the skid marks in his underpants being caused by Climate Change, a somewhat more scientifically literate person, Dr. Friedrich Karl Ewert, a retired geologist and data computation expert, has confirmed what those of us dubbed 'climate deniers' have been telling …
Obama's Climate Change Hypocrisy – The Arrogance Of The New Patricians
It is customary for US Presidents, when they leave office either having served two terms, been defeated in an election, or of their own volition, to fade quietly into the background. This is largely good manners, for an ex President to appear to be trying to intervene on political issues and influence events or public …
Big Business Joins Climate Change Scaremongers

The Paris summit on climate change approasches, which means the tree hugging fascist tendency are turning up the volume to eleven again. Trouble is they cannot produce a shed of evidence to back up their wild claims of imminent catastrophe because global warming only exists in their mathematical models, in the real world it is not happening/
Confusion Reigns As Paris Climate Conference Draws Near

The carbon dioxide driven climate change scam is back on the agenda as yet another monstrously expensive and fossil fulel gobbling jolly for politicians, scientists, freeloaders and general wankers gather to eat, drink, talk a lot and do nothing about a problem that exists in mathematical models but not in the real world.
Volkswagen Emissions Scandal - Is It The Tip Of The Iceberg?

The real problem here is that, driven by the hysterical warnings of self interested pseudo-scientists, politicians have set unachievable targets for reducing emissions while demanding that national economies keep growing.
Climate Denial Finally Pays Off

This blog has always been sceptical of the scientific case for climate change. And we admit that NO we are not climate scientists, NO we have not published research papers in 'peer reviewed' science journals. Of the three main contributors (all retired or semi retired) one is an engineer who still lectures in engineering and …
Nobel Laureate Smashes the Global Warming Hoax VIDEO
Nobel laureate Ivar Giaever's speech at the Nobel Laureates meeting 1st July 2015. Ivar points out the mistakes which Obama makes in his speeches about global warming, and shares other not-well known facts about the state of the climate.
Charlotte Church blames Syria's brutal civil war on CLIMATE CHANGE (not ISIS, Assad or Obama)

Last Nights QT: Stephen Kinnock, Leanne Woor (obscured) Charles Moore, David Dimbleby (host) Charlotte, Stephen Crabbe (Image source) Classical singer turned left wing fuckwit showed exactly what is wrong with the left on Question Time last night Climate change played a role in Syria's conflict, according to Charlotte Church. Speaking as part of the panel …
The Pain In Spain as Green Energy Policy Fails
You will not find anything in mainstream media, either print or broadcast, about the failure of the green energy initiatives that have left Spain in dire economic strais or Denmark in the dark. Bizarre, as other governments are pressing ahead with plans to make us reliant on these crackpot schemes and intellectual wanks of mad scientists ...



Climate Scientists versus Free Speech and Freedom Of Information
This week four groups, whose boards represent a distinctly liberal world view and who oppose scrutiny of taxpayer-funded science by academics, asked the University of Virginia to disregard its agreement before the court with American Tradition Institute to provide the records of former climate scientist Dr. Michael Mann, which belong to the public. The groups, led by the far-left Union of ....

Ever Changing Ocean

The scientists warn us climate change will cause massive extinctions, species will be destroyed, nations will die, the oceans will swamp huge areas of land as sea levels rise and lots of scaremongering stuff like that. But life in the seas has survived much worse catastrophes, much more violent changes than anything we puny humand can conjure up. It is a measure of the arrogance of humans in general and scientists in particular to imagine we puny humans could destroy the planet.also availabe HERE

Climate Change and the Population Explosion
In all the debates about climate change and the effect of carbon dioxide emissions on the environment there is one issue that has a huge bearing on humanity's relationship with our planet that neither politicians nor scientists will discuss. Population growth. So a philosopher has to step up to the mark and ask why people are encouraged to have children when we face so many population related problems?
Here's A Snippet From A Brilliant Article On Climate Change

Those building the biblical Tower of Babel, intending to reach heaven, did not know where heaven was and hence when the project would be finished, or at what cost. Those setting out to solve the climate change problem now are in the same position. If we were to spend 10 or even 100 trillion dollars …
The Great Wind Turbine Catastrophe
Because of failure to invest in new coal and nuclear powered generating plants to provide the electric energy we need Briain now faces a serious shortfall in electricity supply as old stations, already well past their planned lifespan are forced to close. Seduced by the voices of academics and the science lobby, the government seems foolishly determined to rely on wind turbines for future electricity needs.