26 June 2021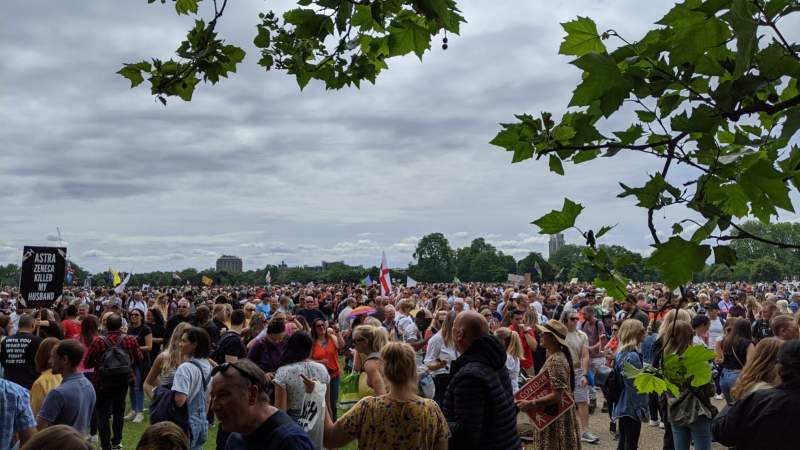 Huge crowds in London to tell government "No More Lockdowns - Picture: Twitter

People have once again gathered in London, in the biggest anti - lockdown to date, in an effort to tell this increasingly fascistic government "Enough is Enough, No More Lockdowns".
The crowds rendezvoused in Hyde Park tand marched from there to Parliament Square, Westminster, London, where in a day long event they heard libertarian speeches from anti-lockdown campaigners and were entertained by musicians, comedians and poets.
The Home Office, responsible in the UK for maintaining law and order, has said that under current social distancing regulations and travel restrictions it is still illegal for people to attend the protests, but this ridiculous posturing only increases public contempt for the authoritarian response to a disease that poses little risk to over 90% of the population and any attempt to enforce those regulations on such huge crowds would likely cause the protests which have so far been peacul and orderly, to descen into violence and vandalism. A group of 60 Members of Parliament, mostly conservative, and some members of The House of Lords have called for the government to change the law and restore the right to peaceful protests.

According to The Met Police, a significant police operation is underway and there have already been several arrests made, BBC News reports.
Today's protests came as stadiums, shopping centres and theatres are among hundreds of walk-in vaccination sites opening across England this weekend in a bid to boost the number of people getting jabbed over concerns of rising infections- mainly due to the Indian Delta version of the virus. It's had to see why these are needed when mainstream media are reporting that a thousand per cent of the population are now vaccinated or something, but apparently the vaccines don't make people immune so I guess we have to get a fresh jab every day.
Also puzzling is that while mainstream media are reporting all these pop up vaccine clinics are overwhelmed with people wanting a jab, all of our contacts report that when they have driven past the makeshift clinics the only movement was that of tumbleweed blown through the streets by a susurrating wind as in the distance the lone bell of an abandoned mission tolls a funereal beat.
But on a more serious note, we hear the government's all - powerful scientific advisers, led by Drs. Mengele and Brandt, are already dreaming up lame excuses for extending lockdown again beyond July 19.

RELATED: