We reported on this a couple of weeks ago when a friend of ours (and occasional contributor,) in Switzerland whose business involves liaising with government officials, knowing that we run an omnibus page on one of our other sited dedicated to reporting plans for cashless economies. If you want the news before it happens, follow any of the Boggart Blogs or The Daily Stirrer.
Authored by Nick Corbishley via NakedCapitalism.com,
As in neighboring Germany and Austria, cash is still king in Switzerland albeit a much diminished one. But the Swiss will soon have the chance to vote on whether to preserve notes and coins indefinitely.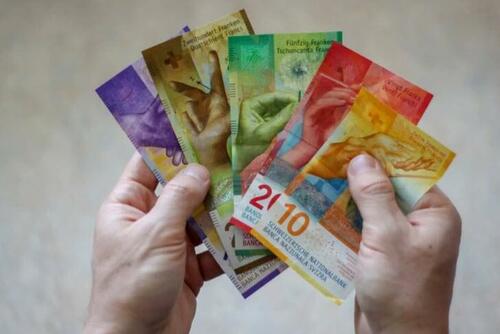 This is a rare positive news story that, perhaps unsurprisingly, has received next to no attention beyond Swiss borders. As far as I can tell, none of the legacy media in the US, UK, France, Germany or Spain have even bothered to cover the story. Indeed, it only registered on my radar a couple of days ago, over a week after the story initially broke, because an acquaintance of mine with family in Switzerland told me about it.
So, here's the basic thrust of the story: At the beginning of last week, a Swiss pressure group with libertarian leanings called the Swiss Freedom Movement (FBS) announced it had collected enough signatures (111,000) to trigger a national vote on preserving cash for posterity. If passed, the initiative would require the federal government to ensure that coins and banknotes are always available in sufficient quantities. What's more, any attempt to replace the Swiss Franc with another currency — quite possibly a reference to a central bank digital currency — would also have to be put to popular vote.
From Reuters:
Swiss citizens will get the chance to try to ensure their economy never becomes cashless, a pressure group said, after collecting enough signatures on Monday to trigger a popular vote on the issue.

The Free Switzerland Movement (FBS) says cash is playing a shrinking role in many economies, as electronic payments become the default for transactions in increasingly digitised societies, making it easier for the state to monitor its citizens' actions.

It wants a clause added to Switzerland's currency law, which governs how the central bank and government manage the money supply, stipulating that a "sufficient quantity" of banknotes or coins must always remain in circulation…

Under Switzerland's system of direct democracy, the proposal would become law if approved by voters, though government and parliament would decide how that law was implemented.
FBS says cash is playing a diminishing role in many economies, including Switzerland, as digital payment methods come to the fore, making it easier for the State and central bank to track citizens' behavior.
"It is clear that… getting rid of cash not only touches on issues of transparency, simplicity or security… but also carries a huge danger of totalitarian surveillance," FBS president Richard Koller said on the group's website. ... Continue reading >>>
RELATED:
[ Cashless society ] ... [ Death of democracy ] ... [ ] ... [ New World Order ] ... [ Surveillance society ] ... [ Science & technology ]
Negative Interest Rates & The War On Cash, Part 3: "Beware The Promoters"
Bitcoin and other electronic platforms have paved the way psychologically for a shift away from cash, although they have done so by emphasising decentralisation and anonymity rather than the much greater central control which would be inherent in a mainstream electronic currency. Despite the loss of privacy, electronic currency is much favoured by techno-optimists, but not so much by those concerned about the risks of absolute structural dependency on technological complexity.
Beware the dangers of a cashless society
As the country celebrates tradition and prepares for change, one major shift is closer than ever – our move towards becoming a cashless society. It is hard to imagine money without the Queen's profile proudly embossed, defining our Elizabethan generation in a centuries-old British tradition, but the monarch's face is fast disappearing from our pockets.
War On Cash Gathers Momentum - Germany Unveils Cash Controls
On Monday (1 February, 2016) just two days ago, Bloomberg called on the central banks of the world to "bring on a cashless future" in an Op-Ed that calls notes and coins "dirty, dangerous, unwieldy, and expensive." We can imagine it would be quite easy to harm someone by firing large coins at them from a gun and terrorists could probably stuff an improvised explosive device with small coins rather than nails or nuts and bolts. And if ...
Norway's Biggest Bank Joins Push To Abolish Cash
The move by governments to eliminate cash as a means of trading goods and services is moving faster than we imagined. With another global financial crisis looming according to financial journalists and investment experts this is as understandable as it is undesirable for us ordinary punters.
The Financial Times Calls for Ending Cash, Calls it a "Barbarous Relic"
Earlier this week, as the financial world was in turmoil following a rapid crash and recovery in financial markets. While we the punters shook our heads and wondered how the banksters get away with this kind of shit, The Financial Times published a dastardly little piece of fascist New World Order propaganda.
New Global Crisis Imminent, New Geneva Report Warns
The Geneva Report refers to a "poisonous combination of high and rising global debt and slowing nominal GDP [gross domestic product], driven by both slowing real growth and falling inflation". The total burden of world debt, private and public, has risen from 160 per cent of national income in 2001 to almost 200 per cent after the crisis struck in 2009 and 215 per cent in 2013. "Contrary to widely held beliefs, the world has not yet begun to delever and the global debt to GDP ratio is still growing, breaking new highs," the report said.
Cashless Society - The Resistance Begins Here
A seaside market town in Norfolk may be less than 100 miles from the world's financial capital, London, , it may be the commercial centre of West Norfolk' as the town website boasts, it may be home to 45,000 people — but there, unlike in London, cash is king.
Establishment Pushing 'Cashless Society' to Control Humanity
The global establishment is increasingly pushing the notion of what it calls a "cashless society" — a world in which all payments and transactions would be conducted electronically, creating a permanent record for governments to inspect and track at will.Multiple governments from Africa and Asia to Europe and ...
Being Evil? Just Another Day At The Office For Google Boss
Amazon's Human Robots: More and more people are finding themselves dehumanised in the modern workplace
Washington Signals Fears Over Dollar
Globalist Bankers Make Plans To Rob Your Bank Account
World Eeconomic Forum Fuhrer Klaus Schwab Says Governments Must Harness A.I. And They Will Be 'Masters of the World', MWAH HA HA HARRR
Addressing the World Government Summit in Dubai,World Economic Forum Chairman and Scooby Doo Villain lookalike Klaus Schwab said that emerging technologies such as Artificial Intelligence which will usher in a 'Fourth Industrial Revolution' can become "masters of the world,"
The Federal Republic of New Normal GermanySo, the government of New Normal Germany is contemplating forcing everyone to wear medical-looking masks in public from October to Easter on a permanent basis. The fanatical New Normal fascists currently in charge of Germany's government are discussing revising the "Infection Protection Act" in order to grant themselves the authority to continue to rule the country by decree, as they have been doing since the Autumn of 2020, thus instituting a "permanent state of emergency" that overrides the German constitution, indefinitely ...
Lockdowns, The Great Reset and the Unfolding Disaster That Is Globalism

In late 2019 and early 2020 and during the COVID era of lockdowns, mask mandates, etc., trillions of dollars were handed over, (via COVID-relief packages,) to elite interests while lockdowns and restrictions were imposed on ordinary people and small businesses.The winners were the global corporations like Amazon, Big Pharma and the tech giants. The losers were small enterprises, communities and the bulk of the population, deprived of their right to work and the entire panoply of civil rights their ancestors struggled for.
EU Vows To Retaliate if Nord Stream Gas Pipeline Blasts Were Sabotage - But against whom, the USA?
Yesterday's shocking news that the Nord Stream 1 & 2 gas poipelines between Russia and Germany immediately triggered speculation about who is responsible, but as the facts emerge the knee jerk blaming of Russia has failed to convince because the attack bears all the halllmarks of a false flag event engineered by the usual suspects ... RFID tattoos for total personal surveillance Google Plans More Evil Technology