Ukraine Angry After FIFA Rejects Zelensky Request To Address World Cup Final

Are global audiences tired of hearing Ukraine's President Zelensky ask for more money? Or is it just 'Ukraine fatigue' setting in, which has already for months been observed among the American public, which explains the broader apparent waning interest in the conflict?
Boggart Blog says: Maybe, just maybe, it's because The world Cup is a football festival and Bellendsky has no connection to football
This week Zelensky issued a formal request for FIFA to allow him to share a message of "world peace" just before the kickoff to the World Cup final, scheduled for Sunday, but the world governing soccer body promptly rebuffed the request.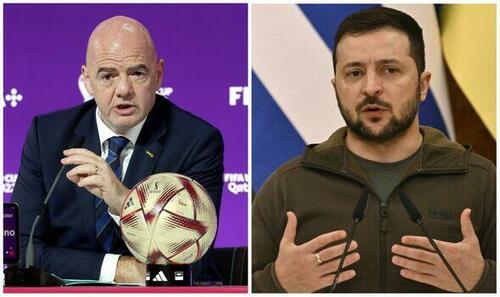 The Ukrainian government is angered and disappointed, given Zelensky has frequently been invited to make appeals before major public events, even including at the Grammys and Cannes Film Festival. This is when he's not already busy addressing the G7 or UN-sponsored events, or European Parliament. It goes without saying that the World Cup final will be the single most televised and watched event across the globe this year.
According to CNN, Kiev's lobbying effort is still underway, but Ukraine officials were "surprised" when FIFA quickly reacted negatively: