For the past few days we have been focused on the banking crisis in America, with Silicon Valley Bank, Signature Bank and First Republic Bank went into administration as rising interest rates, falling bond yields and defaulting borrowers combined to make them insolvent. It was always clear this crisis was not going to be limited to America but may be a surprise to people not involved in finance or investing is Swiss retail bank Credit Suisse. Swiss bankers are traditionally known for their cautious approach to lending mess so how did one of their leading banks, and one designated in previous crisies as too big to fail get into the impending mess.
The exposure of Credit Suisse to far too much dodgy debt has been known for a long time, in fact shareholders in the bank have been asked to bail it out several times. This time however, the distressed bank's biggest shareholder, Saudi National Bank (SNB), which is 37% owned by the kingdom's sovereign wealth fund, has publicly ruled out further investment for the bank.
Shares of Swiss banking giant fell by more than 20 percent and the cost of insuring its bonds against default soared on Wednesday when SNB, its biggest shareholder said it would "absolutely not" provide additional support.
The decline brought shares to an all-time low. Concerns about the bank's health and stability have been weighing on the stock for three months.
The most recent sell-off appeared to be triggered by remarks from the chairman of Saudi National Bank, the biggest shareholder of Credit Suisse, when asked if the Saudi bank was open to further capital injections.
"The answer is absolutely not, for many reasons outside the simplest reason, which is regulatory and statutory," Chairman Ammar Al Khudairy said in an interview with Bloomberg TV.
SNB's announcement that it is not prepared to flush any more money down the toilet that is Credit Suisse is just about the worst news stockborkers and bond traders could have been given with markets already in a blind panic following several bank runs and resultant bank shutdowns.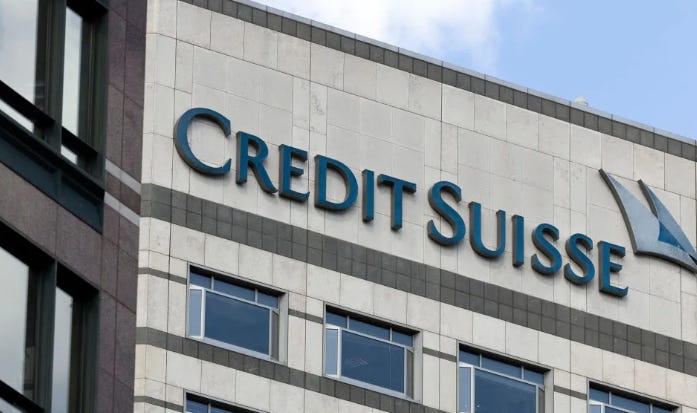 A couple of paragraphs quoted by Zero Hedge in their writeup of the situation explain how this has led to "the cost of insuring the bank's bonds against default in the near term to distressed levels."
"One-year credit default swaps for the embattled Swiss lender were indicated at 835.9 basis points on Tuesday's close of business, based on pricing source CMAQ. Other pricing sources point to a further rise on Wednesday, while a level of 1,000 would indicate serious concern," Bloomberg said.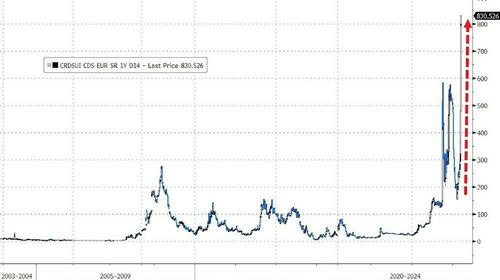 Credit Suisse's CEO was on the stump defending the bank and its capital ratios today, but that doesn't mean much in an investing environment where any hint of negative performance can immediately trigger a collapse of share prices and market capitalisation.Take these examples of recent attempts to reassure investors:

"I would ask everyone to stay calm and to support us just like we supported you during the challenging times," Silicon Valley Bank's CEO said just days before the bank was taken over by the FDIC.

"Signature Bank, a New York-based, full-service commercial bank, announced today updated financial figures as of March 8, 2023 and reiterated its strong, well-diversified financial position and limited digital-asset related deposit balances in the wake of industry developments," Signature Bank wrote in a PR just 3 days before it was also taken over by regulators.
And now, today: "We have strong capital ratios, a strong balance sheet," said Credit Suisse Chairman Axel Lehmann, dismissing rumours that the bank was trying to negotiate terms of a bail - out with the Swiss government.
Earlier this month, while speaking at the Financial Sector Conference in Saudi Arabia, Lehmann said
government assistance "isn't a topic" for the lender
as the Swiss bank sought to shore up confidence among shareholders and clients.
This may come as a surprise to some, but the Chairman may have 'misplaced' the truth.
The Financial Times reports that, according to three people with knowledge of the talks, Credit Suisse has appealed to the Swiss National Bank for a public show of support.
Credit Suisse also asked for a similar response from Finma, the Swiss regulator.
"It is looking inevitable that the Swiss National Bank will have to intervene and provide a lifeline," said Octavio Marenzi, analyst at Opimas.

"The [Swiss National Bank] and the Swiss government are fully aware that the failure of Credit Suisse or even any losses by deposit holders would destroy Switzerland's reputation as a financial centre."
This latest news comes on top of a report that the ECB has asked EU lenders to disclose their exposures to the Swiss lender, a person familiar with the matter told the Financial Times.
Finally, Bloomberg reports that the US Treasury says it's monitoring the Credit Suisse situation, and is in touch with global counterparts.
Officials at the Treasury Department are working closely with European regulators, said one of the people, who spoke on condition of anonymity.
As we wait for the next bank to collapse I can only quote the words of a wise and articulate man I once worked with, when he was told 'government experts' were being brought in to supervise the multi - million £ project we were working on as it was of national importance."

He said: "We're fucked, I'm fucked, you're fucked, we're all fucked. We're fucking fucked."
EXPLORE:
[Daily Stirrer] ... [ Our Page on on Substack ]... [Boggart Aboad] ... [ Ian Thorpe at Quora ] ... [ Greenteeth Home ] ... [ Greenteeth on Minds.com ] ... [ Here Come The Russians ] ... [ Latest Posts ] ... [ Blog Bulletin ]