Leaked Email Reveals Potential Collusion Between State Department And Clinton Campaign
http://www.zerohedge.com/news/2016-10-10/leaked-email-reveals-potential-collusion-between-state-department-and-clinton-campai
One of the major email "leak" stories to emerge last week courtesy of the WSJ, was that the White House had intervened on at least one occasion to suppress the story surrounding Hillary's "Secret Server" scandal, through backdoor channels with the State Department. This is what we noted as
per the original piece
:
Ten days after the story broke, White House communications director Jennifer Palmieri emailed State Department spokeswoman Jennifer Psaki to ask, "between us on the shows…think we can get this done so he is not asked about email." That apparently referred to Mr. Kerry, who appeared in an interview on CBS 's "Face the Nation" three days later.

"Agree completely and working to crush on my end," wrote back Ms. Psaki.

A day later, Ms. Psaki added, "Good to go on killing CBS idea." She continued, "And we are going to hold on any other TV options just given the swirl of crap out there." Mr. Kerry wasn't asked on CBS about the email server, though it isn't clear how Ms. Psaki could have guaranteed that.

Teased by Ms. Palmieri about her use of the phrase "swirl of crap," Ms. Psaki wrote back: "Ha I mean—the challenging stories out there."
While we are confident there were many other interactions between the White House and the State Department meant to boost the winning odds of the Clinton presidential campaign, this was sufficient evidence to confirm that on at least one occasion, the two entities had colluded.
Now, courtesy of the latest leak by Wikileaks, which earlier today released another 2,000 emails by Clinton campaign chairman, John Podesta, we may have stumbled on evidence of collusion between the State Department and the Clinton Campaign itself. In an email from close Hillary's confidant Heather Samuelson, also known as "
the Clinton insider who screened Hillary's emails
", we learn the intimate details leaked by Samuelson regarding a FOIA request submitted previously by Judicial Watch regarding Bill Clinton speeches, which shows that virtually entire process was being "translated" over to Hillary's campaign.
By way of reminder, here is a quick
Politico primer
on who Heather Samuelson is, from September 2015:
Hillary Clinton chose a former campaign staffer who followed her to the State Department to make the initial determination about which of her emails should be preserved as federal records, according to closed-door testimony by Clinton's former chief of staff Cheryl Mills, a GOP source told POLITICO.

Heather Samuelson, a lawyer and 2008 Clinton campaign staffer, worked under Mills and Clinton's attorney David Kendall to sift through her ex-boss' messages. She helped separate those that were purely personal, which were not turned over to the State Department, from those that were work-related.
THe
Daily Caller adds the following
:
A longtime Clinton campaign staffer who worked for as White House liaison at Clinton's State Department and, later, as her lawyer.
As a lawyer, Samuelson led up the 2014 review of Clinton's emails to determine which ones were work-related and which were personal.
Most importantly, as we reported previously,
Samuelson received DOJ immunity in exchange for turning over the laptop she used during the review of Clinton's emails in 2014.
Finally, as the
NRO wrote over the weekend
, "The more information that drips out about the Clinton e-mail investigation, the more we learn that two key subjects, Hillary confidants Cheryl Mills and Heather Samuelson, got extraordinarily special treatment — concessions that would never be given to subjects in a normal investigation. The primary reason for this is that the Obama Justice Department was never going to charge Hillary Clinton and her accomplices with crimes.
Newly Leaked Emails Reveal Unprecedented Coordination Between Hillary Campaign And Press
http://www.zerohedge.com/news/2016-10-09/new-email-leak-reveals-unprecedented-coordination-between-hillary-campaign-and-press
It is no secret that the mainstream media has a "slight" left-leaning bias in their political reporting. But newly leaked emails from Guccifer 2.0, obtained exclusively by
The Intercept
, reveal just how "cozy" and pervasive the Clinton campaign's relationship is with the press. From "off-the-record dinners with the key national reporters" to feeding pre-written propaganda pieces to "friendly" journalists, the new leaks reveal startling coordination between the Clinton campaign and the mainstream media.
The first revelation comes from a January 2015 strategy document written by Hillary's press secretary, Nick Merrill, about how the campaign should approach reporting on Hillary's decision to run for president. The memo identifies "Maggie Haberman" of Politico as someone who had a "very good relationship" with the campaign and who had "teed up stories" for Hillary in the past.
Other documents revealed by
The Intercept
, listed those whom the campaign regarded as their most reliable "surrogates" – such as CNN's Hilary Rosen and Donna Brazile, as well as Center for American Progress President Neera Tanden. The list also included "David Brock" as a "Progressive Helper"...of course, Brock has made headlines this weekend as the latest WikiLeaks dump of the "Podesta Emails" revealed that the
Hillary campaign potentially coordinated directly with Brock's "Correct the Record" Super PAC, which is technically a felony
(see "
Podesta Emails Reveal Illegal Coordination With David Brock Super PAC
")
Russian Options Against A US Attack On Syria
http://www.zerohedge.com/news/2016-10-09/russian-options-against-us-attack-syria
Russian Options Against A US Attack On Syria
Via The Saker,
This article was written for the Unz Review: http://www.unz.com/tsaker/russian-options-against-a-us-attack-on-syria/
The tensions between Russia and the USA have reached an unprecedented level.
I fully agree with the participants of
this CrossTalk show
– the situation is even worse and more dangerous than during the Cuban Missile Crisis. Both sides are now
going to the so-called "Plan B"
which, simply put, stand for,
at best, no negotiations and, at worst, a war between Russia and the USA.
The key thing to understand in the Russian stance in this, an other, recent conflicts with the USA is that
Russia is still much weaker than the USA
and that she therefore does not want war. That does not, however, mean that she is not actively preparing for war. In fact,
she very much and actively does
. All this means is that should a conflict occur, Russia you try, as best can be, to keep it as limited as possible.
In theory, these are, very roughly, the possible levels of confrontation:
A military standoff à la Berlin in 1961. One could argue that this is what is already taking place right now, albeit in a more long-distance and less visible way.
A single military incident, such as what happened recently when Turkey shot down a Russian SU-24 and Russia chose not to retaliate.
A series of localized clashes similar to what is currently happening between India and Pakistan.
A conflict limited to the Syrian theater of war (say like the war between the UK and Argentina over the Malvinas Islands).
A regional or global military confrontation between the USA and Russia.
A full scale thermonuclear war between the USA and Russia
During my years as a student of military strategy I have participated in many exercises on escalation and de-escalation and I can attest that while it is very easy to come up with escalatory scenarios,
I have yet to see a credible scenario for de-escalation.
What is possible, however, is the so-called "horizontal escalation" or "asymmetrical escalation" in which one side choses not to up the ante or directly escalate, but instead choses a different target for retaliation, not necessarily a more valuable one, just a different one on the same level of conceptual importance (in the USA
Joshua M. Epstein
and
Spencer D. Bakich
did most of the groundbreaking work on this topic).
The main reason why we can expect the Kremlin to try to find asymmetrical options to respond to a US attack is that in the Syrian context Russia is hopelessly outgunned by the US/NATO, at least in quantitative terms.
The logical solutions for the Russians is to use their qualitative advantage or to seek "horizontal targets" as possible retaliatory options. This week, something very interesting and highly uncharacteristic happened: Major General Igor Konashenkov, the Chief of the Directorate of Media service and Information of the Ministry of Defence of the Russian Federation, openly mentioned one such option. Here is what he said:
"As for Kirby's threats about possible Russian aircraft losses and the sending of Russian servicemen back to Russia in body bags, I would say that we know exactly where and how many "unofficial specialists" operate in Syria and in the Aleppo province and we know that they are involved in the operational planning and that they supervise the operations of the militants. Of course, one can continue to insist that they are unsuccessfully involved in trying to separate the al-Nusra terrorists from the "opposition" forces. But if somebody tries to implement these threats, it is by no means certain that these militants will have to time to get the hell out of there."
Nice, no? Konashenkov appears to be threatening the "militants" but he is sure to mention that there are plenty of "unofficial specialists" amongst these militants and that Russia knows exactly where they are and how many of them there are. Of course, officially, Obama has declared that there are a few hundred such US special advisors in Syria. A well-informed Russian source suggests that there are up to 5'000 foreign 'advisors' to the Takfiris including about 4'000 Americans. I suppose that the truth is somewhere between these two figures.
So the Russian threat is simple: you attack us and we will attack US forces in Syria.
Of course, Russia will vehemently deny targeting US servicemen and insist that the strike was only against terrorists, but both sides understand what is happening here. Interestingly, just last week the Iranian Fars news agency reported that such a Russian attack had already happened:
30 Israeli, Foreign Intelligence Officers Killed in Russia's Caliber Missile Attack in Aleppo:

"The Russian warships fired three Caliber missiles at the foreign officers' coordination operations room in Dar Ezza region in the Western part of Aleppo near Sam'an mountain, killing 30 Israeli and western officers," the Arabic-language service of Russia's Sputnik news agency quoted battlefield source in Aleppo as saying on Wednesday. The operations room was located in the Western part of Aleppo province in the middle of sky-high Sam'an mountain and old caves. The region is deep into a chain of mountains. Several US, Turkish, Saudi, Qatari and British officers were also killed along with the Israeli officers. The foreign officers who were killed in the Aleppo operations room were directing the terrorists' attacks in Aleppo and Idlib."
Whether this really happened or whether the Russians are leaking such stories to indicate that this could happen, the fact remains that US forces in Syria could become an obvious target for Russian retaliation, whether by cruise missile, gravity bombs or direct action operation by Russian special forces. The US also has several covert military installations in Syria, including at least one airfield with V-22 Osprey multi-mission tiltrotor aircraft.
Another interesting recent development has been the Fox News report that Russians are deploying S-300V (aka "SA-23 Gladiator anti-missile and anti-aircraft system") in Syria.
JPM Explains How HFTs Caused Friday's Sterling Flash Crash
http://www.zerohedge.com/news/2016-10-09/jpm-explains-how-hfts-caused-fridays-sterling-flash-crash
On Friday, in the aftermath of the historic pound sterling flash crash,
we presented Citi's forensic take
of how in just 30 seconds, bid/ask spreads in cable exploded as wide 600 pips.
Today, we provide another take, that of JPM's Nikolaos Panigirtzoglou, who looks at the "gapping market" that emerged on Friday morning Asia time, and shares some color on the role of high frequency traders behind the sudden, dramatic plung in sterling.
Below is his full note:
Friday's flash crash in sterling reinvigorates the debate about market liquidity and the role of High Frequency Traders (HFTs) as providers of liquidity. Similar to previous flash crashes such as the August 24th 2015 flash crash in US equities or the October 15th 2014 flash crash in USTs, market gapping, a step change in prices from one level to another without much trading in-between, raises questions about market structure and liquidity in FX markets.
This is also because FX markets are perceived to be a lot more liquid than equity or bond markets
, so the conventional view is that FX markets are unlikely to experience flash crashes or market gapping in the absence of high impact news.
The flash crash in a major currency like sterling questions the above perception and perhaps
shows there are liquidity vulnerabilities in FX markets that are more similar to those seen in equity or bond markets.
A step change following a significant event such the Brexit referendum or the SNB's abandonment of its peg is not problematic as it represents a natural market resetting.
But a step change triggered by an order flow is more problematic and in our opinion reflective of how vulnerable market liquidity is in FX markets also.
Liquidity vulnerabilities in equity or fixed income markets as a result of changing market structures are well documented. In equity markets the shift away from principal trading towards agency trading, where markets makers simply match buyers with sellers without holding inventory beyond a short period of time, took place well before the Lehman crisis. But the Lehman crisis caused a similar shift within fixed income markets.
Regulatory and other forces have made it a lot more costly for traditional dealers to act as principal traders in fixed income markets, inducing them to change towards a more order-driven trading model of matching buyers and sellers with minimal inventory risk, or to retrench and be replaced by agent traders.
At the same time electronic trading and advances in technology has encouraged the emergence of HFTs as liquidity providers in the most liquid segments of equity, FX and to some extent income markets. These HFTs use sophisticated quantitative models coupled with speed and high trading frequency, to exploit small price moves. They do so by arbitraging price differences across venues or by detecting and taking advantage of order shifts or imbalances or by simply exploiting very short term momentum or mean reversion signals.
However, different to traditional market makers, HFTs tend to operate with a much shorter inventory cycle, meaning that they conduct offsetting trades within seconds or even shorter, in order to neutralize their original position. As a result they tend to quote for smaller sizes and for a very short period of time. This in turn reduces market depth, i.e. the ability to trade in size in markets, especially in those markets where HFTs are important liquidity providers like equity markets. So we note that while the emergence of HFTs has been beneficial for bid ask spreads and small investors, it has likely had a negative impact on the ability of big institutional investors to trade in size. This is one of the reasons big institutional investors have resorted to dark pools for implementing large equity trades.
More importantly, because HFTs' models are typically adapted to exploit small price moves
, HFTs have a higher incentive to withdraw from their market making role in periods when volatility rises abruptly as they are reluctant to subject themselves to the risk of large price moves
. In addition, there is a similar incentive to withdraw from market making when they detect a big order imbalance, i.e. when they detect markets becoming one-sided, as they are reluctant to subject themselves to the risk of not being able to close their position in a very short period of time.
In addition, given HFTs employ similar models,
this creates the risk of a simultaneous withdrawal by HFTs in periods of high volatility or stress or in periods when market become more one-sided.
A simultaneous withdrawal by HFTs not only amplifies the initial market move, but also creates step changes or gapping markets as liquidity provision gets impaired and quotes are withdrawn.
How big is the role of HFT in FX markets relative to other markets? A previous report by the BIS "Highfrequency trading in the foreign exchange market", September 2011 concluded that around a quarter to one third of spot FX trading volumes are due to HFTs. But given that this study was conducted five years ago, we suspect that this share has risen since then.
Indeed, the latest 2016 Euromoney FX rankings survey is
consistent with a rising share by HFTs as liquidity providers
. The biggest change in this year's rankings has been the advent of non-bank liquidity providers led by XTX Markets who was ranked third for electronic spot FX trading with a market share of more than 10% and third for FX trading platforms. In contrast, the combined market share of the top five global banks dropped to just 44.7% for overall FX trading in this year's survey. This market share had peaked in 2009 at 61.5% and was above 60% as recently as 2014.
Moreover, many of the banks ranked outside the top 10 for overall FX trading are understood to be sourcing liquidity from non-bank liquidity providers. According to Euromoney, these non-bank liquidity providers or HFTs are set to gain more market share in the future, helped by advances in technology, more defined business models and a lower-cost infrastructure base than traditional FX banks.
HFTs are already very important in FX spot markets as mentioned above, but they look to build capability in forwards and other products in the near future.
In all, the FX market appears to be going through structural changes similar to those experienced by equity markets in the past. The advent of non-bank liquidity providers such as HFTs has reduced bid ask spread and increased market efficiency in FX markets
, but at the cost of lower market depth and withdrawal of liquidity provision in periods of stress.
Brexit Minister: We Will Reject Any Attempt To Delay EU Exit
http://www.breitbart.com/london/2016/10/10/brexit-minister-will-reject-attempt-delay-eu-exit/
(REUTERS) – Britain's government will reject any attempt to ignore the result of its referendum vote to leave the European Union or to unduly delay the process of exiting the bloc, Brexit minister David Davis told parliament on Monday.
"The mandate is clear and we will reject any attempt to undo the referendum result, any attempt to hold up the process unduly, or any attempt to keep Britain in the EU by the back door by those who didn't like the answer they were given on June 23rd," Davis told parliament.
Key Neocon Calls on US to Oust Putin
http://www.informationclearinghouse.info/article45643.htm
A prominent neocon paymaster, whose outfit dispenses $100 million in U.S. taxpayers' money each year, has called on America to "summon the will" to remove Russian President Putin from office, reports Robert Parry.
By Robert Parry
October 10, 2016 "
Information Clearing House
" - "
Consortium News
" - The neoconservative president of the U.S.-taxpayer-funded National Endowment for Democracy [NED] has called for the U.S. government to "summon the will" to engineer the overthrow of Russian President Vladimir Putin, saying that the 10-year-old murder case of a Russian journalist should be the inspiration.
Carl Gershman, who has headed NED since its founding in 1983, doesn't cite any evidence that Putin was responsible for the death of Anna Politkovskaya but uses a full column in The Washington Post on Friday to create that impression, calling her death "a window to Vladimir Putin, the Kremlin autocrat whom Americans are looking at for the first time."
Gershman wraps up his article by writing: "Politkovskaya saw the danger [of Putin], but she and other liberals in Russia were not strong enough to stop it. The United States has the power to contain and defeat this danger. The issue is whether we can summon the will to do so. Remembering Politkovskaya can help us rise to this challenge."
That Gershman would so directly call for the ouster of Russia's clearly popular president represents further proof that NED is a neocon-driven vehicle that seeks to create the political circumstances for "regime change" even when that means removing leaders who are elected by a country's citizenry.
And there is a reason for NED to see its job in that way. In 1983, NED essentially took over the CIA's role of influencing electoral outcomes and destabilizing governments that got in the way of U.S. interests, except that NED carried out those functions in a quasi-overt fashion while the CIA did them covertly.
NED also serves as a sort of slush fund for neocons and other favored U.S. foreign policy operatives because a substantial portion of NED's money circulates through U.S.-based non-governmental organizations or NGOs.
That makes Gershman an influential neocon paymaster whose organization dispenses some $100 million a year in U.S. taxpayers' money to activists, journalists and NGOs both in Washington and around the world. The money helps them undermine governments in Washington's disfavor – or as Gershman would prefer to say, "build democratic institutions," even when that requires overthrowing democratically elected leaders.
NED was a lead actor in the Feb. 22, 2014 coup ousting Ukraine's elected President Viktor Yanukovych in a U.S.-backed putsch that touched off the civil war inside Ukraine between Ukrainian nationalists from the west and ethnic Russians from the east. The Ukraine crisis has become a flashpoint for the dangerous New Cold War between the U.S. and Russia.
Audio Reveals What John Kerry Told Syrians Behind Closed Doors
http://www.informationclearinghouse.info/article45640.htm
Secretary of State John Kerry was clearly exasperated, not least at his own government.
Over and over again, he complained to a small group of Syrian civilians that his diplomacy had not been backed by a serious threat of military force, according to an audio recording of the meeting obtained by The New York Times.
"I think you're looking at three people, four people in the administration who have all argued for use of force, and I lost the argument."
The 40-minute discussion, on the sidelines of last week's United Nations General Assembly in New York, provides a glimpse of Mr. Kerry's frustration with his inability to end the Syrian crisis. He veered between voicing sympathy for the Syrians' frustration with United States policy and trying to justify it.
The conversation took place days after a brief cease-fire he had spearheaded crumbled, and as his Russian counterpart rejected outright his new proposal to stop the bombing of Aleppo. Those setbacks were followed by days of crippling Russian and Syrian airstrikes in Aleppo that the World Health Organization said Wednesday had killed 338 people, including 100 children.
At the meeting last week, Mr. Kerry was trying to explain that the United States has no legal justification for attacking Mr. Assad's government, whereas Russia was invited in by the government.
"The problem is the Russians don't care about international law, and we do."
Mr. Kerry has been hamstrung by Russia's military operations in Syria and by his inability to persuade Washington to intervene more forcefully. He has also been unable to sell Syrian opponents of Mr. Assad, like the ones in that room, on a policy he does not wholeheartedly believe in.
His frustrations and dissent within the Obama administration have hardly been a secret, but in the recorded conversation, Mr. Kerry lamented being outmaneuvered by the Russians, expressed disagreement with some of Mr. Obama's policy decisions and said Congress would never agree to use force.
"We're trying to pursue the diplomacy, and I understand it's frustrating. You have nobody more frustrated than we are."
The meeting took place at the Dutch Mission to the United Nations on Sept. 22. There were perhaps 20 people around a table: representatives of four Syrian groups that provide education, rescue and medical services in rebel-held areas; diplomats from three or four countries; and Mr. Kerry's chief of staff and special envoy for Syria. The recording was made by a non-Syrian attendee, and several other participants confirmed its authenticity.
How many Muslim countries has Obama bombed?' Oliver Stone slams US 'world domination' drive
Film director Oliver Stone said that the presidency of Barack Obama is no more benign than that of George W. Bush, as he entered the European leg of his tour to promote 'Snowden', his film that lionizes the NSA whistleblower.
"Obama is just as tough as George W. Bush. He's doubled down on the surveillance state. It's bigger and stronger than ever,"
70-year-old Stone told AFP in Paris.
"The moment he got into office he turned into a better form of Bush, a more efficient commander but basically believing the same old story that we are under attack every day and all day."
"That desire to control the world is very dangerous,"
Stone told AFP.
"There is no historical record of one empire that can do that successfully... the British Empire tried but that ultimately led to massive wars. The same is resulting from the US desire for tyranny."
"How many wars is America in informally without consent? How many Muslim countries has Obama bombed? How many drone strikes have we used, killing how many people?"
the three-time Oscar-winning director went on, in reference to continued US involvement in Libya, Syria and Iraq.
Read more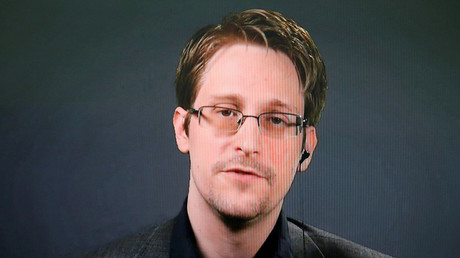 Stone said that the determination to highlight the scope of disregard for established human rights lay behind his desire to film 'Snowden', which has made a modest $20 million at the box office since its release in key markets last month.
"I don't think the general public has yet understood the Snowden revelations, I really don't,"
said Stone, calling the US public at large
"dumb and apathetic."
"US people should be worried about mass surveillance, drone warfare and cyber warfare, which are the issues Snowden presented,"
the filmmaker added.
Stone reiterated his plea for an official pardon for Edward Snowden, whom he met nine times in Russia. The 33-year-old former NSA worker remains at an undisclosed location within the country, which offered him refuge following his leaks in 2013. Snowden continues to face charges in the US that could see him spend up to 30 years in jail, if found guilty of theft of government property, and revelation of government secrets to outsiders