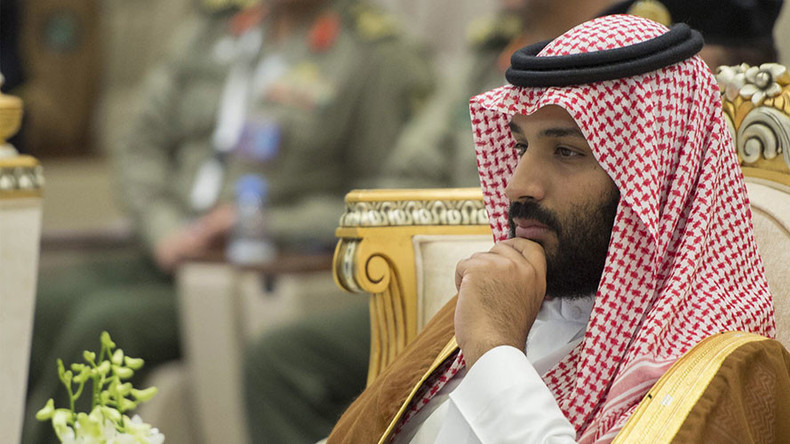 It's kicking off in Saudi Arabia. The long awaited political purge we predicted when religious maniac Mohammed bin Salman (Mad Mo.) was named as Crown Prince in June this year and the chosen successor to ailing octogenarian Salman bin Abdulaziz Al Saud.
A story from Al Arabiya news agency, citing sources in government, reports Mad Mo has ordered the arrest of at least 11 Saudi princes and four incumbent ministers of the Saudi government. Among those detained are the minister of the National Guard and the minister of economy.
A new anti-corruption committee created and chaired by the Crown Prince net late on Saturday by royal decree of King Salman bin Abdulaziz Al Saud.
The
decree appoints the crown prince
leader of the committee, and grants it broad powers to fight corruption. The committee is exempted from "laws, regulations, instructions, orders and decision" while performing its wide range of duties, namely "identifying offenses, crimes, persons and entities" complicit in corruption, and gives it the power to impose punitive measures on those foung guilty (in Saudi Arabia being found guilty is the same as being accused). It also has powers to freeze assets, impose travel bans and arrest people suspected of having faces Mad Mo does not like.
The committee made its first arrests hours after it was created, detaining the 11 princes and four current ministers as well as "tens" of ex-ministers of the Saudi government in connection with newly opened corruption probes, Al-Arabiya reported.
Minister of the National Guard Prince Miteb bin Abdullah and Economy Minister Adel Fakeih are among those arrested, Al Arabiya cited a senior Saudi official as saying, on condition of anonymity. Alwaleed al-Ibrahim, owner of television network MBC, was also detained.
Dozens of former officials were arrested by the Crown Prince's committee, including a former governor of Riyadh province, former finance minister, and former chief of the Royal Court.
The committee announced it will be relaunching the investigation into the floods that killed over 120 people and caused millions of dollars worth of property damage in the city of Jeddah in 2009. In wake of the previous investigation, concluded in December 2014, 45 people were found guilty of corruption, including senior officials, on charges of bribery, misuse of power and public funds, money laundering and illicit business operations.
Another high-profile case to be revisied by the anti-corruption committee is the investigation into the outbreak of the so-called Middle East Respiratory Syndrome (MERS) virus in Saudi Arabia in 2014, which resulted in nearly 300 deaths and the resignation of the country's health minister.
RELATED POSTS:

Immediately after Saudi Arabia and its Gulf State client shiekdoms released an ultimatum containing 13 demands to which Qatar must agree as a precondition for the resumption of diplomatic ties and an end of the Saudi economic and naval blockade, the tiny kingdom on the Persian Gulf described the ultimatum as neither "reasonable" nor "realistic", … Continue reading



While mainstream media is in a frenzy over what former FBI chief James Comey will say to a Congressional hearing about Donald Trump's alleged links with Russia and attempt to shut down an investigation into those links, the UK election, Islamic extremist terrorism, football's latest multi – million transfer deals, etc., as usual the really … Continue reading

ISIS a US creation
Rumours have been rife for almost a year that ISIS/ISIL/ whatever you want to call them, the Islamist rebel group who have taken control of large areas of Syria and Iraq with the intention of setting up a new Islamic Caliphate, were actually set up by United Staes CIA agents with the aim of overthrowing secular Muslim dictators and helping the US ally Saudi Arabia impose theocratic rule throughout the Arab lands. A new leak proves that once again the 'conspiracy theorists' were right.
Obama Has been An Inspirational President?Well He Probably Inspired More Suicides Than Any Other
Obama's greatest achievement perhaps it to have put Donald Trump in The White House. Whether you think this is a good or bad thing depends on your political stance. This blog is neutral, our view being that Trump can't be a worse president than any of the three that preceded him.
Iran's Ayatollahs save SyriaPutin and
Now That Russia's Putin and Iran's Ayatollahs Have Neutralised ISIS in Syria the focus of terror shifts to Turkey, the NATO members that, with the fuill knowledge of the USA ans European powers has been helping ISIS in its bid to overthrow the Assad regime.
Treasure "Trove" Of ISIS Documents Detail Secret Oil Trade With Turkey
We detail the route by which ISIS transports illegal, undocumented crude to Turkey via Zakho-based smugglers and how that crude ends up at Ceyhan where tanker rates seem to mysteriously spike around ISIS-related oil events. All of this, we suggested, was done with the help of the Turkish government up to and including Erdogan's son Bilal who owns a shipping company
USA Extends Drone war To Africa
So why we wonder is the USA taking its drone war against the third world into deepest, sub Sahran Africa? There cannot be any reason for it, the cited aim of neutralising Boko Haram is not valid because boko Haram are not a standing army but a guerilla force that strikes and then melts away into the civilian population.
EU Bosses Fear Brexit Domino Effect
European leaders met for the first time today to discuss the deal reached over changes to the conditions of Britain's membership of the European Union. Public opinion in member states has led to fears that an out vote may prompt other EU member states to follow Britain's lead.
Turkey Blames Kurds, Assad For Terrorist Attack, Vows Swift Response
Yesterday came the first terrorist attack on Turkish soil. As this blog predicted President Erdogan of Turkey is blaming the Kurds and President Assad of Syria for yesterday's bomb blast in the Turkish capital which killed and injured many people.It was predictable would the attack would be blamed on Assad and the Kurds, thus giving the nutter Erdogan an excuse to intensify his actions against Assad and the Kurds
Road To World War III: Turkey Shells Syria For Second Day As Saudi Warplanes Arrive
The geopolitical world was rocked yesterday when Turkey began shelling Syria's second largest city, Aleppo, where the Syrian opposition has its back against the wall in the face of an aggressive advance by the forces of President Assad's government and the Iranian Republican Guard supported, of course, by Russian airstrikes.
US Allies Now Fighting CIA-Backed Terror Groups In Syria
The idea that ISIS has very close links with the USA has gone beyond conspiracy theory, or anti US propaganda, the proof is out there. We have previously reported on the US government's links to ISIS and revealed the vital role of NATO member Turkey in supporting the terrorists in their campaign which aims to create an Islamic Caliphate stretching from the Mediterranean Sea to the Persian Gulf
Why Are Governments Scared Of Truth? France Begins Crackdown on Conspiracy Theories
We reported several weeks ago that the French government was planning a clampdown on conspiray theories by shutting down certain dissident websites. Since then we have learned the French government have shown they are prepared to go even further in attacking citizens right of free speech
US Military Contractors Happy With Escalating Conflicts in the Middle East
My friends and I have been telling you since the US led coalition invaded Afghanistan in 2001 that the USA's perpetual war on terror was not about making the public safe and secure but instead about corporate profits and political power.
Hypocrite David Cameron defends selling arms to outrageous Saudi regime

Not only have Hypocrite David Cameron's government been caught out giving technical support to the appalling Saudi Arabian regime of head amputators, The House Of Saud, they are very eager to sell armaments to the regimes which violates human rights in ways even Pol Pot could not imagine.
Crazy Obama Administration Claims It Brought Peace And Security To Syria In 2015
As fighting intensifies between ISIS, The Assad regime and its Russian, Iranian and Chinese allies and the FUKUS axis (France, UK, US) with support from Turkey as that rogue state wages a genocial campaign against the Kurds, the increasingly insane warmongers of the Obama administration is telling US voters they have brought peace and security to Syria Fortunately for Americans with enough nous to question the official narrative, new media is getting the truth out to ever increasing audiences.
Is The World Turning Against The New World Order Elitists
2015 looked like being a good year for the 'New World Order', the year the banksters and international psychopaths succeeded in provoking a global conflict as the final step to the establishment of a global government. Thanks largely to Vladimir Putin, and in a small part to the incessant questioning by new media we know know which NATO country has been acting as middle man for the powers that sponsor regime change, where the money that keeps the ISIS show on the road is coming from, and who our real enemies are ...
ISIS: Know Your Enemy - Who Of Those We Think Are On Our Side Is Helping ISIS
Greenteeth Elsewhere: [
The Original Boggart Blog
] ... [
Writerbeat
] ... [
Daily Stirrer.shtml
]...[
Little Nicky Machiavelli
]... [
Ian's Authorsden Pages
]... [
It's Bollocks My Dears, All Bollocks
] ... [
Minds
] [
Scribd
]...[
Wikinut
] ... [
Boggart Abroad
] ... [
Grenteeth Bites
] ... [
Latest Posts
] [
Ian Thorpe at Flickr
] ... [
Latest Posts
] ... [
Tumblr
] ... [
Authorsden blog
] ... [
Daily Stirrer Headlines
]
[
Ian at Facebook ]