by Kurt Zindulka, Breitbart Europe
13 January 2021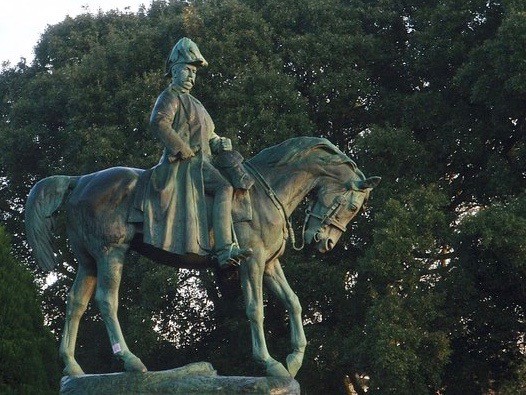 Sir Redvers Buller - he offended Black Lives Matter (Picture: Derek Harper, Geograph via Breitbart Europe )
A city council in the UK is set to remove the statue of a British war hero after a Black Lives Matter inspired review determined that he represent colonialism and does not represent women and so-called 'gender non-binary' people.
Following nationwide Black Lives Matter protests over the summer, the Exeter City Council established an 'equality impact assessment' to determine whether the statue honouring famed British general, Sir Redvers Buller should be removed. The review found that General Buller's statue would negatively impact anyone who "does not define themselves in binary gender terms," according to the Daily Mail.
"The General Buller statue represents the patriarchal structures of empire and colonialism which impact negatively on women and anyone who does not define themselves in binary gender terms," the review stated. "The consultation will need to ensure that the views of women, transgender and non-binary people are captured and given due weight," it continued.
The review claimed that the statue was specifically targeted because of the inscription on the plinth upon which it stands that states Buller "sought to advance British imperialist interests in other countries"...
MORE Politically Correct and Woke nonsense
Analysis Shows Only 1 In 6 BLM Protesters Are Black
Analysis carried out by the Pew Research Center has revealed that just one in six protesters turning out at BLM demonstrations in the US are actually black. The research notes that the plurality of those present at the gatherings have been white people. The full breakdown reveals that just one in six is actually black ...
Police Ignored Slave Labour in Leicester Sweatshops, Feared Accusations Of Racism
In a scenario resembling the inaction of the authorities in the face of blatantly illegal activities by the notorious grooming gangs that targeted and sexually exploited vulnerable and under — age girls, a newly published report has revealed British police and government agencies have ignored the existence of 'sweatshops' full of mostly South Asian heritage workers in the British fashion industry over fears that they would be called racist ...
Council Removes "Transphobic" Flags Because They Displayed the Dictionary Definition of the Word 'Woman'
A left wing council in the UK has removed two flags raised to prote International Womens Day because they were deemed "transphobic" after someone claimed they carried an offensive message by displaying the dictionary definition of the word 'woman'. The flags, flown outside Bootle & Southport town halls in the Metropolitan County of Merseyside, were a celebration if International Women's Day.
Minorities 'See Countryside as a White Environment', Says BBC
According to its rural affairs programme Countryfile – where, thanks to uber woke presenters like Chris Packham, the emphasis is very much on the first syllable — "many Black, Asian and minority ethnic groups see the countryside as being a white environment."
U.N. Chief Guterres Wants To Redistribute Power & Wealth and Fight 'Gender Inequality'http://www.greenteethmm.com/equality-women-united-nations.shtml
That The United Nations Organisation has ambitions to become a world government is well known, this site and many others have reported it's moves and agendas for years. Now it seems the U.N. has become part of thatcabal of supra - national bureaucracies and, to borrow a line from a Paul Simon song, loose affiliations of millionaires and billionaires such as The Bilderberg Group and the World Economic Forum. Their latest move to impose cultural uniformity on the world however, is only going to lose them credibility
Sane Democrats See Little To Gain From Impeaching Trump, Fear It Will Backfire
In an opinion poll commissioned by Reuters a majority of US Democrat voters say they fear that the latest m,ove to impeach President Trump over the Biden-Ukraine scandal will backfire, giving him a boost into the 2020 US election. One has to wonder about an epidemic of dementia among leading Democrats who have forgotten that only a few weeks ago
Liberals Scream Everything Is 'Racist'. Maybe It's Liberals That Are Racist
This blog, considers its stance to be 'classical liberal', that is really liberal in its support of fairness, free speech and personal liberty and above all diversity of opinion and ideas and oppose such political sacred cows of the politically correct left as mass immigration and affirmative action ...
Oberlin University Fined $33 Million For Supporting Students Accusations Of Racism Against Bakery

On Thursday, Oberlin College was hit with $33 million in damages when to Ohio jurors found the school participated in protests defaming a local bakery as racist. Oberlin's vice president, Donica Thomas Varner claimed the jurors ignored "clear evidence" that Oberlin was not at fault and insisting the school was being "held liable for the independent actions of their students."
Male Privilege Is A Myth (video)

The pushback against politically correct thinking, identity politcs and the hatred from feminists for all things male is probably overdue but it is coming. After the #MeToo campaign tried to return our view of justice to the equivalent of a medieval witch hunt by making accusation of a man by a woman sufficient evidence on which to convict, while the racists of black Lives Matter tried to bully lawmakers into accepting that requiring black and brown people to obey the law is racist, the populist movements in the USA and Europe. which have put Trump in The White House, taken Britain out of the EU and put anti -establishment governments in power in Poland and Italy continue to gain strength.
Dishonesty Of Mainstream Media Revealed
Since Donald Trump, frontrunner in the race to be nominated Rebpublican candidate in the 2016 US Presidental election made some unpolitically-correct comments about stropping followers of Islam entering the USA until a way can be found of identifying the ones who have been radicalised and trained to perpetrate acts of terrorism in the USA, they media have been getting their knickers in a right old twist.