Authored by Kit Knightly via Off-Guardian.org,
Buried behind the Brand-related headlines yesterday, the British House of Lords voted to pass the controversial "Online Safety Bill" into law. All that's needed now is Royal assent, which Charles will obviously provide.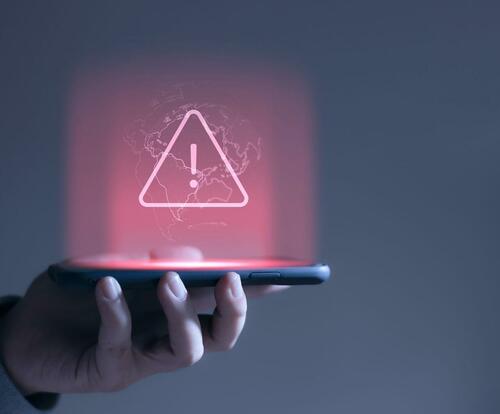 The bill's (very catchy) long-form title is…
A Bill to make provision for and in connection with the regulation by OFCOM of certain internet services; for and in connection with communications offences; and for connected purposes.
…and that's essentially it, it hands the duty of "regulating" certain online content to the UK's Office of Communications (OfCom).
Ofcom Chief Executive Dame Melanie Dawes could barely contain her excitement in a statement to the press:
"Today is a major milestone in the mission to create a safer life online for children and adults in the UK. Everyone at Ofcom feels privileged to be entrusted with this important role, and we're ready to start implementing these new laws."
As always with these things, the bill's text is a challenging and rather dull read, deliberately obscure in its language and difficult to navigate.
Of some note is the "information offenses" clause, which empowers OfCom to demand "information" from users, companies and employees, and makes it a crime to withhold it. The nature of this "information" is never specified, nor does it appear to be qualified. Meaning it could be anything, and will most likely be used to get private account information about users from social media platforms.
In one of the more worrying clauses, the Bill outlines what they call "communications offenses". Section 10 details crimes of transmitting "Harmful, false and threatening communications".
It should be noted that sending threats is already illegal in the UK, so the only new ground covered here is "harmful" and/or "false" information, and the fact they feel the need to differentiate between those two things should worry you.
After all, the truth can definitely be "harmful"…Especially to a power-hungry elite barely controlling an angry populace through dishonest propaganda.

RELATED:


AI experts are increasingly afraid of what they're creating
In 2018 at the World Economic Forum in Davos, Google CEO Sundar Pichai had something to say: "AI is probably the most important thing humanity has ever worked on. I think of it as something more profound than electricity or fire." Pichai's comment was met with a healthy dose of skepticism. But nearly five years later, it's looking more and more prescient. College professors are tearing their hair out because AI text generators can now write essays as well as your typical undergraduate ...
Will The Online Safety Bill Protect Free Speech Or Assist Censorship?
The UK Online Safety Bill is presented to parliament for its final reading next week. Secretary of State for Digital Culture Michelle Donelan announced this morning that the controversial "legal but harmful" clause has been removed and thus free speech has been protected. Anti self-harm activists and groups opposinthe Gay BLTQ movement's push for paedophile equal rights and the sexualisation of children don't like it one little bit, though free-speech enthusiasts should take no comfort from that. The Bill puts into legal jeopardy anything that creates "a material risk of significant harm to an appreciable number of adults in the United Kingdom".
Switzerland's environmental agency announces national moratorium on 5G
This blog has warned about the health risks of 5G wireless technology before, almost from the moment it was announced people who understand this technology (and two out of the three of us do,) have been saying that while there is always a risk from electro – magnetic radiation, with earlier technologis it was easily manageable if a loittle common sense was deployed. The exponentially higher intensity of 5G frequencies however, takes the health risks to humans to a whole different level.

Facebook admits to nearly as many fake or clone accounts as the U.S. population
Facebook founder Mark Zuckerberg likes to brag about the number of people who use his social media site. In fact it is clear as he talks big numbers about how many users the site boasts, that he thinks the world loves him for creating this technological wonder. He's wrong of course.
Lay Off Cambridge Analytica, Facebook Are The Evil Doers

Information Technology firm Cambridge Analytica are being attacked by the hysterical mainstream media mob for their alleged role in the alleged collusion between The Kremlin and Donald Trump to steal the US Presidency in 2016, and similar abuse of private date to influence the result of the Brexit vote. It should be Facebook under attack, Cambridge Analytica only took advantage of a deal Facebook offers on the open market ...
Trump blocks Sale Of US Tech Company To China
President Trump has reportedly blocked the attempted acquisitions of a US technology company by a Chinese firm. while his opponents accuse him of breaking election promises and betraying votes, although they offer little evidence to support their claims, the increasingly tough policy against China's acquisition of US companies continues, despite the firing of White House chief strategist Steve Bannon, who supported Trmp's "economic nationalism."
Trump blocks Sale Of US Tech Company To China
Fan Bois Mad For Apple's New "FaceID" But Is It A Powerful New Mass Surveillance Tool
On Tuesday, Apple revealed their newest phone. The new line was anticipated by Apple users and is another cult favorite. But many are rightly skeptical of the "FaceID" feature.
FaceID, is a tool that would use facial recognition to identify individuals and unlock their phones for use. Unsurprisingly, this has generated some major anxiety about mass spying and privacy concerns. Retailers already have a desire for facial recognition technology.
Be Afraid: Facial Recognition Technology Is Stalking Our Public Spaces
Here is more evidence of just how dangerous and out of hand this creeping surveillance architecture is becoming. An investigation by Big Brother Watch has uncovered a facial recognition 'epidemic' across privately owned sites in the UK. The civil liberties campaign group has found major property developers, shopping centres, museums, conference centres and casinos using the technology in the UK.
Google Extends Its Powers, Become The Master Spy Of The Digital Age
Most people in the developed world and many in the third world have exposed much of their personal lives to the spyware of the corporatist and government partnership. Google was developed with funding from the U.S. intelligence communities, aka The Deep State. A universal search engine was welcomed as a tremendous achievement by everyone who longed for a method to access to sites that reflected market or research results ...
Continue reading
Big Data and The Surveillance Society
We kill people based on metadata. – Gen. Michael Hayden, former head of the NSA and CIA.
Bene vixit, bene qui latuit. (To live well is to live concealed) - – Ovid (43 BC - 18 AD)
The most sacred thing is to be able to shut your own door. – G.K. Chesterton (1874 - 1936).
I don't know why people are so keen to put the details of their private lives in public; they forget that invisibility is a superpower. – Banksy (2006)
"Smart City" Projects are Really Police Extreme Surveillance Programs.
The propaganda always dresses social engineering projects aimed at enhancing the powers of the state to manipulate and control in friendly terms that seem to promise benefits to our security rather than threats to our freedom. Take the phrase "Smart Cities."
Posh Peoples Banker Humbled By Public Backlash To Authoritarian Debanking Policy
Much discussion in UK media and as far away as The USA and Australia this week has focued on the decision by Coutts (the posh people's bank,) to 'de-bank' former UKIP leader Nigel Farage, the political outsider who successfully steered the campaign to take Britain out of the EU to victory in a national referendum. According to Coutts initial responses to media attention the decision was taken because of reputational concerns.

Is Switzerland About To Become First Country To Outlaw A Cashless Society?
As in neighboring Germany and Austria, cash is still king in Switzerland albeit a much diminished one. But the Swiss will soon have the chance to vote on whether to preserve notes and coins indefinitely.

Negative Interest Rates & The War On Cash, Part 3: "Beware The Promoters"
Bitcoin and other electronic platforms have paved the way psychologically for a shift away from cash, although they have done so by emphasising decentralisation and anonymity rather than the much greater central control which would be inherent in a mainstream electronic currency. Despite the loss of privacy, electronic currency is much favoured by techno-optimists, but not so much by those concerned about the risks of absolute structural dependency on technological complexity.

Beware the dangers of a cashless society
As the country celebrates tradition and prepares for change, one major shift is closer than ever – our move towards becoming a cashless society. It is hard to imagine money without the Queen's profile proudly embossed, defining our Elizabethan generation in a centuries-old British tradition, but the monarch's face is fast disappearing from our pockets.

War On Cash Gathers Momentum - Germany Unveils Cash Controls
On Monday (1 February, 2016) just two days ago, Bloomberg called on the central banks of the world to "bring on a cashless future" in an Op-Ed that calls notes and coins "dirty, dangerous, unwieldy, and expensive." We can imagine it would be quite easy to harm someone by firing large coins at them from a gun and terrorists could probably stuff an improvised explosive device with small coins rather than nails or nuts and bolts. And if ...

Norway's Biggest Bank Joins Push To Abolish Cash
The move by governments to eliminate cash as a means of trading goods and services is moving faster than we imagined. With another global financial crisis looming according to financial journalists and investment experts this is as understandable as it is undesirable for us ordinary punters.

The Financial Times Calls for Ending Cash, Calls it a "Barbarous Relic"
Earlier this week, as the financial world was in turmoil following a rapid crash and recovery in financial markets. While we the punters shook our heads and wondered how the banksters get away with this kind of shit, The Financial Times published a dastardly little piece of fascist New World Order propaganda.

[ Internet Technology ] ... [ ">Surveillance State ] ... [ Surveilance through cellphone ] ... [ Cashless society ]

EXPLORE:
[Daily Stirrer] ... [ Our Page on on Substack ]... [Boggart Aboad] ... [ Ian Thorpe at Quora ] ... [ Greenteeth Home ] ... [ Greenteeth on Minds.com ] ... [ Here Come The Russians ] ... [ Latest Posts ] ... [ Blog Bulletin ]