from Zero Hedge, 29 May, 2021;
Two notable virologists claim to have found "unique fingerprints" on COVID-19 samples that only could have arisen from laboratory manipulation, according to an explosive 22-page paper obtained by the Daily Mail.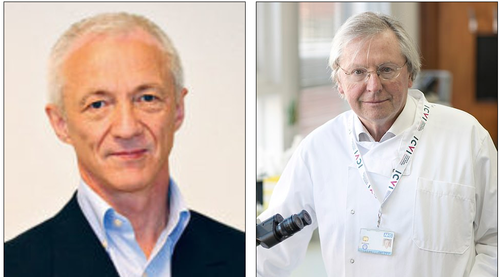 British professor Angus Dalgleish - best known for creating the world's first 'HIV vaccine', and Norwegian virologist Dr. Birger Sørensen - chair of pharmaceutical company, Immunor, who has published 31 peer-reviewed papers and holds several patents, wrote that while analyzing virus samples last year, the pair discovered "unique fingerprints" in the form of "six inserts" created through gain-of-function research at the Wuhan Institute of Virology in China.
They also conclude that "SARS-Coronavirus-2 has "no credible natural ancestor" and that it is "beyond reasonable doubt" that the virus was created via "laboratory manipulation."
Continue reading >>>
RELATED:
With public opinion and a significant (but ignored by mainstream media strongly opposed to the introduction of Genetically Modified foods one would think that politicians, having lost the trust of voters, might hold back on this one. But no, as usual they are sidelining the public interest and ignoring public opinion in order to push the interests of the corporate cronies.
Latest Posts
Elsewhere: [Boggart Blog]...[Little Nicky Machiavelli]...[Scribd]...[Wikinut] ... [ Boggart Abroad] ... [ Grenteeth Bites ] ... Ian Thorpe at Flickr ]
'No Monsanto!': Protest Against GMO Food Goes Global
Thousands took to streets across the world's cities on Saturday to protest the use of GMO products, with Giant Monsanto being the main target. Over 50 countries have been taking part in the march for world food day, and across 47 different US states. Berlin, Strasbourg, Chicago, London, Sydney and Mumbai are just a few of the 500 cities worldwide involved in the rallies, with each one drawing hundreds.
Another 'Scientific Consensus' Turns Out To Be Corporate / Government Scam
So there are no scientists in the world who question the corporate lieOpen Letter from World Scientists to All Governments Concerning Genetically Modified Organisms (GMOs). The World Scientists Statement dates from 1999. It was superceded by the Independent Science Panel Report in 2003, and by the most recent report Ban GMOs Now in 2013.
Monsanto Whistleblower Admits Entire Department Exists to "Discredit" Scientists
Dare to publish a scientific study against Big Biotech will mount a campaign similar to a medieval witch hunt, aimed at defaming and discrediting you. All in all this is very similar the what happens in any area of commercial activity in which researcers working in the public interest collide with the science whores who prostitute themselves for corporate money.
Thousand of Indian farmers protest against corporate imperialism and Government promotion of GMO seed.
In India the deeply unpopular Modi government is facing a massive revolt against possibly corrupt and certainly undemocratic collaboration with biotech giants like Du Pont and Monsanto in trying to use legislative power to force farmers to accept the introduction of Genetically Modified seed. Protests against the Government and ruling coalition took place in Delhi on ...
"I'm Not Stupid" Monsanto Lobbyist Refuses To Drink Weedkiller After Proclaiming "It Won't Hurt You"
The glib claim backfired however when the Monsanto lobbyist was offered a glass of diluted Roundup (active ingredient Glyphosate) and asked to drink it.
"Do you think I'm stupid, " the lobbyist blustered ...