The Greenteeth crew, contributors bo blog and pages in the Greenteeth Digital Publishing stable, have been telling you for sixteen months now this whole pandemic thing and all the scaremongering about a brand new killer virus was bollocks, a gigantic psyop by the global elites to scare us into surrendering free will and our hard won civil rights and liberties in exchange for a vaccine that does not make us immune to the virus (but 90% of us have natural immunity so who needs a vaccine even if it worked?) but at least allows the vaccinated to feel thet are part of the herd, or should I say flock in respect of the sheep - like behaviour the propagander has engendered in around half the population.
But we are not doctors or scientists, we are only an engineer, accountant, IT management consultant, teacher, chemist, and most of us are past retirement age which according to our critics makes us ga-ga as well as being conspiracy theorists, so why should you listen to us. The Renaissance model for education means nothing these days, all - roundrs are irrelevant, this is the era of the tunnel - visioned specialist.

So instead of giving you our own opinions we thought we would share with you this essay published in RT in which a working doctor speaks out about the corription of science and medical ethics, the corporate greed and malfeasance, the political dishonesty and the bureaucratic incompetence that have all played their part in making a trivial illness into a global crisis that will affect the world for decades.
So over to Dr. Kendrick:

I'm a doctor, but Covid's broken my faith in medical research. I can't believe anything I read or accept any mainstream facts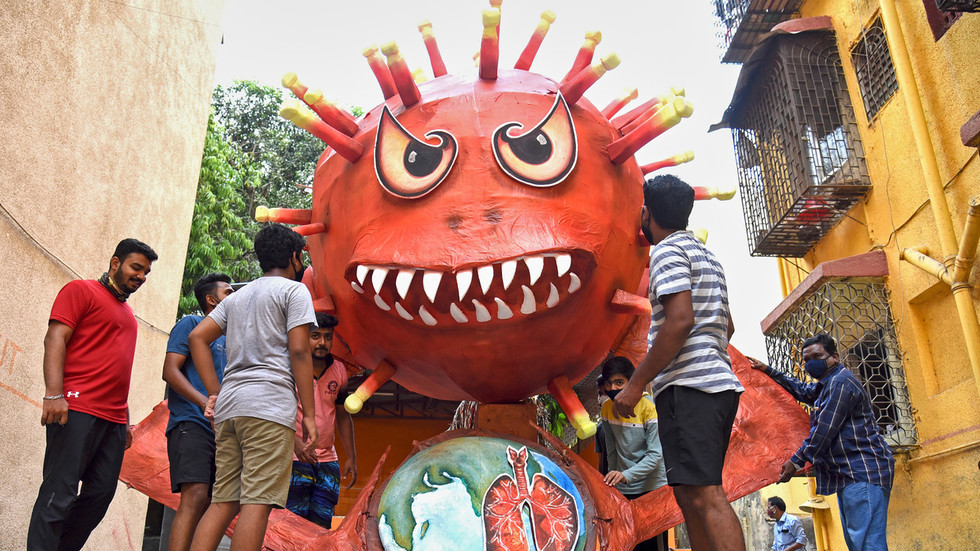 People in India are seen near a giant effigy resembling the Covid-19 coronavirus. © AFP / SUJIT JAISWAL
by Dr Malcolm Kendrick, 30 May 2021. Published in RT

Malcolm Kendrick, doctor and author who works as a GP in the National Health Service in England. His blog can be read here and his book, 'Doctoring Data – How to Sort Out Medical Advice from Medical Nonsense,' is available here.
Those of us who put forward an alternative view to the prevailing orthodoxy on the virus or on vaccinations are being vilified, threatened and cancelled. This is not how science, or a functioning democracy, works.
I haven't written for a while, sorry. Instead, I have been sorting out two complaints about my writing made to the General Medical Council (GMC). Also, a complaint from NHS England, and two irate phone calls from other doctors, informing me I shouldn't make any negative comments about vaccines.
For those in other countries, or who don't know about such things, doctors in the UK are ruled by many different organisations, all of whom feel able to make judgement and hand down various sanctions. The deadliest of them, the Spanish Inquisition if you like, is the GMC, who can strike you off the medical register and stop you working as a doctor. They have great power, with no oversight.
Prior to this, I had been phoned by, and attacked by, two journalists and a couple of fact-checking organisations that have sprung up which can decide your guilt or innocence with regard to any information about Covid-19. Of course, no one can check the fact-checkers. They are the self-appointed guardians of 'truth'. Quis custodiet ipsos custodes – indeed. Who does guard the guardians?
In truth they have not scared me off, just greatly annoyed me. The problem is that if they really decide to hunt you down, then you are wiped from the system. Dr. Joseph Mercola, the American alternative medicine proponent, is, for example, having to remove information from his site in great haste. Once wiped from the internet, it becomes very difficult for anyone to read anything you write or listen to anything you say. It is a major problem if this is how one makes a living.
I was removed from Wikipedia a couple of years ago, but I do have a couple of insulting pages on
Rational W
to take their place. Edited and controlled by – who knows ...
Continue reading >>>
Vaccine Adverse Reactions – Not Reported By Mainstream Media
The UK Government's COVID-19 vaccination programme is now in full swing and the general public is being bombarded with the official line that to stop the COVID-19 pandemic and regain their freedom, people must be vaccinated. In fact they are told they must be vaccinated twice. …
Vaccine: More cases of rare blood clots, but regulator says benefits still outweigh risk
Reported cases of rare blood clots occuring in people soon after they received a shot of the AZ COVID-19 vaccine has risen to 168. The UK's medicines regulator said the overall case fatality rate was 19%, with 32 deaths up to April 14. Note the dishonesty in the style of reporting again. Nowhere does the official press release make clear that the figures apply only to adverse reactions of blood clots, both non fatal and fatal. People are still suffering and dying from allergic reactions, heart attacks, organ failure and respiratory failure soon after being vaccinated.
Study Reveals mRNA COVID Vaccines Link To Prion Disease & Brain Degeneration
from Great Game India A shocking study has revealed the terrifying dangers of mRNA COVID-19 vaccines inducing prion-based disease causing your brain to degenerate progressively. The mRNA vaccine induced prions may cause neurodegenerative diseases because long-term memories are maintained by prion-like proteins. The study concluded that mRNA based vaccine may also cause ALS, front temporal …
Evidence of Problems With Covid Vaccine Grow And Te Real Agenda Becomes Clearer.
Mainstream media have been distracting us with stories of successful mass vaccination campaigns, but as ever things are not quite what they seem to be and though the claimed 999% take up of the vaccines is not verifiable, the deafening silence regarding the huge numbers of serious adverse reactions to all type of vaccine and the significant numbers of unexplained deaths which have occured soon after people reveived the jab suggest there will be worse news to come in the future ...
March 11, 2021 Contrary to what other ministers in his government have been saying recently, Prime Minister Boris Johnson admitted earlier this week it is highly probable that vaccine passports for international travel will be a feature of Britons' lives in the future. Speaking at a Downing Street press event on Monday evening, the Prime Minister Johnson acknowledged …
Continue reading
In future anyone who "repeatedly posts misleading information" about SARS-COV2 (Covid-19) vaccines on Twitter will be put on a watch list and given five chances to chaine their opinion or self – censor their comments and opinions before being permanently banned from the social media platform, the company recently announced. A True to form however, …
Continue reading
Politicians Are Offering A Trade, Safety For Freedom. But What Are We Really Trading Away?
It's the age old confidence trick, politicians and the elites offter a straight choice between security of freedom and all the risks it entails, then amplify those risks with scaremongering propaganda. In the case of the COVID crisis it has worked so far, with enough people accepting the need for masks, lockdowns and killer vaccines to make The Great Reset seem feasible - but time is running out and people are waking up ...
Covid Cops Catch Couple Having Outdoor Sex on Coldest Night for 26 Years
Several public figures including Nigel Farage and actor (cancelled) Laurence Fox have spoken up in the past few days denouncing the government's latest crackdown on people who breach the pointless and ineffective restrictions imposed on society as tyranny, but those of us who have no platform in mainstream media must try to draw attention to the absurdity of our COVID response.
And The Hoax Goes On …
Every time we dare to think we see a bit of light at the end of the tunnel (or any of those others cliches we use to indicate a bad time is coming to and end,) The Elites who have been driving the pandemic for their own ends come up with a new twist on the scaremongering to keep project fear rolling along. The lies just keep rolling out as the economic and social damage is swept under the carpet ...
Are the people to blame for the Covid spread – or are we using the wrong control measures?
As we near 100,000 deaths in the UK so far, the Covid-19 epidemic is still accelerating rapidly. The collective dogma, promoted by SAGE in the UK and the CDC across the pond, is that Covid is a flu-like virus transmitted in aerosols. However, current control measures against aerosols (which do seem to be preventing any influenza this year) are ineffective against Covid, short of locking people in their homes.
Getting To The Truth Of Covid?
A friend spent some time in hospital earlier this year, in September in fact. The problem was not COVID related and was easily dealt with by routine treatments. She was discharged and returned home thinking that would be the end of it. A few days later she could hardly walk and was complainming of fatigue and aching muscles and joints. As the weeks wore on things did not improve and on returning to the hospital for further tests she was told she might have picked up a case of "Long Covid." Having trained and worked as a nurse she recognised this diagnosis as bollocks
Big Tech Ban President Trump, But Reveal Their Contempt For Free Speech And Diversity Of Opinion
As the Trump presidency enters its final week in the USA the haters are sharpening their knives and drooling at the prospect of taking revenge on Trump and his supporters for denying them the power they crave for four years ...
Government Admits Using Bad Covid-19 Figures To Justify Second Lockdown
The British government has admitted to showing misleading daily Covid fatality projections in its televised coronavirus briefing last weekend, during which PM Boris Johnson announced a second national lockdown. The revelation comes after the UK stats watchdog criticized the government's lack of transparency in its use of Covid data ...
Britain's Covid response is utterly mad – here are 10 reasons why
There is no reasonable scientific or medical justification for lockdowns, convoluted social distancing rules, masks or travel restrictions by Dr John Lee in The Daily Telegraph This year, like many years, there's a new respiratory virus on the block. But this year, unlike any year ever before, the world has gone mad. Governments around the world …
Covid-19 is an 'unrestricted bioweapon': Virologist Dr Li-Meng Yan
accuses China of fabricating genomic sequence A report claims that coronavirus is a 'laboratory product' created by using a template virus owned by military research laboratories under the control of the Chinese Communist Party By Mihika Basu from meaaw.comChinese virologist Dr Li-Meng Yan from Hong Kong, who has repeatedly questioned the origin of the coronavirus, …
Once Again Independent Research Shows Similarity Of COVID to HIV
The theory that China obtained the coronavirus via a Canadian research program, and started molding it into a bioweapon at the Institute of Virology in Wuhan before it somehow escaped could be an attempt by the establishment (the Davosocracy,) to spread fear and panic as they see resurgent nationalism across the developed world and growing …
Biggest Lies About COVID-19 Exposed: But Globalist Elite Will Not Let It Die
Leo Hohmann, Harbingers Daily, 9 October 2020 Since February, the U.S. media has been pounding Americans with non-stop reporting about COVID-19 coronavirus. Eight months later, the data shows everything the media said about the virus was false. Yet, those posing as "journalists" continue to repeat the lies from February and March as if they are …
No Medical Justification For Emergency Measures"
AIER reports that the following letter has made an impact on public health authorities not only in Belgium but around the world. The text could pertain to any case in which states locked down their citizens rather than allow people freedom and permit medical professionals to bear the primary job of disease mitigation.
So far it has been signed by 435 medical doctors, 1,439 medically trained health professionals, and 9,901 citizens.
For every 3 COVID19 deaths lockdown may have caused 2 more – Official
The 4 month lockdown imposed by government on the advice of "scientists" while realists in the medical profession said poses almost zero risk to healthy people under the age of seventy, may have indirectly caused 16,000 excess deaths in two months, according to government analysts. This is what those medical realists, predicted at the outset.
Red Flags Soar As Big Pharma Given Exemption From COVID-19 Vaccine Liability Claims
Last week we warned readers to be cautious about new COVID-19 vaccines, highlighting how key parts of the clinical trials are being skipped as big pharma will not be held accountable for adverse side effects for administering the experimental drugs. A senior executive from AstraZeneca, Britain's second-largest drugmaker, told Reuters that his company was just granted protection from … Continue reading
Covid virus tests useless

As the Coronavirus rolls on with every trumpeted breakthrough fizzling out into a great big nothing, political leaders and media 'influencers' keep telling us we must follow the science. Yet with so much contradictory and conflicting evidence, perhaps it's time we learned that "following the science" is the worst thing we can do? The Daily Stirrer has been telling you since the start of the farrago that scientist is a synonym of wanker,
Covid 19: Statistics, Lies and the Corruption Of Science.As the COVID — 19 pandemic continues to dominate the news and defy the efforts of researchers to understand its many mysteries, including its origins and why it affects people who contract the virus in wildly different ways, one thing we have learned for certain so far is the extent to which the Pharmaceuticals manufacturers cartel (colloquially Big Pharma,) exercise a pernicious influence over medical research and healthcare.
COVID19 PCR Tests are Scientifically MeaninglessPoliticians and "experts" scream and shout about testing and isolation being the way to halt the COVID 19 pandemic to a halt, but everything else they hsve told us about the disease has been absolute bollocks, why should this be any different? Well surprise, surprise, it isn't any different. The idea that testing everybody ten times a day (OK I might be exaggerating for effect,) will do any good is just another diversionary tactic ...
Coronavirus: Fear and Panic and a Globalist Power Grab World Leaders Insist 'Economic Lockdowns Ravage the Very Fabric of Societies'
An impressive array of more than 500 prominent world leaders, academics, and Nobel Laureates have written "A Call to Defend Democracy" in the face of a worldwide rise in government authoritarianism during the Wuhan coronavirus pandemic. The June 25 text declares that beyond health concerns the COVID-19 pandemic is "a political crisis that threatens the future of liberal democracy."