Leader of the left-progressive group in the European Parliament Guy Verhofstadt (a.k.a. Verhofshit
) has said that in order to compete with the rest of the world, the European Union must become an "empire."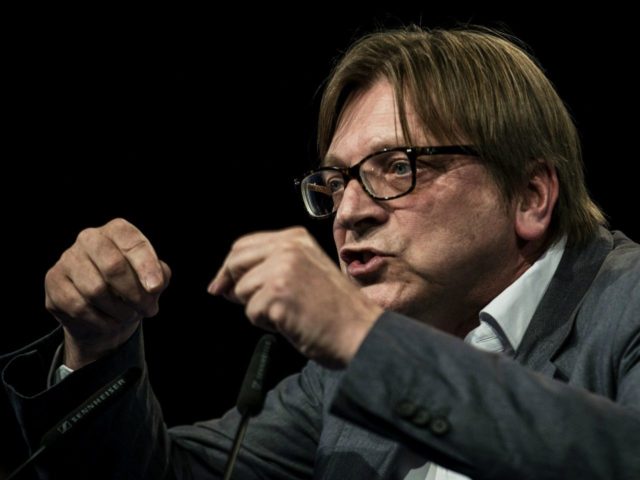 Guy Verhofstadt, the Phlegm who would be Emperor (Picture via Breitbart,)
The leader of the Alliance of Liberals and Democrats in Europe (ALDE) told CNN that plans to reform the EU and devolve power from Brussels back to the nation-state proposed by the populist paries that have spring up in member states, and led by Matteo Salvin's Lega (League) in Italy, Marine le Pen and her Rassemblement National in France and Hungary's Victor Orban, leader of the Fidesz party would mean that the bloc "will die inside."
"The world is developing into one not of nation states, but of empires. China is an empire. India is an empire. The US is an empire. We need to create a European Union that is capable of defending our interests," Mr Verhofstadt said told an interviewer from the far - left American news company who spoke to the Eurocrat his luxurious Brussels office.
Mr Verhofstadt, who is also the European Parliament's Brexit Coordinator, is an avid supporter of greater federalisation of the European Union. The populist movements, including Alernative for Germany (AfD) and The Sweden Democrats, both of which are making big waves in their domestic electoral systems are also among the parties expected to make big gaines in elections to the toothless European Parliament being held this week. UKIP, the party which led the 'Brexit' referendum campaign in the UK are not expected to figure significantly after fragmenting following theior success. A completle new group, The Brexit Party look like topping the polls in the UK where elections have to be held after the Conservative government completely botched the leaving process and failed to take the country out of the UK on 29 March.
Though the populist parties have routinely been labelled neo - fascist, xenophobic and racist by Eurocrats left wing politicians and mainstream media, they are none of those, in fact in casmanyes their policies, except on uncontrolled immigration and surrender of national sovereigny to an unelected committee of bureaucrats in Belgium, are more socialist than shose of mainstream socialist parties.
During a Euronews Raw Politics discussion last week, the former Belgian prime minister compared a proposed United States of Europe to the United States of America, saying: "The United States of Europe is a way to organise a common action on the European level by recognising, by guaranteeing the autonomy of the member states."
He was talking though his arse of course, none of those are Empires but he is not alone, other Eurocrats have also voiced support for a United States of Europe, including former president of the European Parliament and German socialist politician Martin Schulz who called for its formation by 2025. There have even ben discussions about extending the European Union beyond Europe's geographical borders. Such grandiose schemes are more reminiscent of the Nazi and Fascist dictatorships and Communist politbureaus of the twentieth century than a, supposedly democratic, free trade organisation.
RELATED POSTS:
Euro-bureaucratic Democracy
Eurogeddonm: The EU Deby Burden
Europe: EU Power Grab Looks Like Imperialism
Europe Stals Sovereignty
Europe democracy?
EU Dictatorship: German MEP says process of choosing Juncker successor a hoax as European elections near
The process of selecting the person who will succeed Jean-Cluade Juncker as European Commission President is a deeply flawed "hoax" dreamed up by "Eurofanatics" who want to create a United States of Europe, a German MEP said today. Hans-Olaf Henkel made his remarks as the prospective candidates – known as Spitzenkandidaten, in Germany, jockeyed for position.
With the EU elections due in May this year expected to deliver another body blow to the dream of a Federal European superstate, Europe's more conservative nationalist parties have today announced an alliance that is aiming to become the strongest group in the European Parliament, with a view to forcing to radical reform on the EU bureaucracy in Brussels, which dictates policy on security, migration, family and the environment, according to
Euro News
.
Minister In Spain's Socialist Government Claims Country Needs 'Millions and Millions' of Migrants
Harold MacMillan's EU warning revealed
Harold MacMillan, British Prime Minister from 1957 to 1963 gave us a chilling warning about the EEC – (European Economic Community) – before Britain joined the bloc, claiming that Germany had planned on using the trading bloc, as an instrument to assert its supremacy across the continent once more. On Wednesday, 3 April, 2019 The House of Commons voted in favour of legislation which forces the Government to request another extension for '
Brexit', giving our current Prime Minister Theresa May
more time to show us the comtempt the ruling elite have for the principles of democracy.
Leaked Document Reveals Unacceptable Demands Made By EU Ahead Of Final Talks Before Brexit Deadline
A Secret document has revealed concession the EU is demanding before beginning fresh talks on Brexit ahead of the 12 april dealine. According to a memo seen by the Sunday Times, Brussels is demanding the UK must continue to pay its share of the EU budget, must implement new measures on citizens' rights, and sign a legally binding agreement to arrangements to avoid a hard border between Northern Ireland and The Republic.
Merkel: EU Members Must Cede control Of Their Border To Brussels
German Chanellor Angela Merkel sparked outrage today and pushed the EU cloers to its final disintegration when she stated that EU Member states would be forced to surrender on of their most important sovereign powers, control of their borders, to Brussels in order that the unelected bureaucrats of the European commission could 'manage' immigration (i.e. open the border crossings and let any criminally inclined bunch of fanatics enter Europe.
We predicted last year when the socialist leader Pedto Sancjez usurped the Spanish government after the collapse of the minority government led by Mariano Rajoy collapsed, could not last. In a widely expected but destabilizing development, Spanish conservatives and pro-independence Catalonians voted to back a slate of amendments to a government budget on Wednesday by a wide margin of 191 votes out of 350,
EU Stitch Up To Promote Euronazi Selmayr's Is Typical Of The EU's Contempt For Democracy
#
The former Prime Minister of little Luxembourg Jean-Claude Juncker to ensure his chief of staff was installed as the new Secretary-General of the European Commission, in what one senior Eurocrat has called "an impeccably prepared and audacious power-grab" at the top of the European Union.
EU "Sounds Alarm" Over New US Sanctions On Russia; Germany Threatens Retaliation
Late on Friday (21/07/17), Congressional negotiators agreed to advance a cross - party bill that would punish Russia for its (alleged) interference in the 2016 election according to the Wall Street Journal. And while it seems improbable that President Trump would sign the bill if it reaches his desk, the loudest complaint about the bill to date has emerged not from the Oval Office, but from US allies in NATO and the European Union ...
Fears Over Threat To Sovereignty Could Wreck EU European Army Plan
No they're not Star Wars Imperial Stormtroopers, they are German soldiers assigned to an international peacekeeping force, showing how like Imperial Stormtroopers a pan European army might look (Image source)
Germany Threatens Sanctions Against Poland Over 'Lack of Western Values' (for Western read German)
Last year, Poland's conservative nationalist Law and Justice party (PiS), led by former Prime Minister Jaroslaw Kaczynski, captured both the presidency and parliament at elections in May and November. Since taking office, the party's lawmakers have used their parliamentary majority to initiate a series of controversial legal reforms, causing concerns both at home and abroad, specifically in Brussels and in Berlin.
Farage Shredded By Welsh Ministry Of Truth Newsman?
An obscure far – left website https://inktank.fi reported that while campaigning for the European Parliament elections in Wales, Nigel Farage was confronted by a BBC Wales reporter, Arwyn Jones, who asked him a question about Brexit, which you'd expect would be easy to answer: Farage didn't answer, how could anyone answer such a stupid question posed by an idiotic reporter working for an ogranisation tasked by The Fourth Reich's ruling bureaucracy in Brussels and their puppets in Westminster with presenting pro – EU propaganda as news ...
Farage Says New Brexit Party Will Spark "A Political Revolution" And Terrify The Tories
Nigel Farage, who led the successful Brexit campaign, warned backsliding elitist politicians on Tuesday that his brexit Party would spark a political "revolution" - a cliched line but appropriate given the mood of the country - and strike fear into the hearts of ineffectual Tories who have so far failed to deliver on the promise of the Brexit referendum if the UK is forced to contest EU Parliament elections as part of Prime Minister Theresa May's, the Sun newspaper reports ... MORE>>>
.
There are sheeple who want to remain in the EU at any price, and then there are people who understand the EU
I am not sure people really are up for reading EU related documents or a whole load more people would be less excited about the EU. If people read the chequers plan and the political declaration they would know the only people who leave the EU are the financial sector. Everyone else stays in without a vote or veto for two years whilst we negotiate the long term deal...
Johnson's article lines up his reasons why Britain must exit on June 23rd. It's time to be brave
OK, I know a lot of you think Boris is most accurately described by a word many people find offensive, but he's put together a very good argument here on why we must leave the EU. Published in part here under 'fair use' terms and conditions, in the public interest ...
Cameron's EU Package: Not A Deal But A Few Turns In The Spin Machine
As we and almost everybody else predicted, David Cameron's deal to improve Britain's relationship with the EU is worthless. It changes nmothing, and can be vetoed once we have voted to stay in.
Cameron Plays Deal Or No Deal In Europe
David Cameron, who was apparently up all night trying to make other European leaders understand why his country needs a better deal in order to poersuade the prople it is a good idea stay in the EU. Unless Cameron gets what will enable him to sell the idea of surrendering national sovereignty to a Federal European Superstate ruled by a committee of unelected bureaucrats in to the British public he will not campaign for the UK to remain in the bloc
EU Refuses to Block Eurozone Integration to Reach Agreement With UK
Austrian Chancellor Werner Faymann said at the E?U summit on British membership terms that the European Union wants to reach an agreement with the United Kingdom, but it is not prepared to compromise the banking union (financial integration) or the further integration of monetary union (UK being forced to abandon the pound join the Euro?) to achieve this goal.
Cameron's EU Deal Worthless. It Can Be Vetoed In European Parliament?
Opinion polls show Britain is evenly divided on the question of whether to leave or remain in the EU, though it has been suggested up to 10 million other voters, many of them women, have yet to make a decision. How they cast their vote will shape the future of the world's fifth largest economy and the EU itself. But what is really at stake is more important than economics ...
Obama's intervention in UK politics triggers angry backlash
Angry Britons have launched a petition calling for U.S. President Barack Obama to be prevented from speaking in the UK parliament on Britain's forthcoming referendum on European Union (EU) membership.
RELATED POSTS:
Ireland Election in Third Day, IRA Successors Sinn Fein Win Biggest Share of Vote
Ireland´s political parties were scrambling to adjust to a new reality Monday after an earth-shaking election that saw the left-wing nationalist party Sinn Fein win the biggest share of votes.
Sinn Fein, the party historically linked to the Irish Republican Army and its violent struggle for a united Ireland, received 24.5% of the first-preference votes in Saturday´s election...
Continue reading
BITS and PIECES:
Globalism is a religion – and its followers are blinded by ideology