COAL IS THE NEW BLACK
Chris McIntosh, Capitalist Exploits via Zero Hedge, 17 August 2022

So much for all the COP 26 banter late last year. Let me remind you. The elites all flew in on their private jets and promptly told us we're all (royal we) getting off fossil fuels and killing coal.
So how's that turning out?
The usage of coal is now at record highs:
Global Coal-Fired Electricity Generation Surges To Record High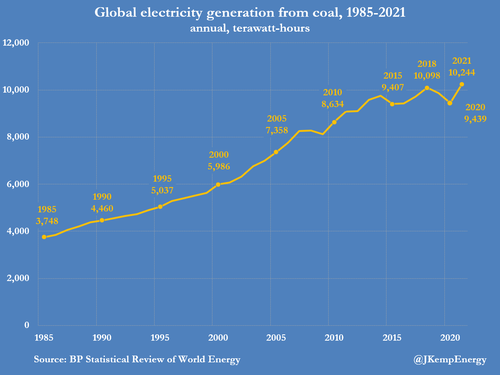 Coal is largely an Asian story (namely China and India):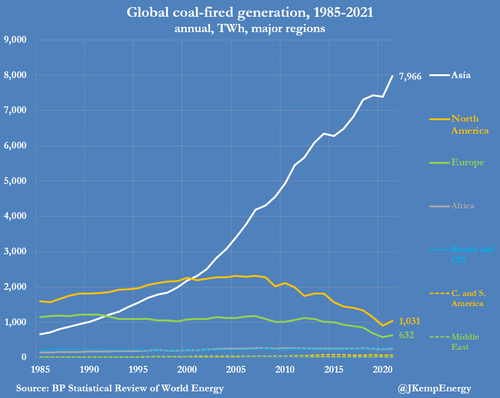 We wonder if coal miners' production schedules have been geared up for the "death of coal being greatly overexaggerated?"
Over the last five years it has been very fashionable for big miners (Rio, BHP, Anglo American, etc.) to offload their thermal coal assets to smaller miners.
Smaller miners have less access to capital for development and exploration, so we suspect that even with a big surge in demand for coal, there won't be an accompanying increase in supply.
That certainly is what the market looks like right now.
And with that the only thing that moves is price. And that means the existing companies will experience this awesomely wonderful thing called margin expansion. They print more money. Wonderful!
Cheers,
Chris MacIntosh
Capitalist Exploits/Glenorchy Capital Macro Fund Manager
RELATED:
MORE posts on
Net Zero - The Idealogues Attack On Civilisation, bowse this catalogue of our posts on the disastrous 'net zero' policy promoted by the United Nations and the World Economic Forum. The pseudoscientific theory that Carbon Dioxide emitted by hunan activities is alone responsible for climate change and the consequent shift to obtaining electrical energy from unreliable, intermittent, 'sustainable' sources is causing the collapse of the global economy.
After Nuclear Phase-Out, Germany Debates Scrapping Coal After deciding to scrap nuclear power, Germany is to debate getting rid of its coal fired generating plant too, Coal is Germany's biggest energy source but also its top polluter and main threat to the unrealistic climate goals imposed by the EU. Chancellor Angela Merkel's government is split on the issue, which pits a vocal environmental movement against energy giants and coal mining regions, with only weeks until her cabinet is set to present its next climate action plan.
Will new clean energy process make coal the fuel of the future
Coal, you exclaim, throwing up your hands in horror, the stuff that covered buildings of industrial towns in black soot, the stuff that choked miners lungs and sent millions of people to early graves? Coal the filthiest fuel ever? How can you say it is clean? Well a new technology recently announced might change your mind. Unless you are a windmill worshipping Warmageddonist of course.
Nuclear Power Risks or How To Stop Worrying And Love The Atom
The Greens, fear and panic merchants, cap and trade profiteers, carbon warmageddonists and usual suspects have been in a funk about the Fukushima nuclear power station accident, demanding we shut down nuclear generation as well as coal mines and oil wells. But the lesson of Fukushima is we should stop worrying and learn to love the atom.
Coal Fired Power Stations Win ReprieveIn what looks like a u-turn on green energy policy the coalition government have abandoned plans to support and subsidiese operators of sustainable energy generating plants. While environment activists and green campaigners are calling this a betrayal the case may well be that in the harsh reality of governing claims made by green energy firms look totally unrealistic ...
Climate Change: Green Energy Meltdown .As the climate science fraud and the case it made that carbon emissions were the sole cause of global warming and carbon taxes, trading in carbon allowances green energy technologies that belonged in science fiction novels were the way to power the future and save the planet comes unravelled: as the great green energy experiments of Denmark and Spain leave those nations shivering in the dark as power supplies fail and subsidies to green generators bankrupt national economies we look at the real state of the climate crisis.

Only One Percent Of US Bakken Shale Oil Is Profitable At Current Prices
Obama's strategy to make the USA the worlds leading oil exporter is in ruins. It is entirely in keeping with his record for fuck up and failure that has been the hallmark of his presidency. But what will be the consequences for the world of this latest failure by Obama?
U.N. Official Reveals Real Reason Behind Warming Scare
We said it was a scam, now a United Nations official has admitted the whole climate change scare was really about destroying capitalism. But what doo the elites plan to replace it with, A Corporaite Global Dictator ship in which the world is run by unelected bureaucrats selected from withing a small, elite class? Actually we predicted that as well.
Insane Science Pushing The Earth Towards Ecocide. At the Daily Stirrer we have suspected it for a log time, science is insane, a game for the ethically challenged and sociopathic to compete to be first to develop a new plague, or a death ray, or to trash the enviromnent in pursuit of political power or corporate profits for their paymasters. There's even a name for what they are doing now, Ecocide.
Climate Change: Study shows carbon dioxide dangers are OVERSTATED
That old demon Carbon Dioxide is in the news again today, not because the scaremongering science screechers have come up with a new lie to sell their 'tax-the-rich' globalist agenda but because yet another group of sensible scientists have found that carbon Dioxide levels in the atmosphere are overstated. Hardly a surprising result when you consider the global figure is derived from measurements taken on the slopes of Mauna Loa, an active volcano in Hawaii.
Thanks To Global Warming Policy It's Going To Be a Long Cold Winter For Many
Those of us who were intelligent enough to point out the scientific fallacies behind the global warming scare and the idiotic failure of logic on the part of politiciansbfar too ready to believe the scaremongers and pursue a policy that made developed nations in northern Europe reliant on an unpredictable and uncontrollable energy source like wind for energy are vindicated as Europe braces itself for power shortages this winter due to coal and oil fired power stations being closed to 'reduce CO2 emissions'.
Climate change: economics and reality
We were bullied into buying diesel cars to help the environment. Now experts admit this 'green' fuel is killing thousands of us
Biofuels - The Great Green Folly
Big Green Versus Big Koch
World Economic Forum Calls For $14 trillion program to make the global economy greener...
Official Advice - Prepare For Blackouts This Winter
The UK government is putting plans together for days of organised blackouts this winter, in what they call a "reasonable worst-case scenario" for energy shortages, according to reports in manstream media. Naturally they are blaming this on the embargo on importing gas from Russia but in reality Britain has never imported any more than a small amout of its gas from Russia. The real reason politicians and energy company CEOs are panicking is entirely due to their obession with obtaining all our energy from intermittent sources like wind and sunshine ...
"Revolution Has Begun": 75,000 Brits Plan To Stop Paying Power Bills In Protest At Energy Rip Off
Resistance is growing to spiralling domestic energy costs in Britain as more than 75,000 irritated people in the UK have pledged not to pay their electricity bill this fall when prices jump again.
If the government & energy companies refuse to act then ordinary people will! Together we can enforce a fair price and affordable energy for all," tweeted "Don't Pay UK," an anonymous group spearheading the effort to have more than one million Brits boycott paying their power bill by Oct. 1.

Is Russia Selling Its Oil To The World Through An Obscure Egyptian Port?
As this blog predicted when NATO and EU member states shot themselves in the foot by reacting to Russia's invasion of Ukraine with sanctions that prevented Russia from selling oil, gas and vital raw materials to the countries that needed them most, the NATO and EU member states, the Russians have had no problems finding alternative customers for their gas and oil and no problem getting oil into the world's commodity markets through the back door.

UK Households Are Paying Wind Turbine Owners To Not Generate Electricity
On another near windless day here in the United Kingdom, Boggart Blog came across a very interesting piece if news. According to figures published by the business and management consultancy LCP, british taxpayers have been paying operators of wind turbines farms for the time their windmills were NOT generating electricity increased to record levels last year ...

"Our Country Is Facing The Biggest Crisis The Crisis We Ever Had": German Employers' Association Warns Over Russian Gas Cut
With the Nord Stream 1 pipeline closed for maintenance, with the possibility that President Putin will not allow it to reopen at the end of the scheduled 10 days downtime in retaliation for the EU's continued support or Ukraine in their conflict with Russia, Germany is facing an unprecedented crisis that could erase the prosperity Germans have grown accustomed to, warned Rainer Dulger, head of the Confederation of German Employers' Associations.

Net Zero Is A Dangerous Fantasy, But Scientists Believe In Fairies It Seems
With oil and gas prices rocketing and the highly propted sustainable energy sources performing way befow expectations the energy crisis currently gripping Europe (with worse to come as food shortages start to bite, polticians still seem more intent on pandering to the green lobby and chasing the dream of a fossil fuel free world rather securing the energy and food supplies needed by the people they serve.

A Mostly Wind- & Solar-Powered US Economy Is A Dangerous Fantasy
When President Biden and other advocates of wind and solar generation speak, they appear to believe that the challenge posed is just a matter of currently having too much fossil fuel generation and not enough wind and solar; and therefore, accomplishing the transition to "net zero" will be a simple matter of building sufficient wind and solar facilities and having those facilities replace the current ones that use the fossil fuels.

EXPLORE:
[Daily Stirrer] ... [ Our Page on on Substack ]... [Boggart Aboad] ... [ Ian Thorpe at Quora ] ... [ Greenteeth Home ] ... [ Greenteeth on Minds.com ] ... [ Here Come The Russians ] ... [ Latest Posts ] ... [ Climate Lies ] ... [ Climate Change ] ... [ Energy Green Dreams ] ... [ Sicence & Technology ] ... [ Living Within The conspiracy ]