At the precipice of World War
Clash of the two systems of governance, as George Soros formulated it in his remarks to the World Economic Forum conference in May, seems to have reached a phase transition. Russian President Vladimir Putin has returned from last week's summit of the Shanghai Cooperation Organization conference in Samarkand with a palpable sense of confidence and determination, and it does appear that he has obtained reassurances of support from all the key leaders during the event, including China's Xi Jinping, India's Narendra Modi, Turkey's Recep Tayyip Erdogan, Iran's Ebrahim Raisi, and even the new PM of Pakistan, Shehbaz Sharif.
Now, the leadership of Russia is prepared to shift gears in Ukraine. While annexation of the Donbas region wasn't part of the objectives set out at the outset of the "Special Military Operation" in February, this could be about to change.
****

Russia will mobilize about 1.2% of her mobilizational potential
So, after lots of speculation, we now know that the Kremlin has decided to mobilize about 300'000 soldiers from a total mobilizational potential of 25'000'000 soldiers. That's just a little over 1% of Russia's mobilizational potential. We are talking only about those soldiers who have an official status of "reserves" and all of them will have to undergo a special training before being sent to the Ukraine.
A few comments about this decision:
It will take Russia a few months to gather and retrain (refresher courses) these forces and they will not be immediately available to protect the Lugansk, Donetsk, Zaporozhie and Kherson regions during the upcoming referendum on to whether to join Russia or not. The 3rd volunteer army corps is already deployed in the south and could greatly assist in this.
Putin and Shoigu gave several reasons for this decision, including the very long line of contact, the direct involvement of NATO personnel who are now running the Ukronazi regime in Kiev and the threats by the West to dismantle Russia.
Shoigu indicated that the UAF lost about 50% of its personnel (over 100'000 soldiers out of a total potential of about 200'000). He also added that most of the Ukrainian weapons systems, which were of Soviet origin, was mostly destroyed. Russian KIAs are just under 6000 soldiers.
Shoigu also clearly spelled out that "we are not so much fighting against the Ukraine but against NATO plus the united (collective) West".
Shoigu also mentioned that all of the NATO satellite capabilities (70 military and 200+ civilian satellites) are used against Russia right now.
Finally, Shoigu added that NATO high precision weapons are deliberately used by NATO commanders to terrorize civilians.
In other words, Russia is preparing for an escalation of this war in the coming months. She is basically augmenting her forces to a level which could deal with a major NATO escalation in the Ukraine (and elsewhere as not all mobilized forces would have to be combat units; deploying more C4ISR capabilities, logistics/supply forces or civil affairs and counter-terrorism units would also make sense).
****
UK Government Lifts the Fracking Ban
has more
.
The Business Secretary said "much has changed" since the Conservatives introduced the moratorium on fracking in 2019, including the energy crisis caused by the war in Ukraine.
He said the country needed to "explore all avenues available to us" as he also confirmed plans to issue a wave of new oil and gas licences in the North Sea.
Mr. Rees-Mogg said: "While the Government will always try to limit disturbance to those living and working near to sites, tolerating a higher degree of risk and disturbance appears to us to be in the national interest given the circumstances described.
"With this in mind, it is important that the policy relating to shale gas extraction reflects this."
The fracking ban was prompted in part by a 2.9 magnitude tremor at a site in Lancashire, and a subsequent investigation that found it was not possible to accurately predict the probability or magnitude of earthquakes.
But Mr. Rees-Mogg said more data could be collected by allowing shale gas drilling and using the wells to better understand the risk of earthquakes.
The decision to allow fracking is likely to be unpopular with many Tory MPs, including those representing constituencies where it took place prior to 2019.
****
LITHIUM mining for electric vehicles is incredibly destructive to the environment and about as far from "green" as you can imagine

by Lance D Johnson, Natural News
(Natural News) Electric vehicles are promoted as the solution for combating "climate change." Governments are currently incentivizing the production of electric vehicles, while punishing the fossil fuel industry. However, lithium mining for electric vehicles is incredibly destructive to the environment, and is about as far from "green" as one could imagine. Not to mention, most of the lithium-ion batteries produced today come from China and require water-intensive mining operations that ravage natural environments throughout Australia, Argentina and Chile. The process depletes ground water, and leaves behind toxic wastewater that contaminates fields and harms wildlife. The mining process is not carbon dioxide free, either. The mining process releases 15,000 kilograms of carbon dioxide emissions for every ton of lithium that is extracted.
When lithium is extracted from salt mines, the miners must drill into the salt flats and pump out a salty, mineral-rich brine. The brine is placed in large pools, so the water can evaporate out. When the brine evaporates, it leaves behind a sludge of potassium, manganese, borax and lithium salts that must be filtered out further. The process pollutes nearby aquifers and lowers the water table, interfering with water sources in the local environment.
The lithium extraction process takes several months, displaces valuable water resources, and leaves behind a toxic trail of wastewater in the local environment. It takes approximately 500,000 gallons of water to produce one ton of lithium. When mining companies head into countries like Chile, they use up a majority of the region's water, unjustly affecting small communities.
****
At UN, Biden Has The Audacity To Say Russia Can't Take A Country's Territory By Force
Authored by Dave DeCamp via AntiWar.com,
At the UN General Assembly in New York on Wednesday, President Biden focused most of his speech on Ukraine and accused Russia of violating the UN Charter by launching the war.
"Russia has shamelessly violated the core tenets of the United Nations Charter — no more important than the clear prohibition against countries taking the territory of their neighbor by force," he said.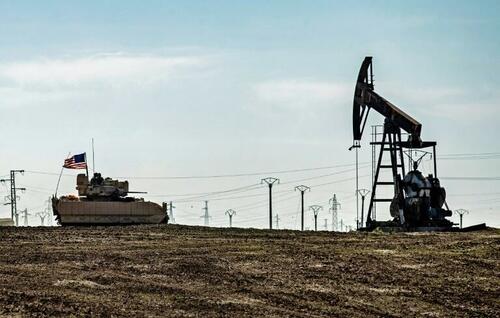 Biden's comments highlight US hypocrisy on the issue as Washington currently occupies a major portion of eastern Syria despite the Syrian government's opposition. The US also supports Israel's occupation of the West Bank and its blockade of Gaza, and Saudi Arabia's war and blockade on its neighbor Yemen.
Biden said that the US will continue to support Ukraine in its fight against Russia based on the principle that "you cannot seize a nation's territory by force."
****