from SHTFplan.com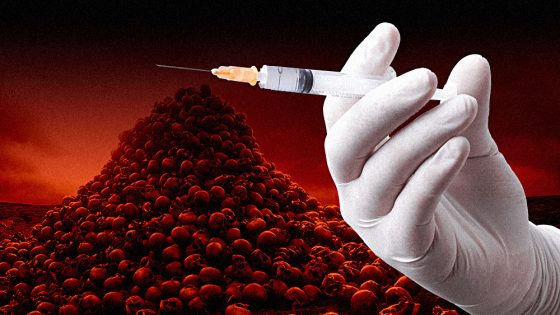 If the experimental gene therapies they insist you believe are "vaccines" actually "work" to prevent the infection of COVID-19, why are so many still getting the never-ending scamdemic virus? Easy, because they keep getting tested for it and the tests have been proven to not be diagnostic tools.
And the sheep continue to get tested and line up awaiting the experimental gene therapy shot. There is little to no critical thinking left on this planet. Thousands of Americans have caught Covid-19 despite being fully vaccinated, the US Centers for Disease Control and Prevention have said about their own statistics, and they insist that their data suggests such "breakthrough" infections are relatively rare.
However, it's likely that the number of breakthrough infections is much higher than is being reported, according to a report by RT.
Also, note the "death" rate of getting COVID AFTER getting "vaccinated." It's higher than if you just let the human body take care of business on its own. ... Continue reading >>>
RELATED:
Vaccine Adverse Reactions – Not Reported By Mainstream Media
The UK Government's COVID-19 vaccination programme is now in full swing and the general public is being bombarded with the official line that to stop the COVID-19 pandemic and regain their freedom, people must be vaccinated. In fact they are told they must be vaccinated twice. …
Vaccine: More cases of rare blood clots, but regulator says benefits still outweigh risk
Reported cases of rare blood clots occuring in people soon after they received a shot of the AZ COVID-19 vaccine has risen to 168. The UK's medicines regulator said the overall case fatality rate was 19%, with 32 deaths up to April 14. Note the dishonesty in the style of reporting again. Nowhere does the official press release make clear that the figures apply only to adverse reactions of blood clots, both non fatal and fatal. People are still suffering and dying from allergic reactions, heart attacks, organ failure and respiratory failure soon after being vaccinated.
Study Reveals mRNA COVID Vaccines Link To Prion Disease & Brain Degeneration
from Great Game India A shocking study has revealed the terrifying dangers of mRNA COVID-19 vaccines inducing prion-based disease causing your brain to degenerate progressively. The mRNA vaccine induced prions may cause neurodegenerative diseases because long-term memories are maintained by prion-like proteins. The study concluded that mRNA based vaccine may also cause ALS, front temporal …
Evidence of Problems With Covid Vaccine Grow And Te Real Agenda Becomes Clearer.
Mainstream media have been distracting us with stories of successful mass vaccination campaigns, but as ever things are not quite what they seem to be and though the claimed 999% take up of the vaccines is not verifiable, the deafening silence regarding the huge numbers of serious adverse reactions to all type of vaccine and the significant numbers of unexplained deaths which have occured soon after people reveived the jab suggest there will be worse news to come in the future ...
March 11, 2021 Contrary to what other ministers in his government have been saying recently, Prime Minister Boris Johnson admitted earlier this week it is highly probable that vaccine passports for international travel will be a feature of Britons' lives in the future. Speaking at a Downing Street press event on Monday evening, the Prime Minister Johnson acknowledged …
Continue reading
In future anyone who "repeatedly posts misleading information" about SARS-COV2 (Covid-19) vaccines on Twitter will be put on a watch list and given five chances to chaine their opinion or self – censor their comments and opinions before being permanently banned from the social media platform, the company recently announced. A True to form however, …
Continue reading
The Parliamentary Assembly of the Council of Europe – the international body of which Britain remains a member) – has passed a resolution that recommending that governments refrain from enacting laws that make any vaccines mandatory and stated that nobody should suffer discrimination on account of not having been vaccinated. The resolution obviously refers to …
Continue reading
from UK Column Since the UK government began its rollout of the COVID vaccine regular reports of unusual death events occuring shortly after the deceased had received a shot of the vaccine have been reported in care homes and by doctors' surgeries across the country. The Official line has been that the vaccine shot and …
Continue reading
March 4, 2021
posted by The Defender
The experimental Wuhan coronavirus (Covid-19) vaccines from Pfizer that were rushed into production and distribution via Donald Trump's "Operation Warp Speed" program are killing far more elderly people than the so-called "virus" itself would have. A re-analysis of data provided by the Israeli Health Ministry concluded that Pfizer and BioNTech's messenger …
Continue reading
The latest luncacy to flow from the megalomaniacal mind of the world's richest madman and wannabe Galactic Emperor Palpatine, Bill Gates is the latest iteration of a plan this vaccine – obsessed world domination freak has nurtured for a long time. He wants to release genetically midified mosquitos to inject us with vaccine.Apart from the …
Continue reading
Chancellor Angela Merkel of Germany announced to other EU leaders during Thursday's Zoom meeting on the EU response to Coronavirus that there is a unanimous agreement within the European Union on implementing a coronavirus vaccine passport. It is not clear whether the other 26 leaders agreed with Hausfrau – Volksfuhrer Merkel of their own volition …
Continue reading