We have learned vial a piece in OilPrice.com that turbines at a wind farm in western Germany are being dismantled to allow for the expansion of open cast coal mining operations at an adjacent site. The propsal to increase output at the Garzweiler open-pit lignite coal mine has been described as a "paradoxical" situation given that in recent years the German government has been pushing ahead with the closure of coal and nuclear generating plant to appease its nutty but powerful Green party, the support of which has been essential to prop up ruling coalitions in the German Federal Parliament. The decision also highlights the current prioritization of energy security over the green dreams of the net zero brigade and Greta Thunberg fan club in Europe's biggest economy.
The government's obsession with pandering to the loonytoons demands of environmentalist groups had left Germany dependent on cheap gas from Russia for the fuel needed to run its power stations and generate the electrical energy needed by industrial, commercial and domestic consumers.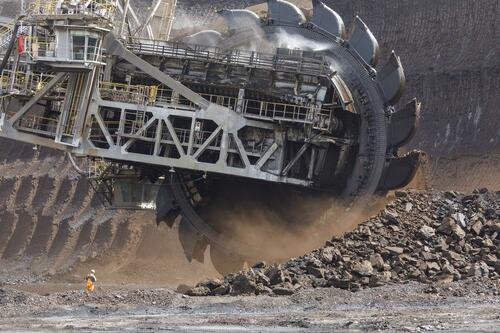 The dismantling of one or more wind turbines at the wind farm close to the coal mine, operated by energy giant RWE, has already started. RWE says that lignite, or brown coal, has been mined from the Garzweiler coalfields for over 100 years.
RWE also said at the end of September that three of its lignite-fired coal units that had previously been mothballed would be recommissioned and resume feeding electricity to the distribution grid to by the end of October.
"The three lignite units each have a capacity of 300 megawatts (MW). With their deployment, they contribute to strengthening the security of supply in Germany during the energy crisis and to saving natural gas in electricity generation," RWE said last month.
The the company is increasing output at the mine after a court in the western state of North Rhine-Westphalia ruled in favor of the energy group in a land dispute in March this year to expand the lignite mine.
Commenting on the dismantling of wind turbines to make way for expanding a coal mine, Guido Steffen, a spokesperson for RWE, told the UK's Guardian newspaper, "We realize this comes across as paradoxical."
"But that is as matters stand," Steffen added.
Earlier this week, the ministry for economic and energy affairs of the state of North-Rhine Westphalia urged RWE to abandon the plan to dismantle the wind farm.
"In the current situation, all potential for the use of renewable energy should be exhausted as much as possible and existing turbines should be in operation for as long as possible," a spokesperson for the state's ministry told the Guardian. Unfortunately this virtue signalling clown has not yet got his head round the fact that when there is insufficient wind speed, wind turbines cannot produce any electricity wheras in a modern society a steady and totally reliable supply of electricity is needed to keep essential functions running 24 hours a day, 365 days a year.
RELATED:
German NatGas Consumption Too High To Avoid Energy "Emergency", Regulator Warns As Norway Increases Gas Production
Germany tok great pride in leading the race among developed nations to achieve a net xero economy but now the folly of that policy is being exposed as gas supplies from Russia dry up and the inadequacies of wind and solar are exposed
EU Vows To Retaliate if Nord Stream Gas Pipeline Blasts Were Sabotage - But against whom, the USA?
Yesterday's shocking news that the Nord Stream 1 & 2 gas poipelines between Russia and Germany immediately triggered speculation about who is responsible, but as the facts emerge the knee jerk blaming of Russia has failed to convince because the attack bears all the halllmarks of a false flag event engineered by the usual suspects ...
Who Blew Up The Nordstream Pipeline
So whodunnit? Sabotage of undersea gas pipe will escalate tension and move the world closer to nuclear war, but who is behind it, Russia in a bid to put more presure on Europe, Ukraine in an attempt to drag NATO into direct action, or the USA using a CIA false flag event to advance its own agenda.
UK Government Belatedly Discovers The Uselessness Of Sustainables In Relation To Energy Security
The policy that Boris Johnson's Premiership will be remembered for is nor 'getting Brexit done,' but the government's disastrous pledge to make Great Britain the first developed nation to achieve a 'net zero' national energy system. The neglect and running down of traditional energy systems (coal, gas, nuclear,) along with flushing money down the toilet by investing in intermitternt power sources (wind, solar,) rather than Putin's war in Ukraine is responsible for the current crisis.
The True Cost Of The Green Energy Boom Is Now Being Realized
For four decades we have been fed a constant stream of propaganda assuring us that green energy was the only way forward if we wanted to secure supplies of the energy essential to a modern society while preventing the environmental catastrophes that would be the inevitable consequence of climate change caused by the Carbon Dioxide (CO2) emitted by human industrial, commercial and social activity. ... Continue reading >>>
Do We Have A Winter Of Civil Disobedience Ahead?
As many people in Britain slap on the apres sun gloop in the wake of what passes for a heatwave in these cool cloudy climes, our inept politicians caught with their pants down by unusual weather as usual have heard that that winter is coming and are making plans for a coldwave. We are in the grip of an energy crisis at the height of summer. Last week, it was reported that the UK government is laying down plans for a "reasonable worst-case scenario" including blackouts for industry and even households. And this is as energy prices spiral out of control to new records every day.
The Truth About Coal And The Lies Of The Elite
So much for all the COP 26 banter late last year. Let me remind you. The elites all flew in on their private jets and promptly told us we're all (royal we) getting off fossil fuels and killing coal.So how's that turning out? The usage of coal is now at record highs:
UK Households Are Paying Wind Turbine Owners To Not Generate Electricity
On another near windless day here in the United Kingdom, Boggart Blog came across a very interesting piece if news. According to figures published by the business and management consultancy LCP, british taxpayers have been paying operators of wind turbines farms for the time their windmills were NOT generating electricity increased to record levels last year ...
"Our Country Is Facing The Biggest Crisis The Crisis We Ever Had": German Employers' Association Warns Over Russian Gas Cut
With the Nord Stream 1 pipeline closed for maintenance, with the possibility that President Putin will not allow it to reopen at the end of the scheduled 10 days downtime in retaliation for the EU's continued support or Ukraine in their conflict with Russia, Germany is facing an unprecedented crisis that could erase the prosperity Germans have grown accustomed to, warned Rainer Dulger, head of the Confederation of German Employers' Associations.
Net Zero Is A Dangerous Fantasy, But Scientists Believe In Fairies It Seems
With oil and gas prices rocketing and the highly propted sustainable energy sources performing way befow expectations the energy crisis currently gripping Europe (with worse to come as food shortages start to bite, polticians still seem more intent on pandering to the green lobby and chasing the dream of a fossil fuel free world rather securing the energy and food supplies needed by the people they serve.
A Mostly Wind- & Solar-Powered US Economy Is A Dangerous Fantasy
When President Biden and other advocates of wind and solar generation speak, they appear to believe that the challenge posed is just a matter of currently having too much fossil fuel generation and not enough wind and solar; and therefore, accomplishing the transition to "net zero" will be a simple matter of building sufficient wind and solar facilities and having those facilities replace the current ones that use the fossil fuels.
Europe's biggest economy would suffer a 6.5pc contraction if Russian energy is suspended, experts warn
Even though the sanctions already imposed on Russia in respondse to the invasion of Ukraine are hitting the nations that imposed then harder that their intended target, the EU is preparing to committ economic suicide in an orgy of virtue signalling ...
We need energy security – not Net Zero
Russia's invasion of Ukraine has prompted a major rethink in the West. We have suddenly found ourselves vulnerable not just to rising prices in oil and gas, but also to inflation in other commodities – such as food and fertiliser. Of all these problems, the security of our energy supply has most exercised minds.
Renewable Energy: So Useless That Even Green Loons At Google Have Given up on it
The sandal wearing, tree hugging, bearded puritans call it "renewable energy", the zealots of the Church Of Scienceology call it sustainable energy, those with smarter heads on their shoulder call it "alternative energy" because that's what it really is: an alternative to energy that actually works (eg nuclear and anything made from cabon-rich fuel from organic matter laid down in pre-history and left to brew for a few hundred million years.)
After Nuclear Phase-Out, Germany Debates Scrapping Coal After deciding to scrap nuclear power, Germany is to debate getting rid of its coal fired generating plant too, Coal is Germany's biggest energy source but also its top polluter and main threat to the unrealistic climate goals imposed by the EU. Chancellor Angela Merkel's government is split on the issue, which pits a vocal environmental movement against energy giants and coal mining regions, with only weeks until her cabinet is set to present its next climate action plan.
2 April 2022:
:UK Energy From Wind Power Down To 3% Of National Need In Past Week
It was a pleasant week in ?Britain last week, the weather settled into a psttern of cold, dry, sunny, almost windless days typical of what we ofen get from December through to April. It was certainly too cold to be outdoors without a coat or thick sweater for long. More significantly ss a result of the lack of wind, electricity generation from wind turbines was negligible, averaging 1.01Gigawatts, or 3% of total demand: Effectively this means that wind farms only run at about 5% of their capacity in such wintery weather.
Debunked: The Great Renewable Green Delusion
The war in Ukraine has not caused the global energy crisis of early 2022 byt merely exacerbated it. Currently the nations currently in conflict with Russia over its incursion into Ukraine are those which are most dependent for their energy needs on Russian oil and gas. And now their loonytoons 'net zero' green energy policies have failed they are biting the hand that feeds them.
German NatGas Consumption Too High To Avoid Energy "Emergency", Regulator Warns As Norway Increases Gas Production
Germany tok great pride in leading the race among developed nations to achieve a net xero economy but now the folly of that policy is being exposed as gas supplies from Russia dry up and the inadequacies of wind and solar are exposed
An Energy Crisis In Tandem With A Food Crisis On Top Of An Economic Crisis And A War. This Cannot End Well
As politicians in North America and Europe try to deflect from their own failure that have contributed to the current plethora of crises by blaming Russia and Vladmir Putin for all the current problems, while the war in Ukraine is a contributory factor in each, the real blame lies closer to home.
Swedish Media Outlet Publishes Leaked U.S. Document On How to CRUSH Europe Economy via Ukraine War Effort
Swedish news organisation Nya Dagbladet has published a leaked top secret US plans to use the war in Ukraine and an induced energy crisis to destroy European economies. The report claims the RAND Corporation a defence and foreign policy think tank founded by military aircraft maker Douglas has the official aim of improving policies and decision-making, is the source of its evidence.
Rishi Sunak Reveals How Boris Sold Us Out To Big Pharma and Globalism
it seems most people in Boris Johnson's cabinet during the run up to lockdowns were kept in the dark about many things, including the fact that 'The Science' on which lockdown policy was based was not science at all. Government was effectively reduced to a "quad" of ministers and their 'scientific advisers' deciding on Britain's future. Rishi Sunak, at that time Chancellor of the Exchequer (finance secretary) was one of them. There were rumours at the time that Sunak repeatedly warned that lockdowns would inflict economic damage that was likely to endure for decades.
The Federal Republic of New Normal GermanySo, the government of New Normal Germany is contemplating forcing everyone to wear medical-looking masks in public from October to Easter on a permanent basis. The fanatical New Normal fascists currently in charge of Germany's government are discussing revising the "Infection Protection Act" in order to grant themselves the authority to continue to rule the country by decree, as they have been doing since the Autumn of 2020
, thus instituting a "permanent state of emergency" that overrides the German constitution, indefinitely ...
Europe's biggest economy would suffer a 6.5pc contraction if Russian energy is suspended, experts warn
Even though the sanctions already imposed on Russia in respondse to the invasion of Ukraine are hitting the nations that imposed then harder that their intended target, the EU is preparing to committ economic suicide in an orgy of virtue signalling ...
Europe's Depleted Gas Storage Might Not Get Refilled Ahead Of Next Winter
While mainstream news reporting of the conflict in Ukraine continues to pump out a torrent of anri - Russia, pro - war propaganda the catastropic effects of this war that could so easily have been avoided are not mentioned. Well why would warmongering governments admit they have inflicted an energy crisis, food shortages and soaring living costs on their people for no good reason ...
[ Energy Green Dreams ] ... [ Wind Turbine Truth ] ... [ Energy- net zero fantasy ] ... [ Germany ]