Authored by Mark Jeftovic via BombThrower.com, (via Zero Hedge)

We're one tragedy away from pitchforks & torches…
"No one must ever ask where another rabbit was, and anyone who asked 'Where?' – must be silenced."
In the story Watership Down a group of rabbits flee their home warren of Sandleford, ahead of its imminent destruction at the hands of real estate developers. They set out looking for a safe, new home and among their adventures they encounter another warren called Cowslip. There, all the rabbits are uncharacteristically large, affable and seemingly well fed. For awhile, the Sandleford rabbits think they've found a safe haven.
There's only one problem: every once in awhile one of the the rabbits goes missing. It turns out the entire warren is on a farmer's land who feeds and otherwise takes care of them, but then sets out snares and traps them from time to time for their pelts.
There is only one rule at Cowslip's Warren, nobody is allowed to ask or talk about any of the missing rabbits.
I want everybody reading this to think of two numbers from asking you two questions:
Question #1) How many people do you know who died of COVID?
I first started hearing rumblings of a new Coronavirus emerging out of China in January 2020 (although it looks now like COVID was already circulating throughout the world by mid-2019).
When I got wind of it, I was emailing friends and colleagues to get N95 masks and to stock up on groceries and medications. It looked bad. By February I was probably one of the first people seen around town wearing an N95 mask. In March I started running a spreadsheet using R0, fatality rates and case-doubling times that were coming out of the CDC, the WHO, and shrieking hysterics like Eric Feigl-Ding: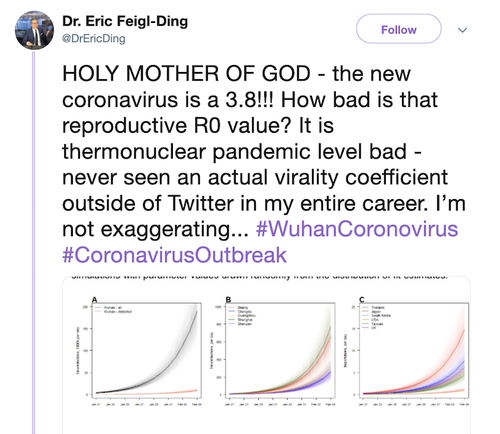 The famous "HMOG Tweet".
The screen grab above is the famous "Holy Mother Of God" tweet, which is sometimes speculated as having rang the bell beginning the global COVID panic. Feigl-Ding refers to it himself as a seminal moment, and he's also since deleted the tweet. It is archived here.
When it was all unfolding, I was initially afraid. My rough model posited that by the end of May we'd have 442,368 cases with as many as 22,118 fatalities and that was just in Toronto. By the end of July, 1.7 million cases and 88,473 fatalities.
I laid out previously what happened and what turned me into a lockdown skeptic: every day I'd plug in the new case and fatality numbers from the city, the province and federal levels and by the end of May I realized that my model was bust. By fall I knew that case numbers were bullshit (it didn't matter how many people tested positive on a PCR test) and that lockdowns were a bigger problem than the virus.
Continue reading ( long article) >>>
[
COVID fear and panic
] ... [
COVID Fascism
] ... [
COVID vaccines harm
] ... [
Vaccine passports
] [
Health Tyranny
] ... [
Big Pharma ciminaility
]
EXPLORE:
[
Daily Stirrer
] ... [
Our Page on on Substack
]... [
Boggart Aboad
] ... [
Ian Thorpe at Quora
] ... [
Greenteeth Home
] ... [
Greenteeth on Minds.com
] ... [
Here Come The Russians ] ... [
Latest Posts
] ... [
Blog Bulletin
]