from Zero Hedge 1 August 2021
Tens of thousands of people across several countries, including France, the UK, and Israel, have demonstrated against new anti-COVID restrictions, with the majority of the protests held in the Paris metropolitan area.
According to Reuters, in Paris and other French cities, more than 200,000 protesters flooded streets on Saturday, outraged about COVID-19 health passes. The passports were introduced as Europe is in the midst of the fourth wave of virus infections.
President Emmanuel Macron's latest measures have resulted in the third week of protests. The new passports are for fully vaccinated people, those who have natural immunity, and or test negative for the virus within 72 hours. The passes must be shown before entering public transportation, bars, restaurants, and other public venues.
The health passes are directed at forcing those who are not vaccinated to get immunized.
However, when the government treads on freedom and forces a segment of the population to take an experimental vaccine, there will be blowback, especially when the first round of vaccinations were supposed to liberate folks and return life to normal.
Now there's more restrictions, less freedom, and the government wants to continue feeding people an experimental drug. People are beginning to turn on the government: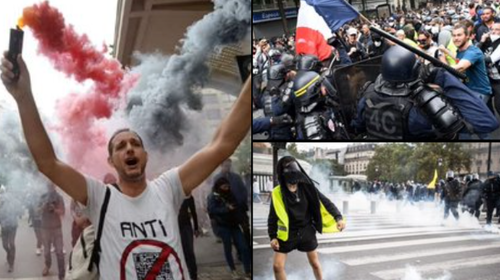 "We're creating a segregated society and I think it is unbelievable to be doing this in the country of human rights," Anne, a teacher who was demonstrating in Paris, told The Guardian. She refused to give her last name.
"So I took to the streets; I have never protested before in my life," Anne added. "I think our freedom is in danger."
Protesters were also out in other metros, including Marseille, Lyon, Montpelier, Nantes, and Toulouse, yelling "Freedom!" and "No to the health pass!"
Meanwhile, hundreds of anti-vaxxers protested in the streets of downtown London Saturday. Many folks were accompanied by their children and were infuriated that the government wanted to vaccinate kids.
Protests held signs that read "leave our children alone" and "hands-off our children."
In Israel, hundreds took to the streets of Tel Aviv to protest the government's new virus restrictions, such as reimposed mask requirements indoors and health passes.
Protesters held signs that read, "There's no pandemic. It's a con."
The Delta variant worldwide has forced countries to reimpose COVID restrictions and implement health passes to mitigate the virus spreading. The government interfering with the lives of its citizens and whittling their freedoms has resulted in mass unrest.
RELATED:


Politicians Are Offering A Trade, Safety For Freedom. But What Are We Really Trading Away?
It's the age old confidence trick, politicians and the elites offter a straight choice between security of freedom and all the risks it entails, then amplify those risks with scaremongering propaganda. In the case of the COVID crisis it has worked so far, with enough people accepting the need for masks, lockdowns and killer vaccines to make The Great Reset seem feasible - but time is running out and people are waking up ...
Covid Cops Catch Couple Having Outdoor Sex on Coldest Night for 26 Years
Several public figures including Nigel Farage and actor (cancelled) Laurence Fox have spoken up in the past few days denouncing the government's latest crackdown on people who breach the pointless and ineffective restrictions imposed on society as tyranny, but those of us who have no platform in mainstream media must try to draw attention to the absurdity of our COVID response.
Covid Cops Catch Couple Having Outdoor Sex on Coldest Night for 26 Years
Several public figures including Nigel Farage and actor (cancelled) Laurence Fox have spoken up in the past few days denouncing the government's latest crackdown on people who breach the pointless and ineffective restrictions imposed on society as tyranny, but those of us who have no platform in mainstream media must try to draw attention to the absurdity of our COVID response.
Trump Calls On VP Pence To Grow A Pair And Challenge The Election
"Donald Trump has called on his vice-president Mike Pence to intervene to incorrectly hand him a second term." An article in today's Daily Telegraph, ostensibly reporting the efforts of President Trump and his supporters in the Republican Party to challenge the result of November's election in six states where statistical anomolies provide strong evidence that the vote was somehow interfered with is a triumph for the kind of bad jouralism that fills the pages of UK newspapers. I would not have thought it possible to condense so much misinformation into so few words. Take the statement quoted above...
Time To Rename Democrat Party The Hypocrite Party
As I read the news this morning I wanted to puke every time I encountered a (false) assertion that there is no substance to the claims of massive and organised fraud in the US presidential election made by Donald Trump and his supporters. As there is considerable substance to these claims, evidenced by the refusal of the General Services Administration, tasked with managing the transfer of power after election, to sanction funds for Joe Biden and the Democrats on the basis that several states are still counting votes,
The U.S. Presidential Election is NOT Over. Here's Where Things Stand Right Now
As an outsider I have looked on (with wry amusement I must admit,) at the chaotic outcome of the U.S. presidential election and the attempts by various mainstream media organisations, political figures and a host of showbiz celebrities to proclaim Joe (Groper) Biden the winner when in fact votes are still being counted in several key states and enough electoral college delegates to flip the majority to Trump. It looks unlikely to happen but as the official result has not been declared it is spurious for anyone to refer to Biden as the President Elect before he has actually been elected ...
Were US 2020 Elections Rigged By Dominion Voting Systems
A so-called computer "glitch" in the voting machines flipping votes during the 2020 US Elections has caused a major controversy. The source and ownership of the voting machines used in the elections has become an urgent issue because of real fears that hackers might tamper with the mechanics of the voting system. However, GreatGameIndia has found that the vendors and not hackers maybe behind the rigging.
US News Sites Claimed UK Nov 5th Fireworks Were To Celebrate Biden Presidency
Many of us in Britain and other developed nations spent most of last week looking on gobsmacked at the fiasco that was playing out across the pond as a nation whose inhabitants tell us if we are not doing things "The American Way" we are doing them wrongly, completely failed to back up their claims when they showed themselves to be completely incapable of running a fair and orderly democratic election.
As The World Hails President Not-Trump, News Media Forget He Hasn't Won Yet
I read several times today that having been "officially" declared winner of the election and now US President elect, Joe Biden is being called on to heal the nation. It's bollocks of course, while Joe Biden holds an apparently convincing lead in enough states to give him a majority in the electoral college, that body does not meet to formally elect the president until mid December.
Election Fun And Games In America
According to national sources such as The Epoch Times, Trump is currently at 214 electoral votes. If you add Georgia and North Carolina, both of which are obvious Trump wins, far beyond the margin of any Biden recovery, that puts Trump at 245 electoral votes. Trump is currently leading in Pennsylvania, and it looks like a victory that will be aggressively defended by the President and his team.
WISE ADVICE AS AMERICA VOTES
As America votes to choose its president for the next four years, the incumbent Donald 'Pussy grabber' Trump or challenger Joe 'Sniffer' Biden and chaos threatens to follow the election no matter who wins, I'm reminded of these words from Buckminster Fuller: "If you take all the machinery in the world and dump it in the ocean, within months more than half of all humanity will die and within another six months they'd almost all be gone; if you took ...
The American Election Is Going To Be Fun.
With the national polls showing Sniffer Biden has a double figure lead byt state – by – state polling showing the race neck and neck, the scandal involving Biden's son Hunter and dodgy deals in China and Ukraine now embracing Pappy Joe's activities as Obama's Vice President, the Democrats claiming Trump will not accept defeat …
Media continue to cover up Joe Biden's mental decline
With President Trump unfortunately sidelined at Walter Reed National Military Medical Center for a few days, do you think the media will now be able to devote more attention to examining the incoherent babbling of Dementia Joe Biden?
Nah, won't happen. The media have been ignoring and/or covering up Biden's obvious mental decline for more than a year now, even though the video evidence is at their fingertips.
Is America Heading For Civil War?
Authored by Brandon Smith via Alt-Market.com In last week's article I discussed the issue of American "balkanization" and the rapid migration of conservatives and moderates from large population centers and states that are becoming militant in their progressive ideology. In my home state of Montana there has been a surge of people trying to escape …
Over half of Americans support using Army to aid police deal with George Floyd protests
Over 50 percent of Americans would like to see the army deployed to the streets of US cities to help police tackle the riots raging across the country following the death of George Floyd at the hands of Minneapolis police. The US has been gripped by a massive wave of protests for over a month …
Biden the Democrats least hopeless hopeful? Or is he?
A senior U.S. Republican reportedly said recently that the most difficult ticket Donald Trump could face in the next election would be Joe Biden partnered by Elizabeth Warren. This was not, needless to say, because Biden was a brilliant debater or a lethal political adversary. "If he was any stupider, my you'd have to water him", the anonymous Republican quipped.See also >>>
Evidence-based medicine consultancy issues "yellow card" warning about dangers of covid vaccines
A "community interest company" that says it conducts research on behalf of the general public with no conflicts of interest has issued a "yellow card" warning against Wuhan coronavirus (Covid-19) "vaccines," which "may require further investigation" to "identify issues which might not have been previously known about" concerning their safety.

Covid Vaccine Project? Invasion of The Body Snatchers meets The Milgram Experiments
Boris Johnson is on a collision course with elected representatives of his own party today, as the Prime Minister prepares to abandon every promise he made to end lockdown on June 21st, and announce a four week delat delay to the pan to lift pandemic restrictions. The much-heralded 'freedom day' scheduled for June 21 is now due to be pushed back until July 19, with health minister Edward Argar telling the BBC this would allow authorities time to "close the gap" in the number of adults who have had their second jab
The Truth Behind COVID-19 Vaccines (4)–Why High Incidence of Myocarditis in Young Vaccinated People
Vaccines causing myocarditis in young vaccinated people are finally getting the attention of health authorities and the media. However, keep in mind many more people die from all kinds of unpredictable side effects or suffer lifelong disabilities besides myocarditis, and no one knows about the impact of vaccines on fertility and other unpredictable consequences.
There have been numerous adverse reactions reported following mass vaccination worldwide. Myocarditis is currently attracting more and more attention due to its high incidence rate among young people who are vaccinated.
SHOCKING JUMP in Vaccine Deaths Reported This Week at CDC-Linked VAERS Tracking Website
There are more US deaths related to vaccines in 2021 in less than 5 months than there were the entire past decade.
The number of deaths linked to vaccines this year has absolutely skyrocketed. According to the CDC's own data, in 2021 n the first 3 months, the VAERS website recorded over 1,750 deaths due to vaccines in the US. That number is now at 5,997.
10,570 DEAD 405,259 Injuries: European Database of Adverse Drug Reactions for COVID-19 "Vaccines"14 May 2021 - The European database of suspected drug reaction reports is EudraVigilance, which also tracks reports of injuries and deaths following the experimental COVID-19 "vaccines."Here is what EudraVigilance states about their database:
This website was launched by the European Medicines Agency in 2012 to provide public access to reports of suspected side effects (also known as suspected adverse drug reactions). These reports are submitted electronically to EudraVigilance by national medicines regulatory authorities and by pharmaceutical companies that hold marketing authorisations (licences) for the medicines.

Vaccine Adverse Reactions – Not Reported By Mainstream Media
The UK Government's COVID-19 vaccination programme is now in full swing and the general public is being bombarded with the official line that to stop the COVID-19 pandemic and regain their freedom, people must be vaccinated. In fact they are told they must be vaccinated twice. …
Vaccine: More cases of rare blood clots, but regulator says benefits still outweigh risk
Reported cases of rare blood clots occuring in people soon after they received a shot of the AZ COVID-19 vaccine has risen to 168. The UK's medicines regulator said the overall case fatality rate was 19%, with 32 deaths up to April 14. Note the dishonesty in the style of reporting again. Nowhere does the official press release make clear that the figures apply only to adverse reactions of blood clots, both non fatal and fatal. People are still suffering and dying from allergic reactions, heart attacks, organ failure and respiratory failure soon after being vaccinated.
Study Reveals mRNA COVID Vaccines Link To Prion Disease & Brain Degeneration
from Great Game India A shocking study has revealed the terrifying dangers of mRNA COVID-19 vaccines inducing prion-based disease causing your brain to degenerate progressively. The mRNA vaccine induced prions may cause neurodegenerative diseases because long-term memories are maintained by prion-like proteins. The study concluded that mRNA based vaccine may also cause ALS, front temporal …
Evidence of Problems With Covid Vaccine Grow And Te Real Agenda Becomes Clearer.
Mainstream media have been distracting us with stories of successful mass vaccination campaigns, but as ever things are not quite what they seem to be and though the claimed 999% take up of the vaccines is not verifiable, the deafening silence regarding the huge numbers of serious adverse reactions to all type of vaccine and the significant numbers of unexplained deaths which have occured soon after people reveived the jab suggest there will be worse news to come in the future ...
Backflipping Boris Says Vaccine Passports for Will Be 'Feature of Our Life in the Future' March 11, 2021 Contrary to what other ministers in his government have been saying recently, Prime Minister Boris Johnson admitted earlier this week it is highly probable that vaccine passports for international travel will be a feature of Britons' lives in the future. Speaking at a Downing Street press event on Monday evening, the Prime Minister Johnson acknowledged … Continue reading
Twitter Thought Police Will Ban Anyone Who Repeatedly Tells Truth About COVID Vaccine In future anyone who "repeatedly posts misleading information" about SARS-COV2 (Covid-19) vaccines on Twitter will be put on a watch list and given five chances to chaine their opinion or self – censor their comments and opinions before being permanently banned from the social media platform, the company recently announced. A True to form however, … Continue reading
Council of Europe Decrees Vaccines Must Not be Mandatory and Non-Vaccinated Must Not be Discriminated Against The Parliamentary Assembly of the Council of Europe – the international body of which Britain remains a member) – has passed a resolution that recommending that governments refrain from enacting laws that make any vaccines mandatory and stated that nobody should suffer discrimination on account of not having been vaccinated. The resolution obviously refers to … Continue reading
Why Is There A Correlation Between The Vaccine Rollout And Increased COVID–19 Mortality? from UK Column Since the UK government began its rollout of the COVID vaccine regular reports of unusual death events occuring shortly after the deceased had received a shot of the vaccine have been reported in care homes and by doctors' surgeries across the country. The Official line has been that the vaccine shot and … Continue reading
Pfizer COVID vaccine killed 40 times more old people than the virus itself would have – Report March 4, 2021
posted by The Defender The experimental Wuhan coronavirus (Covid-19) vaccines from Pfizer that were rushed into production and distribution via Donald Trump's "Operation Warp Speed" program are killing far more elderly people than the so-called "virus" itself would have. A re-analysis of data provided by the Israeli Health Ministry concluded that Pfizer and BioNTech's messenger … Continue reading
Bill 'Psycho' Gates Wants To Release Genetically Modified Mosquitoes To Inject Us With Vaccines The latest luncacy to flow from the megalomaniacal mind of the world's richest madman and wannabe Galactic Emperor Palpatine, Bill Gates is the latest iteration of a plan this vaccine – obsessed world domination freak has nurtured for a long time. He wants to release genetically midified mosquitos to inject us with vaccine.Apart from the … Continue reading