Medical Profession urged to tell Women the truth about Dangers of Covid Vaccination during Pregnancy
By Rhoda Wilson, The Expose on
The modern-day miracle mRNA vaccines which were created in record time are firmly under the global microscope as experts analyse data which challenges the efficacy and safety profile of the vaccines, especially regarding reproduction and whether it is a risk or reward to pregnant and fertile women.
New Zealand Doctors Speaking Out with Science ("NZDSOS") has significant concerns with the lack of trial data in pregnant women and a spokesperson for the group stated, "it appears all pregnant women receiving these vaccinations are actually vaccine trial participants."
The vaccination rollout continued around the world while adverse event reports began flooding into the United States VAERS database – and likewise to other databases from many other countries – which generated especially severe safety signals for pregnancy, reproduction and menstruation. However, these women's health issues remain universally ignored and dismissed by health authorities, along with many other serious adverse events.
In a press release, NZDSOS called upon the medical fraternity to stand by the Hippocratic Oath to "first do no harm" and uphold fully informed consent when advising women who are wanting to become pregnant, or who are already. ... Continue reading >>>
---
Stillbirths are Skyrocketing in the Post-COVID Vaccination Era, Leaked Hospital Email Reveals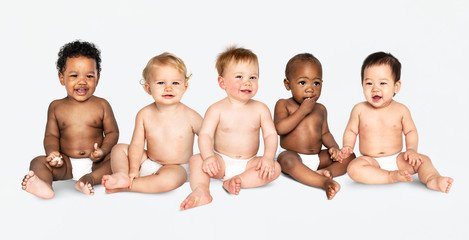 This article was originally published by Ethan Huff at Natural News.
An employee at a hospital in Fresno, Calif., leaked an email to the media showing that stillbirth rates have been spiking ever since the introduction of Wuhan coronavirus (Covid-19) "vaccines."
In August of this year, there were 22 stillbirths at the facility, the email revealed. And the trend is only expected to continue, it went on to state. (Related: Some of Canada's most-vaccinated areas saw a 28-fold increase in stillbirths due to covid injections.)
So far in September, there have been seven stillbirths, though at the time of reporting only eight days had passed in the month. Extrapolated to October, we would expect the total number of stillbirths at the hospital in September to be around 40, or more than twice that of August.
Prior to Operation Warp Speed, the average number of stillbirths per month at the hospital in question was less than one. Only about two deaths every three months were reported at the facility prior to the rollout of Fauci Flu shots. ... Continue reading >>>
---
Russia To Present Evidence UK Special Forces Behind Attack On Black Sea Fleet Off Crimea
Russia has previously charged British special operators of assisting in the planning of the September sabotage attack on the Nord Stream gas pipelines beneath the Baltic. And now, Russia is set to present evidence of UK special forces being behind the attack on the Black Sea fleet off Crimea.
Moscow claims to have conclusive proof that the military of the United Kingdom participated in the massive drone attack on its Black Sea fleet last weekend off the coast of Crimea.
Russia claimed it intends to summon the British ambassador "in the near future" to submit "evidence" that the UK was behind the operation, which threatened to derail the UN-brokered Ukrainian grain export pact.
While Russia said on Wednesday that it is resuming the grain deal after obtaining "guarantees" from Ukraine and Turkey, it is still blaming London for deploying "specialists" to assist Kiev military in Saturday's drone strike. ... Continue reading >>>

---
French Nuclear Reactor Power Outlook Worsens Ahead Of Winter, Electricity Prices Erupt
Zero Hedge, Saturday, Nov 05, 2022
France's nuclear troubles are mounting due primarily to routine maintenance of the country's 56 aging reactors. A new update from French electric utility company Electricite de France SA, commonly known as EDF, said an outlook for nuclear power generation was slashed ahead of winter, causing chaos in energy markets.
EDF is the world's largest owner of nuclear plants. It reported Friday that its fleet of nuclear reactors is expected to produce between 275 and 285 terawatt-hours of energy this year, down from the range of 280 and 300 terawatt-hours.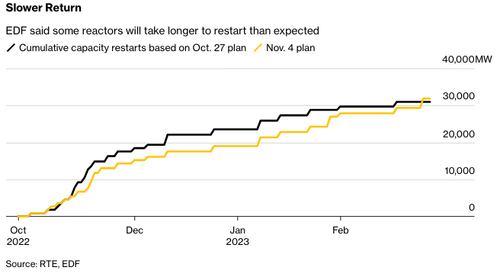 The reduced outlook comes amid a series of strikes at nuclear plants across the country that delayed planned maintenance work. Nuclear power generation has been sliding all year due to technical issues, and about half of the country's 56 reactors are shuttered. ... Continue reading >>>
---