by Mac Slavo SHTFplan,| Feb 27, 2023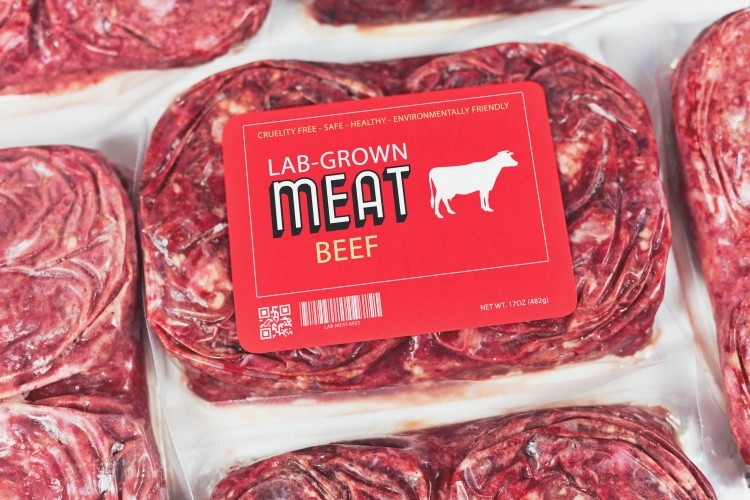 According to a disturbing new study, Bill Gates' lab-grown meat causes cancer in humans who consume it. Gates and other globalist elites at the World Economic Forum say that lab grown cultures of fake meat and eating bugs are the solution to so-called climate change. However, this fake food has now been shown to cause "turbo cancer" via the immortalized cell lines used to manufacture it.
Not content with poisoning your heart with mRNA vaccines while he sends grandma to a death panel for being useless, Gates wants you to sit down at the dinner table to his repulsive-tasting synthetic meat, which just so happens to riddle you with incurable cancers.

But there is just one problem for Bill Gates and his globalist cronies. We are onto them. The people are waking up and thanks to people like yourself who are spreading the word regarding the real agenda of the elite, the globalist's plans are starting to fall apart at the seams. -Newspunch ... Continue reading >>>
RELATED:


[ Health tyranny ] ... [ red meat and cancer ] ... [ meat free diet ] ... [ food giants bad diets ] ... [ G M slimeburger ]
Low Fat Diet Could Kill You, Major Study Shows
Food fascist try to ban meat
Cooking skills could save your health
Health: Red meat cance scare fraud
World Health Chiefs Say 'Red Meat As Likely to Cause Cancer as Smoking'
Another way of looking at this article of course is to say that it is an admission by the WHO that cigarette smoking does not cause cancer, which while true is a dangerous thing to say because after non stop anti - tobacco propaganda for the past fifty years, such a statement would be open to being interpreted as meaning cigarette smoking does no harm.
Food health fascism: Salt, Sugar, Saturated Fat, Alcohol, Cheese, Fizzy Drinks, Chocloate, ... if you enjoy it, it will kill you - maybe.
We are all familiar with those health scare stories that seem to pop up in mainstream media at least once a week claiming this that or the other will kill us. Few people spot the irony in that a few days earlier the same sensationalist rag will have carried a story under a similar screaming headline, claiming that scientists have found the stuff being demonised is in fact good for us ...
After Cigarettes and Alcohol, The Government Plans Sugar Tax
The election may have put a Conservative government in power and consigned the pokenoses and busybodies of Labour and the Lib Dems to the political wilderness, but the bansturbators of the public sector march on, their war against pleasure, laughter, tasty food and anything that might put people at risk of enjoying themselves continuing unabated it seems.
Food Fascists Spread Fear and Panic About The Obesity Pandemic

In another of our consciousness raising initiatives Greenteeth, the parent company of The Daily Stirrer, Little Nicky Machiavelli and Boggart Blog has created the Golden Orwell Awards. Today we award the Golden Orwells to Doctors, The NHS and the British Medical Association for their services to fascism in bending the truth about the health threats posed by obseity, alcohol and lack of exercise. We suggest the risks are not as great as will be posed by doctors withdrawing threwatment from those who do not obey.
Frying Pan FascistsNanny State and the food fascists who work for her have yelled at us about cigarettes, alcohol, sugar and idleness. Now these sad, busybody bansturbators are getting on our case about fat and fried food. But natural fat is not dangerous, only too much fat and the wronmg kind of fat is dangerous. And what is the wrong kind of fat. The highly procressed low fat spreads the bansturbators are always teling us is healthy. Science my arse. Everything They Said Is Bad For You Is Good For YouJust when you thought it was safe to go back into the pleasuredome Nanny State's Politically Correct Thought Police are now using CAll Me Dave's Dave's nudger try to nudge us towards being better citizens, eating healthy options, drinking less booze, avoiding dangerous sports like bowls and tiddleywinks, driving less miles and being less idle ...
Latest Fear and Panic Strategy: They Tell Us We Are All Going To Starve
Have you noticed it has all gone a bit quiet on climate change? After all that screaming and shouting from politicians and scientists it turns out the science was never settled. So now they need to spread fear and panic about something else. Guess what ... Food. We are all going to starve if we do not obey The New World Order. Who says? Statistics say and we all know statistics never lie don't we? A must read for independent minded people.
Major Study Links Covid Vaccines To Disruption Of Womens Reproductive Cycle
More evidence that COVID vaccine program is a scam emerged today as a study carried out by Imperial College, London suggests a link between Pfizer, Moderna, AZ and J&J vaccines and the menstrual cycle. Some of us have been reporting since early this year on the problems people have experienced after COVID vaccination. Among the problems reported was disruption of women's menstrual cycle ... Continue reading >>>
The Orwellian Vaccine Passport Agenda Relies On The Lie Of The "Social Contract"
There is a fundamental question that needs to be asked when examining the vaccine passport issue, and what I find is that almost no one in the mainstream is tackling it directly. The question is this: "Is it legally and morally acceptable to constrict the rights and economic access of people in order to force them to submit to an experimental "vaccine", or any other medical procedure for that matter?"
The science of saturated fat: A big fat surprise about nutrition?
After years of being told saturated fat is a killer and we should avoid it in favour of Big Food products that are the nearest modern chemistry can get to packaging arterial plaque, yet another scientific meta analysis shows the sat fat scare was based of fraudulent science and there is no evidence your steak is harming you.
CDC Admits as Many as 30 Million Americans Could be at Risk for Cancer Due to Polio Vaccine
Vaccine, that great profit driver for the pharmaceutical corporations, are under the spotlight again. This time it is a link between polio vaccine and cancer which makers and medical science has denied for fifty years that has finally been admitted by the US Centre for Disease control. How ironic they have owned up just weelks after the Obama administration granted Pharma corporations immunity from legal actions.
Statins? Our Welfare Or Corporate Profits, Which Side Is Medical Science On?
The propaganda aimed at convincing us that if we throw enough money at medical science the boffins can provide drugs to prevent death is not about the greatest good of the greatest number, it is about corporate profit and political power. The latest scam is to swing public opinion into accepting mass medication with drugs most do not need. It is just a scam to sell a drug the scientists and manufacturers know is no good.