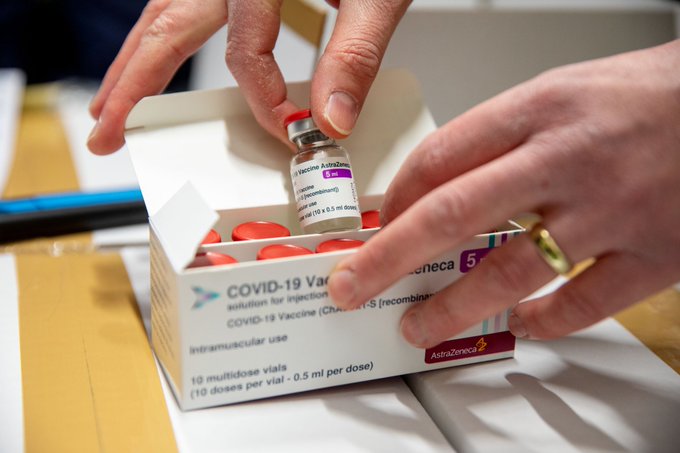 Picture Credit:
Government of Netherlands health department
The Netherlands has joined eight other European nations in halting the rollout of AstraZeneca's Covid-19 vaccine for at least two weeks while an investigation into possibly serious side effects from the jab is undertaken by the European Medicines Agency (EMA).
The decision, described by all the nations involved as precautionary, will block further vaccinations with this particular vaccine until at least March 28. It has been made on the strength of new information from Norway and Denmark regarding potentially serious side effects in people who received the inoculation, Dutch Health Minister Hugo de Jonge said on Sunday. Norway and Denmark, both nations noted for their high standards of healthcare, took the decision after reports from care homes and hospitals that people with no previous record of circulatory problems developed blood clots shortly after receiving the vaccine, occasionally with fatal results.

"We can't allow any doubts about the vaccine," de Jonge said. "We have to make sure everything is right, so it is wise to pause for now." Dutch health authorities reportedly had to cancel 43,000 vaccination appointments because of the suspension.
It is a pity governments in The UK, USA, Germany, France, Italy and Aistralia have not taken de Jonges line over the Pfizer and Moderna mRNA vaccines, which are currently killing more old people in care homes than the disease itself.

Ireland s also among the nations that have suspended roll out of the astra Zeneca vaccine, having made the same decision early on Sunday, after four new cases of people suffering serious blood clotting after receiving the shot were reported in Norway. Denmark stopped offering AstraZeneca vaccine jabs on Thursday after some recipients developed blood clots, and Norway followed suit.
Austria, Iceland and Italy also have postponed or restricted their rollouts of the vaccine based on the same concerns. Health authorities have pointed out that they haven't yet established a clear link between the AstraZeneca jab and the reported medical issues that patients suffered.
As one would expect, government and Big Pharma propagandists and "scientific advisers" are playing down the reports and claiming that cases of people dying shortly after being given a COVID vaccine are unrelated events and simply unfortunate coincidences.
This Boggart Blogger says, "Coincidences my arse."
WE HAD PLENTY OF WARNINGS ABOUT UNTESTED VACCINES - LINKS


Politicians Are Offering A Trade, Safety For Freedom. But What Are We Really Trading Away?
It's the age old confidence trick, politicians and the elites offter a straight choice between security of freedom and all the risks it entails, then amplify those risks with scaremongering propaganda. In the case of the COVID crisis it has worked so far, with enough people accepting the need for masks, lockdowns and killer vaccines to make The Great Reset seem feasible - but time is running out and people are waking up ...
And The Hoax Goes On …
Every time we dare to think we see a bit of light at the end of the tunnel (or any of those others cliches we use to indicate a bad time is coming to and end,) The Elites who have been driving the pandemic for their own ends come up with a new twist on the scaremongering to keep project fear rolling along. The lies just keep rolling out as the economic and social damage is swept under the carpet ...
Are the people to blame for the Covid spread – or are we using the wrong control measures?
As we near 100,000 deaths in the UK so far, the Covid-19 epidemic is still accelerating rapidly. The collective dogma, promoted by SAGE in the UK and the CDC across the pond, is that Covid is a flu-like virus transmitted in aerosols. However, current control measures against aerosols (which do seem to be preventing any influenza this year) are ineffective against Covid, short of locking people in their homes.
Getting To The Truth Of Covid?
A friend spent some time in hospital earlier this year, in September in fact. The problem was not COVID related and was easily dealt with by routine treatments. She was discharged and returned home thinking that would be the end of it. A few days later she could hardly walk and was complainming of fatigue and aching muscles and joints. As the weeks wore on things did not improve and on returning to the hospital for further tests she was told she might have picked up a case of "Long Covid." Having trained and worked as a nurse she recognised this diagnosis as bollocks
Government Admits Using Bad Covid-19 Figures To Justify Second Lockdown
The British government has admitted to showing misleading daily Covid fatality projections in its televised coronavirus briefing last weekend, during which PM Boris Johnson announced a second national lockdown. The revelation comes after the UK stats watchdog criticized the government's lack of transparency in its use of Covid data ...
Britain's Covid response is utterly mad – here are 10 reasons why
There is no reasonable scientific or medical justification for lockdowns, convoluted social distancing rules, masks or travel restrictions by Dr John Lee in The Daily Telegraph This year, like many years, there's a new respiratory virus on the block. But this year, unlike any year ever before, the world has gone mad. Governments around the world …
Biggest Lies About COVID-19 Exposed: But Globalist Elite Will Not Let It Die
Leo Hohmann, Harbingers Daily, 9 October 2020 Since February, the U.S. media has been pounding Americans with non-stop reporting about COVID-19 coronavirus. Eight months later, the data shows everything the media said about the virus was false. Yet, those posing as "journalists" continue to repeat the lies from February and March as if they are …
Fake Statistics? New UK Poll Suggests 65% Think COVID Restrictions Too Lenient
Almost two-thirds of people believe the Government's latest Covid-19 restrictions do not go far enough. According to a new poll carried out by ORB International for a daily newspaper surveyed over 2,000 British adults of voting age and claims to have found that almost 65 per cent believ the latest neo – fascisdt measures announced by Boris Johnson's government ...
No Medical Justification For Emergency Measures"
AIER reports that the following letter has made an impact on public health authorities not only in Belgium but around the world. The text could pertain to any case in which states locked down their citizens rather than allow people freedom and permit medical professionals to bear the primary job of disease mitigation.
So far it has been signed by 435 medical doctors, 1,439 medically trained health professionals, and 9,901 citizens.
You Could Be Arrested for Breaking New Coronavirus Rules, Says Boris
It is fair to say the extension of restrictions on movement and socialising announced by the government yesterday have been received with underwhelming enthusiasm by the public. Despire firgures broadcast by BBC News and other establishment propaganda parrots in mainstream media suggesting wholesale approval of the new measures, the feel one gets from internet comment threads and pub conversations suggests the opposite.
Lockdown #2 More Likely As 'Cases' Rise Nationally"

We might have said this before so as the talk of a second lockdown gets louder in mainstream media, with pseudo-scientists spewing fake statistics generated by mathematical models of reality and sanctimonious politicians bleat that their imposition of fascist control freakery on society is for ouir own good. We are told today that Coronavirus is increasing in every area of the UK ...
For every 3 COVID19 deaths lockdown may have caused 2 more – Official
The 4 month lockdown imposed by government on the advice of "scientists" while realists in the medical profession said poses almost zero risk to healthy people under the age of seventy, may have indirectly caused 16,000 excess deaths in two months, according to government analysts. This is what those medical realists, predicted at the outset.
Loughborough, Sheffield Universities shows 'COVID deaths' fraud
A new study by academics at the School of Business and Economics and The University of Sheffield, and economic consultants at Economic Insight, seeks to provide a more statistically robust approach to the question: "How many deaths in England and Wales are due to COVID-19?". Currently COVID-associated deaths or excess deaths are … Continue reading
Red Flags Soar As Big Pharma Given Exemption From COVID-19 Vaccine Liability Claims
Last week we warned readers to be cautious about new COVID-19 vaccines, highlighting how key parts of the clinical trials are being skipped as big pharma will not be held accountable for adverse side effects for administering the experimental drugs. A senior executive from AstraZeneca, Britain's second-largest drugmaker, told Reuters that his company was just granted protection from … Continue reading
Covid 19: Statistics, Lies and the Corruption Of Science.As the COVID — 19 pandemic continues to dominate the news and defy the efforts of researchers to understand its many mysteries, including its origins and why it affects people who contract the virus in wildly different ways, one thing we have learned for certain so far is the extent to which the Pharmaceuticals manufacturers cartel (colloquially Big Pharma,) exercise a pernicious influence over medical research and healthcare.
COVID19 PCR Tests are Scientifically MeaninglessPoliticians and "experts" scream and shout about testing and isolation being the way to halt the COVID 19 pandemic to a halt, but everything else they hsve told us about the disease has been absolute bollocks, why should this be any different? Well surprise, surprise, it isn't any different. The idea that testing everybody ten times a day (OK I might be exaggerating for effect,) will do any good is just another diversionary tactic ...
Critics Batter The Fake Science Used To Justify The Lockdown As Boris Waffles
Regular readers may recall this blog was among the first to expose the fact that the pandemic model predicting 500,000 COVID – 19 deaths if the entire nation was not placed under indefinite house arrest was based on a deeply flawed mathematical model of the pandemic built by a "scientist" at Imperial College, London, a college heavily reliant on funding from the Bill and Melinda Gates foundation. You may also recall we have reported on the determination of psychopathic megalomaniac Gates to insert himself into this phoney crisis
Coronavirus: Fear and Panic and a Globalist Power Grab World Leaders Insist 'Economic Lockdowns Ravage the Very Fabric of Societies'
An impressive array of more than 500 prominent world leaders, academics, and Nobel Laureates have written "A Call to Defend Democracy" in the face of a worldwide rise in government authoritarianism during the Wuhan coronavirus pandemic. The June 25 text declares that beyond health concerns the COVID-19 pandemic is "a political crisis that threatens the future of liberal democracy."
The Coronavirus Response Is The Biggest Assault On Freedom Since World War 2
Things have gone so far beyond what can be considered a rational response to an outbreak of a highly contagious but for most people relatively minor illness that I am starting to believe even the conspiracy theories I know I made up myself. Boggart Bloggers predicted weeks ago the current outbreak of coronavirus would see a massive hyping of the threat level leading up to an assault on our freedoms ...
Is This The Smoking Gun That Proves China Has Lied About The Coronavirus Outbreak
With the number of confirmed cases of, and deaths from coronavirus in Italy, a nation of 63 million people having now surpassed the number of infections officially admitted by the government of China, a nation of 1.4 billion and the nation where the news strain of coronavirus, COVID – 19 was first observed, it was obvious to the realists among us that the Chinese government's claims to have contained the virus were deeply suspect and further claims that the outbreak were under control were as reliable as reported sightings of The Tooth Fairy ...