Human civilization could 'collapse' like Roman Empire if climate change not addressed, UK PM Boris Johnson warns
from RT, 30 Oct, 2021 11:05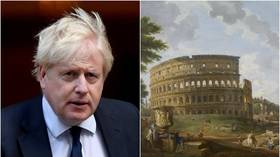 Modern countries risk repeating the fate of the Roman Empire unless they urgently curb climate change, UK Prime Minister Boris Johnson has warned ahead of a major UN summit.
"This is our memento mori," Johnson told Italian paper la Repubblica during a flight to a G20 meeting in Rome, Italy, using a Latin phrase meaning, 'Remember that you will die'. The event takes place ahead of a major UN climate change conference in Glasgow, Scotland, known as COP26.
MEPs Protest "Oppressive" Vaccine Passports, Question Why "Political Elites Push This Agenda This Hard"
In the latest editions of This Week in the New Normal, we mentioned a group of Members of the European Parliament who held a press conference where they opposed mandatory vaccination and the "Green Pass".
On the 28th five of those same MEPs held another press conference, and while the whole thing is worth watching (embedded above), the highlight is definitely German MEP Christine Anderson who speaks for two of the truest minutes in the EU's history: ... Continue reading >>>
MORE POSTS ON COVID VACCINE fASCISM
Vaccinated People Just as Likely to Spread the Delta Variant as the Unvaccinated, Yearlong Study Shows
People inoculated against Covid-19 are just as likely to spread the delta variant of the virus to contacts in their household as those who haven't had shots, according to new research.
In a yearlong study of 621 people in the U.K. with mild Covid-19, scientists found that their peak viral load was similar regardless of vaccination status, according to a paper published Thursday in The Lancet Infectious Diseases medical journal. The analysis also found that 25% of vaccinated household contacts still contracted the disease from an index case, while 38% of those who hadn't had shots became infected.
The results go some way toward explaining why the delta variant is so infectious even in nations with successful vaccine rollouts, and why the unvaccinated can't assume they are protected because others have had shots. Those who were inoculated cleared the virus more quickly and had milder cases, while unvaccinated household members were more likely to suffer from severe disease and hospitalization.
"Our findings show that vaccination alone is not enough to prevent people from being infected with the delta variant and spreading it in household settings," said Ajit Lalvani, a professor of infectious diseases at Imperial College London who co-led the study. "The ongoing transmission we are seeing between vaccinated people makes it essential for unvaccinated people to get vaccinated to protect themselves."
The EU's impotent rage at Putin's gas games
Russian President Vladimir Putin is happily needling the EU over sky-high energy prices, but the bloc doesn't really have any instruments to force a change of behavior in Moscow.
Putin's latest jab came earlier this week during the Valdai conference in Sochi, where he ridiculed the EU for dropping long-term gas contracts with Russia, trotted out an old Russian folk tale where he compared the bloc to a hapless wolf with its tail frozen in an ice hole thanks to a canny fox — and added he could help by sending the EU the extra gas it needs, if regulators would only approve his pet project, the Russia-to-Germany Nord Stream 2 pipeline.
Poland, for one, has had enough.
In a letter that reads like a laundry list of complaints over failure to supply enough gas ahead of winter, seen by POLITICO, Warsaw demanded that EU Competition Commissioner Margrethe Vestager initiate an investigation into Russia's state-backed Gazprom for market manipulation and abuse of dominance on energy markets under Article 102 of the Treaty on the Functioning of the EU.
Two participants in Thursday's Council meeting on energy said that Polish Prime Minister Mateusz Morawiecki advocated launching an investigation to "sober up Gazprom" and teach it a lesson.

Continue reading >>>