After a few days lull in the newsflow from the war in Ukraine, things have suddenly started to get busy again. Here's a roundup of today's main stories:
Much Of Ukrainian Capital Without Power & Water After New Russian Ai
Much of the Ukrainian capital of Kiev is without electricity or water, after the latest round of major Russian airstrikes on Monday. The Russian military announced 'successful' strikes on multiple of the country's vital infrastructure facilities.
"The Russian Armed Forces continued to launch strikes with high-precision long-range air and sea-based weapons against Ukrainian military and energy facilities," the Defense Ministry said. "The goals of the strikes were successful. All assigned objects were hit." Meanwhile, Ukrainian Prime Minister Denys Shmyhal confirmed direct hits on 18 sites - most of which were connected to the nation's energy supply. These ramped up attacks have created a growing sense of panic with temperatures plunging and winter approaching.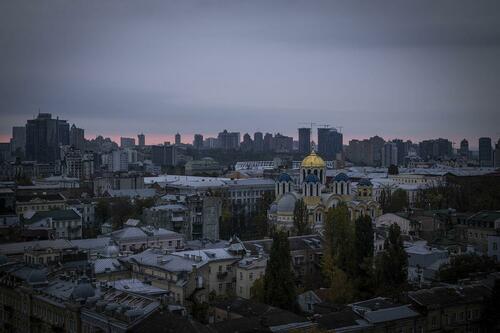 "Missiles and drones hit 10 regions, where 18 sites were damaged, most of them energy-related," Shmyhal stated on Telegram. "Hundreds of settlements in seven regions of Ukraine were cut off." Facilities in Cherkasy and Kirovohrad also came under attack. Ukraine's military said it intercepted projectiles over the Lviv region, which spared this western part of the country from damage.
The Washington Post noted there are "power outages continuing in the Kyiv, Zaporizhzhia, Dnipropetrovsk and Kharkiv regions," and others. The Post listed some of the below regions impacted by large-scale power outages and water supply disruptions: ... Continue reading >>>
Finland Says Ukraine Arms Ending Up In Hands Of Criminal Gangs
Critics of the massive US weapons pipeline to Ukraine have long pointed out there's no accountability or appropriate tracking once those arms enter the country, presenting ripe opportunities for criminals, terrorists, or lucrative black market arms sellers to take advantage.
So it was perhaps only a matter of time before headlines like this began showing up in international publications - "NBI: Arms sent to Ukraine in criminal hands." The NBI is Finland's federal National Bureau of Investigation, and the report is from Finland's national public broadcasting company Yle, and provides confirmation that arms intended for Ukrainian forces are going outside the country.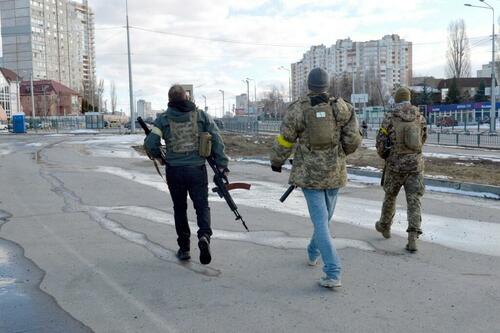 The recovered weapons featured in the weekend national police statement include assault rifles which were meant for Ukrainian forces. Further neighboring countries have recorded instances of West-provided arms proliferating from the Ukrainian battlefield and into the hands of criminals in neighboring Sweden and Denmark as well.
"Weapons shipped [by various countries] to Ukraine have also been found in Sweden, Denmark and the Netherlands," NBI Detective Superintendent Christer Ahlgren was quoted in the Finnish publication as saying. ... Continue reading >>>
This morning at 4:20 local time the Russian fleet in the Crimean port of Sevastopol was attacked by nine unmanned aerial vehicles and seven autonomous maritime drones. Earlier a maritime drone that had run aground in Crimea and had been found and pictured:
Ukrainian marine drone (Picture source: Screen shot from online news)
During today's attack a large U.S. drone had flown circles south of Crimea. It likely relayed data from and to the drones.
The maritime drones are British and Russia alleges that British specialists had trained the Ukrainian navy in using them. It also says that British soldiers were involved in the attack on the Nord Stream pipeline.
The Ukrainians published two videos shot by the maritime drones while attacking. One of the video shows extensive gun fire impacts near the drone from a Russian helicopter that is attacking it.
The Russians say that all the aerial drones and 4 of 7 maritime drones were defeated before they could caused damage. They also say that one mine seeking ship was damaged in the harbor. It is possible that the damage is greater than Russia admits.
As a consequence of the attack Russia declared that the deal which allowed for grain exports from Odessa has been suspended. That deal had already been in danger as the 'west' had not fulfilled its part of the deal which would have allowed for the export for Russian fertilizer to third parties.
****