Authored by Brandon Smith via Alt-Market.us,
There is a fundamental question that needs to be asked when examining the vaccine passport issue, and what I find is that almost no one in the mainstream is tackling it directly. The question is this:
Is it legally and morally acceptable to constrict the rights and economic access of people in order to force them to submit to an experimental "vaccine", or any other medical procedure for that matter?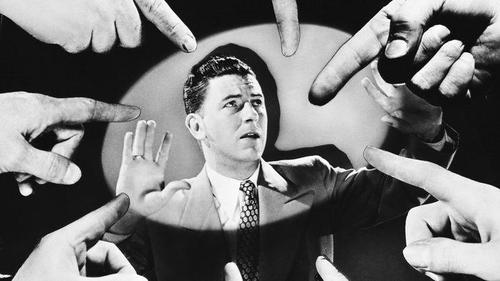 Furthermore, who gets to decide what medical procedures are acceptable to enforce? Who gets to be the all powerful and benevolent overseer of every human being's health path. I ask this because I don't think many people realize the future repercussions of allowing governments or corporations (the same thing these days) to dictate covid vaccinations. It doesn't stop there; in fact, we have no idea where this stops once the Pandora's box is opened.
For example, the primary argument of the covid cult and the establishment in favor of vaccine passports is the "social contract" fantasy. They claim that because we "live in a society", everything we do affects everyone else in some way, and because we are all interconnected in our "collective" we are thus beholden to the collective. In other words, the collective has the "right" to micro-manage the life of the individual because if the individual is allowed to make his/her own decisions they might potentially cause harm to the whole group.
In case you are not familiar with this philosophy it is an extension of socialism and cultural Marxism, and it stands at the very core of vaccine passport propaganda. I have actually had public debates with pro-socialist people in the past who have tried to defend the merits of socialism and every single time the argument comes down to one singular disconnect – I say that if a group of people want to go off and start their own little socialist community they have every right to…as long as it is VOLUNTARY. Then if it fails and collapses it doesn't matter because it doesn't affect me or anyone else who did not want to participate.
The problem is that these Socialists/communists/Marxists/collectivists simply do not grasp the notion of voluntarism. They believe that people need to be forced into doing the right thing or helping others, and they are the people that get to decide what the right thing is and who gets the help. They are the people that get to decide what freedoms are acceptable and what freedoms are inconvenient to their agenda. When they say "We live in a society…", what they really mean is "You live in OUR society, and WE will determine what is best for you."
When I argue that a socialist community should be voluntary, they inevitably argue that people will not commit to such a system voluntarily so they must be forced to do what is best for the "greater good".
Continue reading >>>

RELATED:
German Opposition Party Warns, Nation Is "At The Edge Of Anarchy, Civil War Is Coming"
As the stituation in German society deteriorates each day due to the vast swarm of lawless, uneducated, infidel hating illegal immigrants that Housfrau Volksfuhrer invited to travel to Germany and replace the established population, social commentators are predicting the country will slide into civil unrest and possibly full scale conflict between supporters of immigration and patriotic Germans
Americans Don't Know that the Rest of the World Views U.S. as Biggest Danger, Rogue State
Americans are stupid, right? Well it is a generalization and generalisations are usually both right and wrong. Not all Americans are stupid of course, I know many who are very intelligent and highly articulate. But as in Britain, France, Austrilia, Russia, Germany, China etc. there are stupid people in America. What we mean however in saying Americans are stupid is that overall American citizens tend to be less well informed on current events and general knowledge that Europeans, Asians and South Americans...
Electoral Reform in Britain - Is It Time for True Proportional Representation?
After every British election, when around a quarter of voters find the party they voted for is hardly represented in the House Of Commons (In 2015, 8 per cent of the votes equals just 8 of the 650 members, while a party with 13% has just one), people who believe in democracy try to start a debate about reforming the voting system. And as ever, supporters of the two main parties, which benefit most from the current undemocratic system, try to stifle debate.
Elderly face NHS discrimination as new United Nations plan defines death targets for nations
Leaders of the western powers, anxious it seems to divest themselves of responsibility while extending and tightening their grip on power, are happy to promote the United Nations as a de facto World Government. The problem is the United Nations employs as advisers and bureaucrats many people whose authoritarian and racist political position makes Herr Hitler look positively liberal.
Globalization and the Retrun To Serfdom
When the power elites promise something that will benefit people everywhere it can be taken what the world will get is the opposite. Thus when we were told globalisation would make everybody more prosperous, abolish poverty and narrow the gap between rich and poor, only a fool would have failed to regognize what was on offer comprised a return to medieval poverty and servitude for the masses while the rich became richer.
EU Refugee Quota Scheme Unravels

The European Union (EU) faces many battles, from the one to stop the sigle currency system falling apart as nations like Greece, Spain, Italy and Portugal find the costs ofr membership outweigh the benefits, to it's latest, the Mediterranean boat people crisis as more and more people try to cross from North African to Europe illegally, with the help of human tafficking racketeers.
Mediterranean Immigrant Crisis - EU plays politics with lives
The story of the migrants trying to cross the Mediterranean from the coast of north Africa to Italy is a humanitarian crisis. But when the British government offered Royal Navy ships to help with rescue operations and in bringing to justice the ruthless criminals who take exhorbitant feees then put hundreds of lives at risk by herding their clients onto unseaworthy, overloaded boats, European Union officials started to attach political conditions to UK help
Once We Respected Red Cross Because The Did Good Work. Now They Promote Politically Correct Tyranny.
The cancer of politically correct thinking has spread throughout British public life. Probably the most perfect illustration of how out of touch the new elite, the Meritocracy (who only merit a kick up the arse) have become with the lives of ordinary people is the politicisation of the institutions of government, local government, education, the law and now even the charity sector. Read what happened to a charity worker who dared to have his own opinion on a gay rights issue
Oxfordshire grooming victims may have totalled 373 children
An investigation intogrooming and abuse of underage girls and boys in the Oxford area, prompted by the long overdue conviction of a sadistic sex gang of seven men who were jailed in 2013 for abusing six girls in Oxford, between 2004 and 2012, has reported that as many as 373 children may have been targeted for sex by gangs of men in Oxfordshire in the last 16 years.
Will 2014 Go Down As The Year Propaganda Replaced Information?
Those of us who pay attention will have noticed that 2014 has topped all others for the manout of spin and propaganda spread by mainstream news organisations and government departments but also news took on a new aspect. Evidence and facts were replaced by whatever fantasy served the US and EU leadership and their corporate paymasters. Scary.
Rotherham: In the face of such evil, who is the racist now?
Here's a question for wannabe Mastermind contestants. If South Yorkshire Police can mount a raid on the home of pop singer Sir Cliff Richard, two hundred miles away from their patch in pursuit of evidence linked to a single and unsubstantiated allegation of child sex abuse 30 years ago, why were the same South Yorkshire Police force unable to conduct a proper investigation into multiple allegations against men who raped 1,400 children over 16 years?
The Left's Rhetorical Technique Explained
In the first of what might become a long if irregular series of posts with the collective title, "Left Wing Authoritarianism for beginners," your friend and mentor Little Nicky Nicky Machiavelli will expose the origins of the socialist left's propaganda technique and its apparent dependence on slogans, dogma and mantras. But first let's play a little game ...
Rotherham Abuse Scandal: Tragedy descends Into Farce
We have all been outraged at the revelations concerning the Rotherham child abuse scandal in which we now know officials in the child care system and leaders of the town's Labour council turned a blind eye to systematic abuse of children in council care because the perps were predominantly Pakistani.
Henry Kissinger On The New World Order

Hungarian Leader Says Soros-Funded Groups Are Making Money From The Immigration Crisis
While Germany pursues its policy of replacing expensive German labour with cheap third woeld labour at act as fodder for its profit hungry factories, and the French government obediently follow their German masters while Britain stands aside, it is the poorer E U nations, led by Hungary, that have at last acted to stop the flood of unskilled, often illiterate refugees from third world nations flooding into EU nations.
OK, let the Politically Correct screechers screech 'conspiracy Theory'. Kissinger has of course been a long time advocate of corporatist global totalitarian government by elitis oligarchs and has himself used the phrase New World Order to describe what he sees as the best hope for the future and what those of us outside his small elitist clique see as fascism
Political Europe Suppressed Under Washington´s Thumb Is Waking Up
In the aftermath of the downing of the Malaysian airliner in Ukraine, the Western media followed Washington's lead and manipulated reports in order to make Europeans believe that Russia and Russian-supported separatists in eastern Ukraine were responsible for downing the airliner. In Germany, the press was an extension of Washington's propaganda machine despite the lack of evidence from both Washington and Kiev to support their irresponsible claims
What Would The Future Look Like Without The Propaganda Happy Pills The arrogance, hubris and contempt for morality displayed by our ruling classes is gobsmacking. Conservative, Labour and Liberal Democrat politicians seem to think they are untouchable, above the norms and ethics that apply to ordinary mortals and that they are able to rewrite the laws of nature on a whim. We are not just talking about politicians here, but bankers and business leaders, the legal, medical and education professions, public servants, academics and senior police officers.
The Authoritarian Left And The Threat To Personal Liberty
Ian reflects on his political position, has he realy moved from near anarchist left to reactionary right on the political spectrum, or have authoritarians hijacked the language of liberal and libertarian philosophy and perverted it to serve a neo fascist, big government agenda?
[
Populist authoritarianism
] ... [
Death of Democracy
] ... [
Health tyranny
] ... [
Corporatism is fascism ]