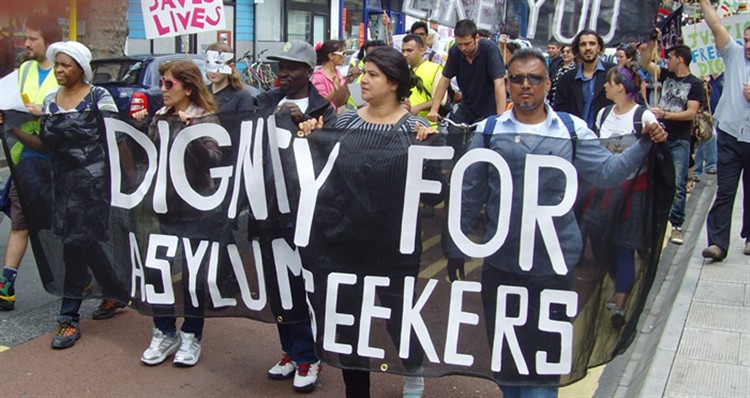 asylum seekers protest against being treated like ummmm - asylum seekers (Source: www.bristolnetworks.org)
A growing backlash by members on the Conservative benches of the House of Commmons over the Government's restrictions which bar asylum seekers from working while they await the outcome of their applications, is the latest embarrassment for Rishi Sunak's Conservative In Name Only government. The rebels demand that Britain must stop vilifying asylum seekers, dump its "mad" work ban on asylum seekers who could plug labour shortages, says a former minister in the immigration department.
As things stand asylum seekers are only allowed to work in specific shortage areas after a year but senior Tories including former ministers Sir Robert Buckland and Tim Loughton and now Lord Harrington believe it should be relaxed to at least six months. The demand for change has also been backed by the Government's official migration advisers - the Migration Advisory Committee (MAC) - which warned lengthy delays in processing applications "directly harm" the integration of asylum seekers and their ability to work in the long term.
In short these nominally Consewrvative politicians want to adopt a far left policy of allowing anybody who arrives on our shore to be admitted and given citizenship rights immediately. Letting them work would reduce the enormous expense of accommodating them in three and four star hotels these far - left Conservatives claim. Well maybe but so would rounding them up, putting them on a boat and sending them back to their homeland. Let's be honest, these illegal and undocumented arrivals are not 'asylum seekers,' they are economic migrants. International law provides that genuine asylum seekers should be offered sanctuary in the first safe nation they reach. Most of those arriving in UK have crossed several safe nations to get here.
Why are they so determined to come and work in Britain? Well work is the last thing on their minds, they are mostly uneducated, semi - literate peasants who have heard that Britain has one of the most generous benefits systems, offers free housing and free healthcare and is among the most lax nations in applying border controls.

Some 90,000 of the 147,000 asylum seekers currently on the UK have been waiting more than six months for an initial decision, with nearly eight in 10 eventually having their applications approved.
RELATED:

German Interior Minister Caught Faking Asylum Numbers To Hide Migrant Crisis
Germany's interior minister, Nancy Faeser, is trying to fend off claims that she has faked statistics on refugee numbers to hide number of illegal immigrants claiming entry to Germany by posing as asylum seekers since the beginning of this year. While official figures show only 57,647 refugees have been admitted to Germany, the federal police have registered 101,900 arrivals of undocumented migrants since January
Britain is Breaking Down; The Economy Is Struggling, Living Standards Are Falling, Institutions Are Failing
Successive governments have brought Britain to its knees.This article will focus on Britain as representative of the general malaise that is afflicting almost all the developed world. Our current crop of politicians have discarded the resources that brought the country out of the post war decline ... In spite of being rich in energy resources Britain is now in an energy crisis, our leaders have sacrificed prosperity on the altar of Net Zero, committing the nation to our reducing our 1% contribution to harmful emissions still further ...
Majority of the British people feel that migration is too high'
As the Conservative government come under fire for their failure to deliver on promises to control immigration and stay the flow of illegal immigrants from France in small, inflatable boats, the topic is once again at the forefront of political debate.
 Among the people raising the topic on media platforms this week is Professor Matthew Goodwin. A Politics academic at The University of Kent, Prof Goodwin declared today that a majority of people in Britain think imigration levels are too high.
p>
New Figures Show Brexit Has Failed To Take Back Control Of Immigration
Just over six years ago the nation's attention was focused on immigration, and particularly the 'Brexit' campaign's promise to 'Take Back Control' of our borders. Today the immigration issue is as predominant in many people's minds as news this morning revealed record numbers of migrants entered the country last year, while yesterday a record number of people were trying to make the hazardous crossing from France in small boats to enter the country illegally.
The Left is lying to itself, it needs limited migration as much as the Right does.
When Santiago Abascal, leader of Spanish right-wing party Vox, delivered a press conference on the 30th August, it did not take long for perhaps the most controversial part of his speech to be put into bite-sized form. Europe does not have moral duty to welcome or accept every Afghan or African who seeks to enter.
Why Accepting Illegal Immigrants Is Not Going To Help Them
Celebrities, 'influencer', woke idiots and far left political groups are creating a chorus of catawauling complaints about the deportation of illegal immigrants who are crossing The English Channel from France in increasing numbers. But will accepting them only encourage more to come and be exploited by people trafficking ccrime gangs? This article lifts the lit on the illegal immigrants racke
Worlds Biggest Luxury Liner To Be An Immigrant Hostel?
Ocean Gala, a luxury cruise liner which when launched was the world's largest passenger ship will be converted into a concentration camp floating hostel to house Sweden's third world migrants. The only thing that may derail the deal with US Shipmanagers for floating migrant accommodation, would be failure to find a berth in any of Sweden's large deep water harbours. Sweden's open doors immigration policy has led to ...
Christians, Gays, Women Fleeing European Asylum Centres After Persecution By Muslim Men
In the case of Europe's immigration crisis, much of the fear and loathing is being caused by Muslim males. Most Europeans do not have a problem with foreigners or dark skinned people who are willing to obey the laws and accept local customs and traditions. And one tradition we in the nations that emerged from European cultures is the common understanding that if a woman goes out alone, with arms and legs showing and face and hair uncovered, it does not mean she is up for having rough sex
Are The Ruling Elites waking Up At Last To The Problems Cause By Mass Muslim Immigration?
The WEF had been dubbed Bilderberg Lite, a meeting to which the public (assuming they can afford £$€stupid for a cup of very mediocre coffee) is talking about a different matter this time round. Europe's immigration crisis and the similar though not so immediate problem in the USA, and the likely consequences for the economies of the developed world is top of the agenda.
Mainstram Media Finally wake Up To Migrant Crisis
In a move that will leave many of its shocked and disoriented, The Sun, the tabloid of tits and trivia today woke up to the immigration crisis that is threatening the social stability of European nations and reported some real news.
Anti Muslim Feeling Spreads Through All Levels Of German Society
We look first at the social problems Chancellor Merkel's 'Open Doors' immigration policy is causing in Germany, and further down the page as the political crisis Mrs. Merkel appears to be creating for her government.
London gangs 'pressuring 9yo girls into group sex' – UK Home Office report
A new report from the UK Home Office, the government department that deals with law and order reveals that the street gang culture imported along with these illegal immigrants has led to girls as young as nine unlucky enough to live in areas 'controlled' by these gangs are being sexually exploited and forced to service multiple men, after being groomed to think such behaviour is 'normal'.