Italy's unelected governments, which has already faced riots and massive resistance to its authoritarian measures to strip away citizens rights and liberties under cover of pretending their actions are necessary steps to deal with the pandemic, now risks plunging the country into greater chaos by mandating vaccines for the workplace.
4 January 2021
Italy Pondering Total Ban On Unvaccinated In The Workplaces
Since the start of the pandemic the government of Italy, which is a coalition appointed by the European Union bureaucrats in Brussels in order to keep nationalist parties Lega and Brothers of Italy out of any governing coalition, has been one of the most enthusiastic in folowing 'The Science' and imposing authoritarian measures which have and will do nothing to help the country to return to something approaching normal.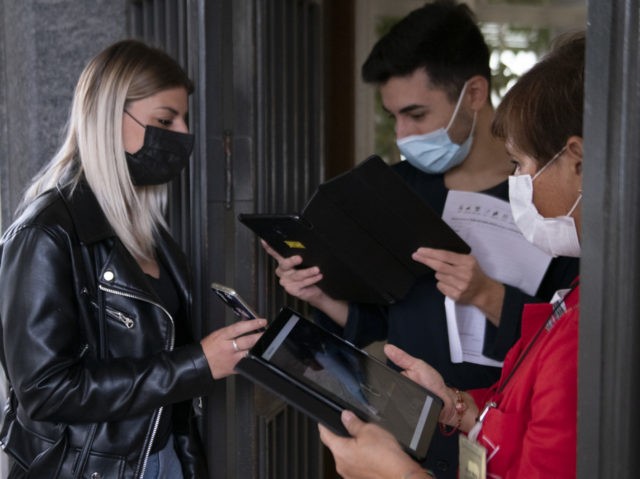 Due to penalties imposed by the authoritarian government few people go unmasked in Italy. (Picture Getty via Breitbart Europe)
The government of Italy is currently considering the practicalities of imposing a total ban on unvaccinated individuals from workplaces.
Some members of the Italian government support a proposal to implement the so called Super Green Pass in workplaces, an action which would result in the complete exclusion of unvaccinated individuals workplaces thus denying them the right to earn a living unless they surrender their human rights to the globalist doctatorship. Germany and Austria, two European nations which like Italy have a track record for police - state government, are reportedly planning similar moves.
The afonementioned "Super Green Pass" in Italy can only be obtained by producing evidence of being fully vaccinated against the Chinese Coronavirus, or from having recovered from the disease. However, being double vaccinated is no longer sufficient to be considered fully vaccinated. In the latest move aimed at corecing full complance the World health Organisation has decreed that only people who have had two regular shots of the toxic serum plus a booster are fully vaccinated and plans to require a fourth shot are already being formulated.
While having recovere from COVID can be used as proof of immunity, that fact that somebody has repeatedly tested negative cannot, 'The Science' has apparently decreed that the natural immunity which has assured the survival of our species since men first stood erect, no longer exists.
According to a report in Italian newspaper Il Giornale, the Italian Health Secretary, Andrea Costa, hopes that an expansion of the green pass would nudge more people towards vaccination. "I believe that, given the numbers of infections and increasing hospital pressure, it is reasonable to immediately extend the super green pass in the workplace," the publication reports Costa as saying. "It will be a big boost to speed up the vaccination campaign and impose severe restrictions on those who do not get vaccinated."
Costa also expressed confidence regarding the possibility of such a ban passing in Italy's legislature, which is rather surprising as the govdernment does not have a majority in the national assembly and is currently ruling by decree. Unfortunately a lot of Italians are wise to the fact that the vaccinations to not make people immune, and that the government is shafting them with its coercive measures so even if the measure is pushed through without debate, it is only likely to increase civil unrest in Italy.
Members of the government have also dismissed concerns regarding public opposition to the measure, despite previous anti-COVID restrictions implemented by the government leading to thousands-strong protests and rioting.
"This initiative could create tensions, but the Government's priority is to return to normalcy and not to close the activities," Andrea Costa said. "We cannot allow the positions of a minority to jeopardize the results achieved to date." Funny that a government nobody voted for, that was shoehorned into power because the left wing, globalist parties it is made up of faced an election wipe out after the last legitimate government lost a vote of no confidence, regards itself as representing the majority
Costa, who apparently has a picture of dictator Benito Mussolini tattooed across his bag fat hairy arse, (sorry I made that bit up,) also said that, despite being in favour of compulsory vaccination himself, he doubts that a compulsory vaccination mandate could successfully be implemented in the Mediterranian country.
---
---
RELATED:
Menus:

[
Daily Stirrer
] ... [
Our Page on on Sunstack
]... [
Boggart Aboad
] ... [
Greenteeth Home
] ... [
Greenteeth on Minds.com
] ... [
Latest Posts
]
---
POSTS

A few weeks ago this blog reported a Swedish study which showed that natural immunity provides much better protection against infection by the SARS2-COV virus which causes COVID (COrona VIrus Disease,) than the Pfizer vaccine which is currently hyped as the most effective on the market, though it is no more effective than the others at provinding immunity. The more responsible voices in mainstream media that actually reported the story described by the news as "a bit of a bombshell".
Continue reading >>>
Study Reveals That Unjabbed Are Better Informed Than Jabbed
On the day we reported elsewhere that thousands of Germans had taken to the streets to protest against the latest fascistic measures imposed by their federal government Ulrike Guérot, a German political scientist has effectively shown that the so called vaccination opponents were far better informed on the CoVID vaccine effectiveness and adverse affects than the jabbed ones. Continue reading >>>
Thousands Protest In Germany Ahead Of COVID Measures Set To Go Into Effect Tuesday
Thousands of people took to the streets of Germany on Monday in protest over COVID-19 restrictions that are set to go into effect on Tuesday.The demonstrations were biggest in Mecklenburg, northern Germany, where roughly 15,000 demonstrators took to the streets to protest against tighter measures, according to local reports. In Rostock, a city along the Warnow River on the north coast of the country, roughly 6,500 people demonstrated, while in Schwerin there were roughly 2,700 and in Neubrandenburg, around 2,400 joined a demonstration. Continue reading >>>
Vaccines Do Not Stop COVID-19 Spread As Governments Claim: Legal Advocacy Group

Vaccines are less effective effective in stopping the spread of COVID-19 that governments have claimed, an analysis of government narratives carried out by a constitutional rights group shows. The report was published Tuesday by the Justice Centre for Constitutional Freedoms, found that claims made by governments promising vaccination will reduce or stop the spread of COVID-19 are not supported by either medical science or empirical evidence
Continue reading >>>
Government To Weaponise Welfare Benefits To Enforce Vaccine Mandates
As evidence piles up showing that the COVID vaccines have failed, or at least are nmot what we were told they are, because data shows that the vaccinated rather than being ptotected from infection are actually more vulnerable to COVID, government and Big Pharma are growing more desperate in their efforts to coerce people into getting vaccinated. Continue reading >>>
Why have we doctors been silent? — by Lucie Wilk

AS an NHS hospital doctor, I have had a front-row seat as the drama of the coronavirus pandemic has unfolded. It has been a year and a half of confusion, frustration and anger for me as I've watched our profession drawn into complicity with what I anticipate will be regarded as one of the most egregious public health disasters in history. I have watched as 'the science' has been presented on the national stage flanked by Union Jack flags as an unassailable truth. For something so apparently inviolable, it seems to shift and change disconcertingly from week to week ...
German Schoolchildren Subjected To 'Ritual Humiliation' Over Their Vaccine Status
December 12<
As this blog has been telling you for a few years now, The Nazis are back in Germany. With these sausage scoffing krauts it's not a case of 'do as we say, not as we do,' but "DO AS WE SAY OR WE WILL MARGINALIZE YOUR KIDS AND FINE YOU INO POVERTY. Only a matter of time until the National Socialist coalition's thugs start kicking door in and dragging those who are not fully vaxxed (two shosts plus all obligatory boosters,) off to internment camps. VACCINE MACHT FRIE.
Pandemic - The Thief Of Time
A pandemic polemic in verse. The narrative of an unseeable monster that poses and existential threat to humanity is eating the days and years of our lives ...
Cancer expert says U.K. seeing spike in "non-covid deaths," nobody willing to call out vaccine elephant in the room
Excess mortality in the United Kingdom is off the charts, and yet nobody is willing to call out Wuhan coronavirus (Covid-19) "vaccines" as the culprit. Cancer expert and Prof. Carl Heneghan describes the current situation in Great Britain as a "national scandal." A shocking 9,300 more people than usual have died in the U.K. over the past several months, and officials are blaming everything else except the injections. Continue reading >>>

After a weekend of increasingly violent protests around Europe, similar to the one pictured above in London, against elitist plans to introduce new limitations on freedom, lockdowns and further steps towards compulsory vaccination (with a vaccine that does not immunise against a virus that makes very few people ill,) it is disappointing to see that in the US and UK, mainstream media is still doing its best to ratchet up the fear and panic ... Continue reading >>>
The Absurdity Of Vaccine Passports, Lockdowns and Segregating The UnvaxxedAfter reintroducing lockdowns from the beginning of this week in its two regions with the highest rates of COVID cases, Austria today became the first country in western Europe to reimpose a full, national lockdown which will start on Monday, November 22. The Austrial government is likely to be quickly joined by neighboring Germany, a statement from Berlin warned [...] Some commentators in Austrian capital Vienna were cynical enough to ask if the whole point of this latest escalation is justify more restrictions
Continue reading >>>
Insulate Britain protesters jailed for defying an high court injunctionAnti-civilisation activists chant 'we are unstoppable, another world is possible', as police officers lead them from the court to the cells.
Continue reading >>>
The Betrayal Of Humanity By The Corrupt Medical Professions
From day one, back in March 2020 when the pandemic was declared, this blog has been questioning the fake statistics, highlighting the distortion of statistics to serve the scaremongering narratives of the elites and exposing the lies and dishonesty of politicians, sciencetitis (sic) and, surprisingly perhaps if you are of a credulous nature, doctors and the medical professions. ... Continue reading >>>
Austria Days Away From Imposing Lockdown On The "Shameful" Unvaccinated Says Chancellor SchallenbergAustria's globalist Chancellor Schallenborg said today that the government would shortly give the go-ahead for a lockdown of unvaccinated people, to be introduced in the two highest-incidence regions from Monday and possibly also nationwide [...] This would prevent people without proof of full vaccination or recovery from Covid-19 from leaving their homes except for essential reasons.
Continue reading >>>
In A Fit Of Honesty Italian Institute Of Health Reduces Official COVID Death Toll By 97%
Italian newspaper Il Tempo has published a shock report, claiming that the country's Institute has reduced the official figure for the number of people who have died from COVID from 130,000 to under 4,000. This may surprise many people who bought into the "killer virus" narrative and unleashed torrents of pure hatred on those of us who declined vaccination, having studied the figure for reported "COVID related deaths," and the methodology used to arrive at that figure ... Continue reading >>>

A newly published study from researchers in Sweden reveals that the immunity to COVID gained from vaccination, is dissipated by natural biological processes within months. Immunity, although it would be more honestly called temporary respite, from Wuhan coronavirus (Covid-19) injections is short term at best, and completely gone within months, this confirming the doubts raised by vaccine sceptics (or Conspiracy Theorists as mainstream media likes to call us Continue reading >>>
Italians take To The Streets To Protest Against Mandatory Vaccine Passports
France was first in Europe to announce vaccine passports would be mandatory for entry to large events and public spaces last week and President Macron was forced by an immediate backlash to back off his cherished dictatorial measure. Early this week the United Kingdom announced that proof of vaccination would be required to enter some venues, and Boris Johnson's doom laden warnings sparked an immediate reaction with a large faction of the party he leads in parliament announcing they will vote against any such dictatorial and discriminatory measure ...

Italy: Cops open manslaughter investigation as man dies after getting AZ coronavirus vaccine
21 March 2021:Italian prosecutors have opened an investigation for manslaughter following the death of a music teacher one day after receiving his shot of the Oxford-AstraZeneca Wuhan coronavirus (COVID-19) vaccine. Sandro Tognatti, 57, received the AstraZeneca jab on Saturday afternoon, March 13, according to his wife.Italian prosecutors have opened an investigation for manslaughter following the death of a music teacher one day after receiving his shot of the Oxford-AstraZeneca Wuhan coronavirus (COVID-19) vaccine. Sandro Tognatti, 57, received the AstraZeneca jab on Saturday afternoon, March 13, according to his wife.
3 June 2020: Italy Poll: Salvini's Lega in Solid First Place as Government Totters
As Italy's left – of – centre coalition government, which lost its majority in the national assembly, and with it the ability to govern the European Union's third largest, and probably most volatile member state, the Lega party, led by the biggest thorn in the EU's side, Matteo Salvini
Italian Government Near Collapse After Renzi Pulls Ministers From Ruling Coalition

Yesterday this publication reported that under the leadership of Premier Giuseppe Conte, Italy's government has - to the surprise of all Daily Stirrer contributors - held together for almost two years, as the technocratic former law professor - initially brought in to lead a government formed at the behest of the Brussels bureaucracy from two anti-establishment parties, the anti-migrant League and left-wing populist Five Star Movement - had already survived the collapse of his original coalition.
Italian Government On Verge Of Collapse Amid Battle Over EU COVID Relief
from Zero Hedge
Under the leadership of Premier Giuseppe Conte, Italy's government has enjoyed a degree of stability unseen in decades, as the technocratic former law professor - initially brought in to lead a government formed by two anti-establishment parties, the anti-migrant League and left-wing populist Five Star Movement - Conte has already survived the collapse of his original coalition. When League leader Matteo Salvini withdrew from the ruling coalition back in 2019, Conte managed to stave off another election by recruiting new allies from the opposition.
EU bullies: Italy forced to surrender in secret meeting over coronavirus economy crisis
Yannis Varoufakis, a veteran of the 2015 Greek debt crisis, accused Eurozone finance ministers of "failing Europeans" after a 15-hour row over a post-coronavirus rescue package for Italy ended in stalemate. The rebel economist said he was the victim of similar bullying at the height of Greece's financial crisis when his defiant strategy against debt negotiations with European leaders led to banks being closed and queues at cash machines. "The Italian finance minister, during the night, was bullied to surrender – as I was in 2015. It was all done behind closed doors and with no minutes kept."
As Migrants Pour Into Italy ISIS Say: Overrun Europe with Immigrants and "Turn it into Hell'
February 17, 2015
Thousands of Africans every month are crowding onto flimsy boats like this one to make the three hundred mile journey from Libya to Sicily and the refuge of European territory*. (Image source – Malta Star) It is well reported that western intervention in Libya, for the purpose of overthrowing Gaddafi resulted in the North African …
Continue reading
Italy's Prime Minister Says Merkel Unilateral Initiative On Migrant Crisis Is Unacceptable
We have been reporting on the breakup of the EU for several years now. The immigrant crisis, the problems with the European Single currency system and its detrimental effect on the weaker economies among its twenty seven members, and the increasing encroachment of the Brussels bureaucracy on matters of national sovereignty are symptoms of a …
Continue reading
Italy's Northern League To Launch EU Referendum Campaign Next
Shortly after the final Brexit referendum result was announced, first the Freedom Party in The Netherlands and then Front National in France quickly declared they would proceed with demanding referenda on E U membership in their own nations. These were quickly followed by the head of Italy's Northern League who saidaid "Now it's our turn.' … Continue reading
Boat Migrants Landing in Italy 'at a Pace Exceeding Anything We've Seen Before'
Canada Passes 'Blasphemy' Bill To Silence Critics Of Islam The International Organization for Migration (IOM) estimates 20,484 migrants have arrived in Europe by sea since the beginning of 2017, with numbers now averaging around 3000 per day and increasing as spring brings better weather. These numbers put Italian arrivals well ahead of the total for … Continue reading