Authored by Jack Phillips via The Epoch Times, via Zero Hedge

Thousands of French citizens demonstrated in several cities Saturday for an eighth straight weekend, continuing protests against the country's COVID-19 vaccine passport system required to enter most public areas, including stadiums, cafes, restaurants, and gyms.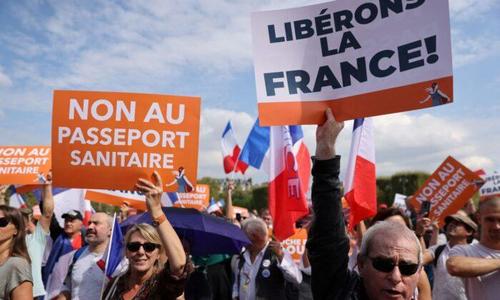 The health pass, which was passed by the French Parliament weeks ago, mandates an individual be vaccinated, have a recent negative COVID-19 test, or prove they have fully recovered from the virus. Another law slated to go into effect this month will require all healthcare workers to get the vaccine.
France's Ministry of Interior confirmed to news outlets over the weekend that about 140,000 people partook in demonstrations over the weekend. A week ago, about 170,000 people partook in protests.
While some media outlets have described the mass protests as "anti-vaccine," many of the slogans and signs held by protesters go against vaccine mandates and passports, rather than COVID-19 vaccines themselves. Numerous protesters were seen on Saturday chanting, "liberte," which translates to "freedom."
"We are boycotting this health pass … In the end, this health pass will fall," Florian Philippot, the head of the "Patriots" movement, reported Local Media, and he promised to go on a "general strike" for an indefinite period.

"We will always say 'no' to the sanitary pass. We're not sheep," said a Parisian woman to Ouest France, according to a translation.

"No to discrimination, no to bullying. Freedom."
A sign at a protest in Paris read:
"I will not submit to health terror."
Under the current vaccine passport law, only adults are eligible. However, that will soon change as all children ages 12 and above will be allowed to get vaccinated on Sept. 30.
Similar vaccine passports were introduced in other European nations, including Italy, Switzerland, Germany, and others, which also drew demonstrations.
Over the weekend, protests erupted across Canada recent vaccine passport mandates.
In Toronto, David McLelland, a retired professor who taught at the University of Toronto, said the protesters are "an alliance in protection of human liberty" united by their opposition to the COVID-19 lockdowns and the restriction of freedoms. ...
RELATED:
Covid Vaccine Fascism
Greenteeth Digital Publishing catalogue of posts on the covid pandemic authoritrariansm propaganda and pushbacks. Find posts on the authoritarian acts of government, the lies of Big Pharma vaccine makers and the protests and pushbacks from the people whose resistance is not being reported in mainstream media
France: Thousands Protest Against Vaccine Passports and Mandatory Vaccination
21 July 2021: French protests call for 'freedom' amid government vaccine push 17 July 2021: Reprots of numerous protests, with the total number of protestors involved estimated at over 1 million, marched in numerous cities and urban areas across France on Saturday. They were protesting against against President Emmanuel Macron's authoritarian policies of forcing vaccination of health …
France's armed forces chief resigned on Wednesday, following a bad tempered clash with president Emmanuel Macron over cuts to military budgets, in what Reuters called "an early test of the newly elected president's mettle and the tough presidential style he is cultivating." Last week, General Pierre de Villiers publicly lashed out at Macron embyonic administration over a proposed €850 million reduction the military budget. In an astonishing outburst before a parliamentary committee the soldier said "I will not let myself be fucked like that," adding "I may be stupid, but I know when I am being had."
Continue reading ...
Macron Forced to Back Down on Mandating Vaccine Passports for Shopping Malls After Nationwide Protests
French President Emmanuel Macron has been forced to back down on imposing mandatory vaccine passports for entry to shopping malls after volatile nationwide protests. As we highlighted last week, Macron's announcement that proof or vaccination or a negative test would be required to visit shopping malls, restaurants bars, hospitals, bars, cafés and access public transport sparked immediate demonstrations.
Majority Of French Agree With Military Generals That Nation Is Nearing "Civil War", New Poll Finds
A new poll has found that a majority of French people support the sentiments expressed in a letter signed by active duty and retired members of the military warning that the country is heading towards a "civil war" caused by failed multiculturalism and attacks on French identity. Around 1,000 servicemembers signed the letter, warning President Emmanuel Macron of "several deadly dangers" threatening France, including "Islamism and the hordes of the banlieue," a reference to the fractured suburbs around major cities with high crime ...
Le Pen Calls For Referendum To Stop "Submersion" Of France Via Mass ImmigrationMarine Le Pen, leader of the French Rassemblement National (National Rally) has called for a referendum on immigration policy to stop what she called the "submersion" of France via a "globalist" program of mass immigration. Speaking in a debate on problems caused by mass immigration, Le Pen told the French Parliament that the political establishment had betrayed French people ...
The Islamic Republic Of France
France's left-wing elite are accused of cowardice for failing to support 16-year-old girl facing death threats after she insulted Islam online, the ruling class have been also accused of cowardice for failing to support a 16-year-old girl who has faced death threats after she allegedly insulted Islam online.
General Strike brings France To Standstill As Nation Protests Macron Policies
France has been closer to social breakdown than the political establishment in the EU and their mainstream media sock puppets will ever admit since the the gilets jaunes demonstrations at their height nearly torched Paris and other cities. It would be a mistake to think, as television news bulletins and large circulation newspapers have suggested …
French police drag Yellow Vest "protesters" away from Bastille Day parade as they jeer Macron
As Mr Macron was riding by at the start of the parade, he was greeted by people in the crowds who turned their backs, booed and whistled. Before the parade, he delivered a message to the French people and said he wanted to highlight France's "irrevocable commitment to consolidate French and European security".
Macron Threatens G20 On Climate Then Backs Off
France's boy president and current climate scaremonger in chief and leading European federalist Emmanuel Macron arrived in Japan for the G-20 summit full of sound and fury, which like the stuff of Macbeth's soliloquy in Shakespeare's play turned out to signify nothing.France's boy president and current climate scaremonger in chief and leading European federalist Emmanuel Macron arrived in Japan for the G-20 summit full of sound and fury, which like the stuff of Macbeth's soliloquy in Shakespeare's play turned out to signify nothing.
Residents Of Paris Suburb With Migrant Ghetto Feel 'Abandoned' as Crime Surges
In the areas where [ migrants ] have congregated, usually places with a surfeit of run down municipal housing the lawless behaviour in the migrant communities is causing problems for French people. Despite promises from government to increase police presence, residents of the 18th arrondissement of Paris say they feel abandoned as crime rises in the area.
bYellow Vest Violence Erupts Again, 23rd Straight week Of Protests
Clashes between Gilets Jaunes (Yellow Vest) protesters and French riot police on Sturday (20 April,)during the 23rd straight week of protests across France. Police arrested 137 protesters Euro News reports.
Slash taxes now, French tells Macron after three-month 'great debate'
France must slash taxes now, or face ongoing civil unrest. According to the French prime minister, this is the main message from an unprecedented three-month "great debate" in the wake of anti-government "yellow vest" protests. Announcing publication of the findings from two million online contributions and 10,000 hours of town hall debates around the country, Edouard Philippe said on Monday there was "huge discontent" in the country. Astronomical levels of taxation was one of the prime concerns, alongside unemployment, immigration, and surrender of national sovereignty to the European Union.
Macron Makes Honest Criticism Of Africa - Get's Called A Nazi It is on record that none of the contributors to this blog have much time for recently elected French President Emmnuel Macron. We have dubbed the former Goldman Sachs executive a 'grandmotherfucker' and dismissed him as just another globalist appartchik who will do the bidding of the faceless people who run the financial cartels. However we believe in giving credit where it is due and, fair play to the lad, he is the first European leader to publicly utter the truth about why the problems of that shithole of a continent, Africa, are insoluble.
Continue reading
Macron Isolated After More High Profile Resignations. Pressure Mounts On French President
On top of the Yellow Vests debacle, which is now destabilising France as the anti - government protests continue, a string of resignations from the tottering government of President Emmanuel Macron has prompted Gérard Larcher, leader of the French Senate to warn Macron that his authoritarian tendencies were partly to blame for the civil unrest crisis and political instability that have weakened his presidency.
Ghosts Of '68 Threaten Macron's Technocratic Dream.
The idealistic hope that mass protests and civil disobedience could trigger real social change met with some success in the nineteenth and early twentieth centuries but looked to have died after the USA's 1960s civil rights movement and anti – war protests. The recent mass demonstrations of Frane's gilets jaunes (yellow vests) movement in 2018, a movement …
Continue reading
Macron Dodges Press Conference - Says Mind 'Too Complex To Answer Questions From French Journalists While EU leaders and globalists such as Angela Merkel are still celebrating (somewhat prematurely) the and of the upsurge in nationalism, many French voters are already regretting that they allowed themselves to be railroaded into voting for an untried candidate with little political experience, and tainted by association with Hollande's failed administration in which he was for a short time finance minister.
Continue reading ...